Unwanted calls can be really annoying, regardless of whether they are from telemarketers, accident helplines, PPI claim providers, or a friend you had a falling out with. Fortunately, you can block numbers on iPhone and stop unwanted calls altogether. Blocked users won't be able to call you.
How to Block a Number on iPhone
Following are two ways to learn how to block a number on iPhone:
1. Via Settings
You can easily block numbers on iPhone via the Settings app. Follow these instructions:
Step 1: Open Settings on your iPhone.
Step 2: Navigate to Phone > Calls > Call Blocking & Identification section of the settings. A list of contacts and phone numbers that you have previously blocked will appears.
Step 3: Now find and select Block Contact.
Step 4: Browse contacts and select the one that you wish to block. Once the number is added, it will no longer be able to reach you via calls, Messages, or FaceTime.
Step 5: Now repeat the above two steps to add as many contacts as you want in order to block them.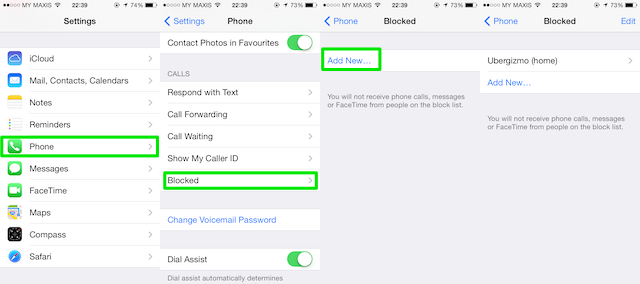 2. Via Phone App
You can also use the Phone app to block numbers on iPhone that you don't want to receive calls from. Follow these instructions:
Step 1: Open Phone app on your iPhone and navigate to the 'Recents' section.
Step 2: Find and select the number you wish to block and tap ⓘ next to that number.
Step 3: Now find and select the option 'Block this Caller' and then tap 'Block Contact' when prompted. The number will now be blocked.
Step 4: Repeat these steps to block as many contacts as you like.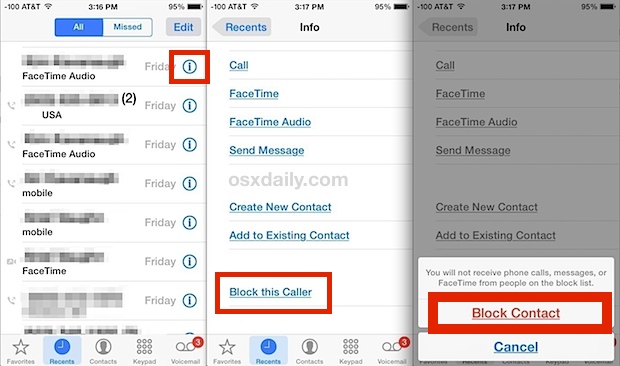 How to Erase Deleted Contacts
After knowing how to block a number on iPhone, you may also wonder how to erase the deleted contacts. iMyFone Umate Pro for Win or for Mac is a third-party iPhone data erasing tool that is capable of deleting various types of iPhone data permanently and making it unrecoverable. You can permanently erase blocked contacts via this software. Some of the other features Umate Pro offers include erase all iPhone data with a single click, erase deleted files, bulk uninstall apps, clean up junk files to boost iPhone's performance, etc.
Key Features:
Erase all your iPhone data quickly and permanently.
Erase data traces of deleted files(like deleted contacts) to make them unrecoverable.
Permanently erase private and sensitive data such as call logs, messages, data from Kik, Viber, WeChat, WhatsApp, etc.
Erase private data fragments left by third-party apps after they are uninstalled.
Optimize iPhone with a single click, save space and boost its performance.
Preview data before deleting.
Steps to Erase Deleted Contacts via Umate Pro:
Step 1: Launch iMyFone Umate Pro on your Windows PC or Mac.
Step 2: Use a compatible lightning or USB cable to connect your iPhone to your computer.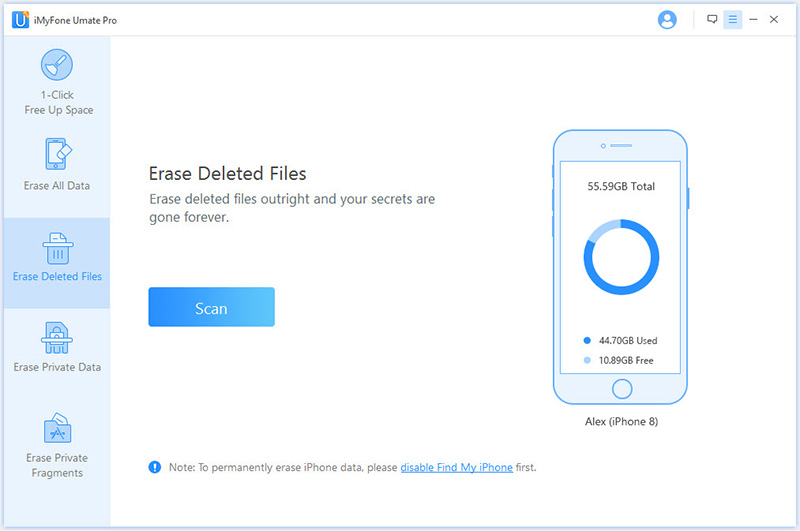 Step 3: From the home interface of Umate Pro, click on 'Erase Deleted Files' tab and then click the 'Scan' button.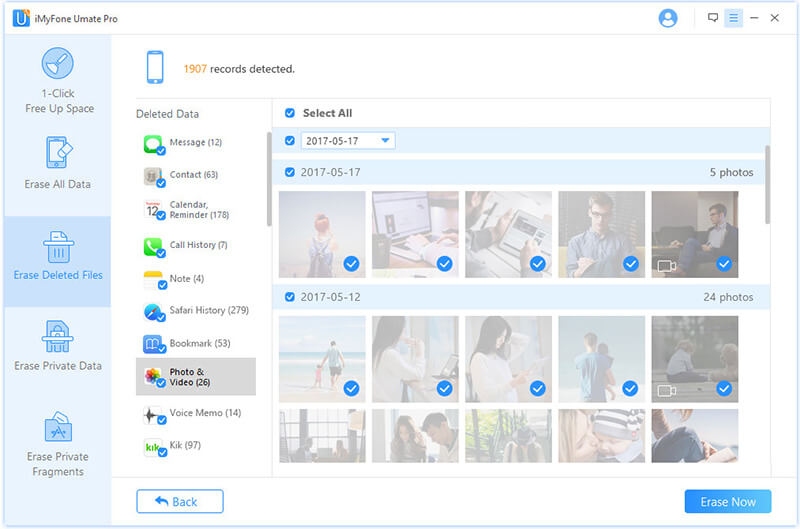 Step 4: Once the scan is completed, preview and select the deleted contacts that you wish to permanently erase and then click the 'Erase Now' button.
Step 5: Select deletion security level and then type 'delete' in the textbox. Once you have configured everything, click the 'Erase Now' button to proceed. The deletion process will begin.
Tip about Spam Calls
How to Detect and Block Spam Calls
There are many third-party apps such as Truecaller, Nomorobo, Hiya, Mr. Number, etc. that you can use in order to detect and block spam calls. You will need to configure Call Blocking & Identification setting on your iPhone for automatic detection and blocking of spam calls.
Follow these instructions:
Step 1: Download and install a third-party call blocking app from App Store.
Step 2: Configure the app to detect spam calls.
Step 3: Now open Settings app and navigate to Phone > Call Blocking & Identification.
Step 4: Find the call blocking app you have installed in the first step and tap the switch next to it. Now the app will automatically identify and block spam calls.