Find My iPhone is definitely an excellent and important function of iOS devices as it helps locate lost or stolen iOS devices. And when Find My iPhone is not working, it can be a traumatic situation if you happen to lose your device. However, if the people reading this article find themselves in the same situation, they will discover some solutions to get Find My iPhone not working problem resolved. Before we start, we would like to introduce this helpful function of iOS devices (iOS 14 and iPhone 12 included).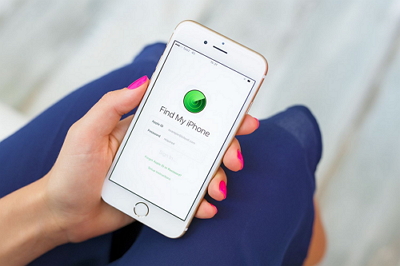 1

About Find My iPhone
Find My iPhone is a revolutionary way through which users can keep a track of their missing iOS devices even if their device has been lost or may have been stolen. Find my iPhone empowers the users to protect all the personal information if the device gets stolen. They are required just login into the iCloud account or the Find My iPhone app and simply lock device with the help of the "Lock Mode" and track it on a map to see its location. If it is impossible to get the device back, you can just choose to erase your iPhone to prevent leaking out the personal information on your iPhone.Let's get to know how one can set it up and use it on their iOS devices.
1.1. How to Set up Find My iPhone on iOS Device
Setting up Find My iPhone is not difficult; anyone can easily set up their Find My iPhone in their iOS device by following the steps below.
1.Head to "Settings" and then:
If your iOS device version is 10.2 or earlier, tap on "iCloud"
If your iOS device version is higher than 10.2, hit on "your name" and then tap on "iCloud".
2. Navigate to "Find My iPhone".
3. Now you need to slide on to "Find My iPhone" and "Send Last Location" to turn them on.
4. You may be asked to sign in to your Apple ID, sign in into it.
Plus, if you're also using Apple watch or AirPods, they'll also be set up automatically.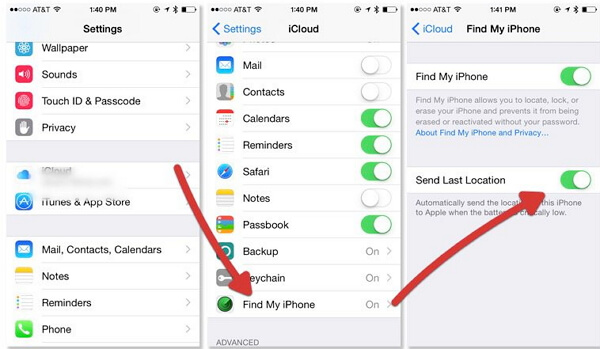 1.2. How to Find My iPhone
Once you've set up Find My iPhone, you can then use any computer of yours to utilize the facilities of Find My iPhone to locate, lock your device or even erase all your information from it to protect your data from falling into wrong hands. When using computer, visit icloud.com/find ,or if you do not own a computer you can simply download the free Find My iPhone app on an iOS device.
Find My iPhone also protects iOS devices of your family members, be it Apple Watch (build version - watchOS 3 or above), Mac Computer (build version - OS X v10.10 or above) or iPhone or iPad (build - iOS version 8 or above), if you're a part of a Family Sharing Group. But remember family members must set up their device to share their devices location with other family members. On top of that, Activation Lock is automatically gets activated and locks your device making it harder to use or sell your iOS device if it gets stolen or lost.
2

How to Fix Find My iPhone Not Working (iOS 14 and iPhone 12 Supported)
2.1. Make Sure Date & Time Are Set Properly
Find my iPhone not working problem occurs when the date and time settings stored on the device (that you want to locate) is incorrect.
Fix: Get into "Settings", hit on "General" and then tap on "Date & Time" and check if it is wrong and correct it.
2.2. Check Network Connection: Wi-Fi + Cellular Data
If you're facing the find my iPhone not working problem then it could also be because the Cellular Data or Wi-Fi connection has been lost or turned off. Or also, if your Data connection is weak it may, in turn, result in the same problem.
Fix: Either try to switch to data connection if you are using Wi-Fi on the device that you want to locate (if it is with you), or try rebooting it if your data connection is not working properly.
2.3. Turn on Location Services
Causes for the find my iPhone not working problem also includes if your GPS connection is either not turned on or you're having weak network connection.
Fix: Get into "Settings", hit on "Privacy" and then tap on "Location Services". Now check if they are enabled or not.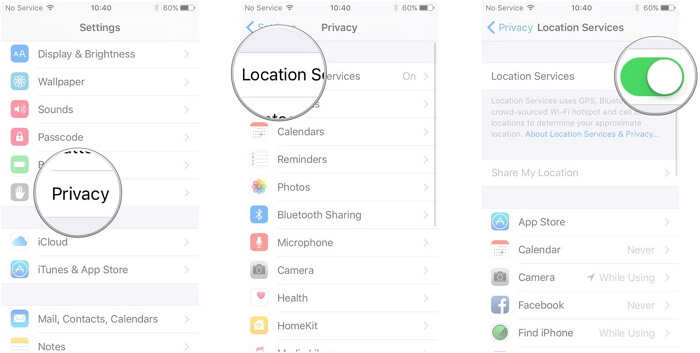 2.4. Disable  "Don't Allow Changes"
Also, disable the Don't Allow Changes option in the settings of the device so that it can provide real time location.
Fix: Get into "Settings", hit on "General" and then tap on "Restrictions". Now go to "Privacy", then select "Location Services" and uncheck the "Don't Allow Changes" option. You'll also be required to supply the restrictions password.
2.5. Fetch New Data or Enable Push
Fetching new data every 15-30 minutes is vital, if ever your phone gets lost or stolen, a latest update on location will be more helpful.
Fix: Get into "Settings", hit on Mail, Contacts, Calendars and then tap on "Fetch New Data". Now enable "Push" or also set Fetch new data to every 15 to 30 minutes. Setting the Fetch feature to manual function may eventually result in Find My iPhone not working problem.
3

Tip: Selectively Back up Important Data On iOS Devices
This is truly miserable when the iPhone is lost and there's no way to get the data back because it's all in the device. Therefore, one should be prepared and backup the data to leave a chance to get it back. Of course you can use iTunes to back up your iPhone. However, if you just need back some important data, iMyFone D-Port would be a perfect choice. It possesses variety of features and gives positive outputs which make it an advisable product.
Key Features:
The software easily export and extract 20 kinds of data. You can selectively choose to back up certain important types of data totally for free, for example, photos, contacts, WhatsApp messages, and more.
It exports flexibly and allows the users to preview the data before transferring it to your computer.
The best part of the software is it enables users to check the backup data of iTunes without restoring it to iOS device.
Moreover, it lets iCloud data to be accessed on the computer.