Has your MacBook lost its incredible speed, and performance? The biggest reason behind low speed is the lack of storage space on your Mac.
The best way to optimize your Mac to peak performance is by using best Mac cleaner app. It will help to make your slow Mac book to lite again.
There are lots of Mac cleanup apps available on the market, and we will recommend top 10 of them for you to choose from.
10 Best Mac Cleaner Apps You Can Choose From
| | Feature | Limitation | Price |
| --- | --- | --- | --- |
| Umate Mac Cleaner | Locate & delete large files | Slow version update | $29.95 |
| CleanMyMac X | Computer protection module | Lack of duplicate file deletion | $34.95  |
| CCleaner | Automatic detection | Limited browsing cleanup | $19.95 |
| DaisyDisk | High cleaning ability | Free version cannot delete files | $9.99 |
| OnyX | Cleanup function | Troublesome operation | Free |
The table lists only five software, and the next 10 products are described in detail.They are highly recommended with powerful functions to refresh your Mac. And we ranked them with points, so that you can easily find out the better ones. Just keep on reading.
1. Umate Mac Cleaner - (9.8/10)
Umate Mac Cleaner is one of the best Mac cleanup software because of its offerings. It quickly and automatically detects unwanted files and removes them from your Mac without any effort. Moreover, the app also helps to speed up your Mac and improve its performance. It comes with two cleaning modes, including Quick Clean and Deep Clean, you can perform them each by each according to your neeed. Let's look into other main features below.
Automatically detects all cleanable junk files and remove them easily to free up more disk space.
Helps users speed up their Mac and improve its performance.
Supported to erase personal data thereby preventing privacy leaks.
Allows you to uninstall unused apps and remove unnecessary extensions from their Mac.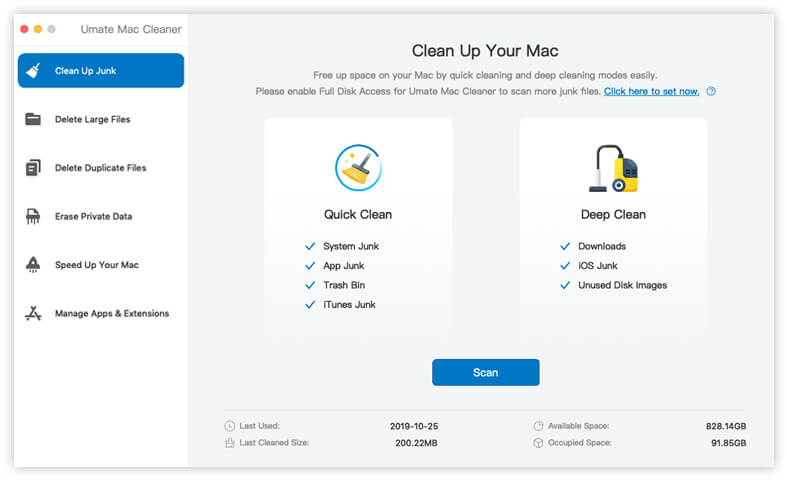 Pros
Locate & delete large files that are over 50MB.
Remove duplicate files to reclaim wasted space.
Speed up your Mac like new with one click.
Erase personal data to prevent privacy leaks.
Manage unused apps and extensions with ease.
2. CleanMyMac X - (9.6/10)
CleanMyMac X is another incredible Mac cleaning software that helps user's clean junk and boosts the performance of your Mac. Within seconds it detects junk in the corner of your MacBook and scans unneeded files. Moreover with the help of this Mac cleaning software you can remove clutter in the hidden files. Its main features are listed below.
Delete junk files in seconds and create digital space.
Distinguish between important files and junk files.
Offers wide range of speed up tools.
Removes private data like browsing history and online traces to maintain the privacy.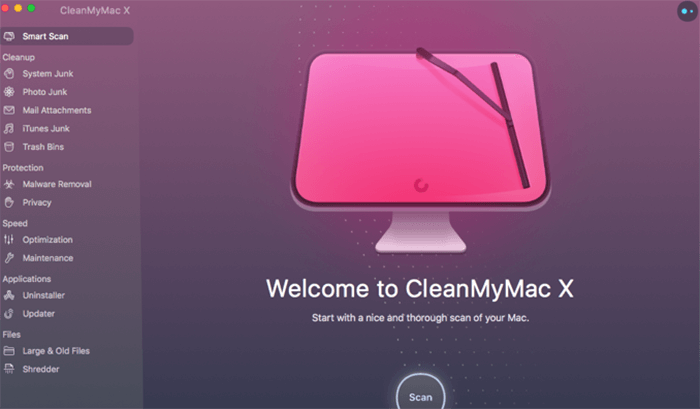 Pros
One click option helps users clean their Mac quickly and easily.
Provides maximum performance of your Mac.
Its protection module is regularly updated thereby protecting users from all viruses and malware.
Helps users sort out the software conflicts with ease.
Cons
Poor customer service: its customer service center does not offer chat or phone service, which disturbs customers.
3. CCleaner - (9.3/10)
CCleaner is also one of the best Mac cleaning tool for you that can help users clean their Mac with ease. It's simple and easy to use interface are for all. It comes up with a bundle of features.
Analyzes the Mac system and detects all junk and unwanted files automatically.
Displays a long list of invalid entries that could be fixed or left unchecked.
Disable startup programs and uninstall programs.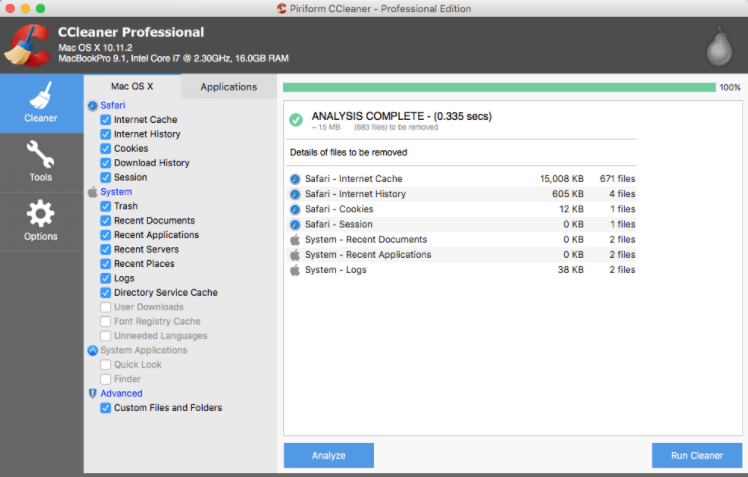 Pros
Easy to use and intuitive interface.
Helps user s make online browsing safe.
Remove junk files and other unwanted files.
Available in three versions: a free version, professional version and professional bundle.
Cons
The standard download page is confusing.
Users are forced to install another program along with CCleaner.
4. MacBooster - (9.3/10)
MacBooster is also a great cleaning software that helps to clean 29 types of junk files quickly and easily. It is also known to remove Mac malware and viruses; therefore protects and optimizes your Mac to peak performance. Let's discover more features of it.
Removes all kinds of junk files and creates more space on your Mac.
Attain excellent performance boost by optimizing the Mac hard drive.
Protects your MacBook from potential threat; viruses, spyware, malware and adware.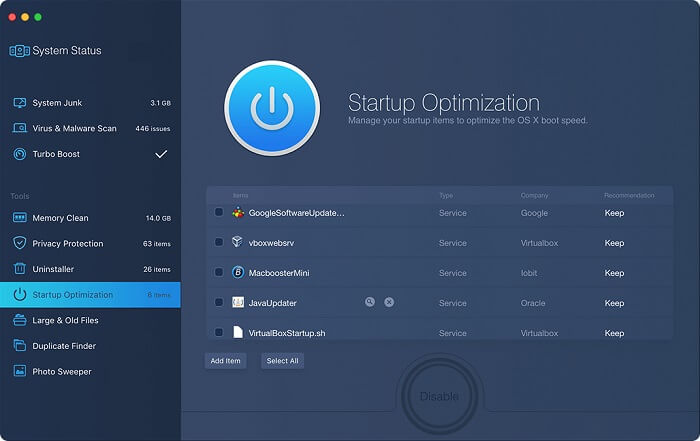 Pros
Offers a wide range of useful tools to maintain excellent performance of Mac.
Easy to use application with a sleek and intuitive interface.
Comes with a competitive price.
Timely customer service is provided to users.
Cons
Users get annoyed with empty trash warning.
Offers less guidance; so not recommendable for newbies.
5. DaisyDisk - (9.0/10)
DaisyDisk is another recommendable Mac cleaning software that gives you a visual representation of your Mac folders. It enlists every detail of the apps that take up space on your Mac and helps you delete them quickly. Its features are listed below.
Identify and remove large unused files quickly and easily.
Offers multiple disk scan option.
Detects, reveal and purge hidden and purgeable space.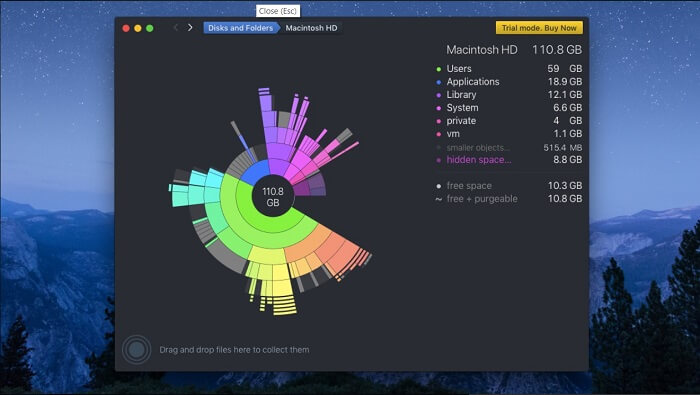 Pros
User-friendly interface.
Comes with fast scanning speed tp scan your entire startup disk quickly.
Cost-effective and affordable for all.
Cons
Offers only cleanup feature.
Doesn't provide an all-in-one performance solution.
6. Disk Clean Pro - (8.8/10)
Disk Clean Pro is another free yet powerful Mac cleaning software that will help you clean your MacBook with ease. The best thing about this incredible tool is that it not only boosts your system speed but also prevent it from slowdown. Let's see what it can do.
Frees up disk space by scanning for system and user log files.  
Deletes unwanted garbage with a single click.
Allows you to remove corrupted and incomplete downloads.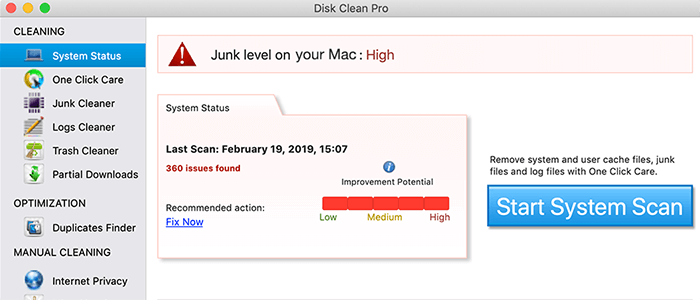 Pros
Offers four disk cleanup tools to scan and clean your disk.
Supoported to remove duplicate files on Mac.
Remove hidden clutter from your device.
Cons
Does not provide in-depth cleaning.
Does not have any other option except cleanup.
The user-interface is not so intuitive.
7. MacFly Pro - (8.5/10)
MacFly Pro is another one of the best Mac cleaning tools that can help you improve your Mac maintenance. With the help of this tool you can reclaim free storage space and get back your new Mac within minutes.
Cleans up the Mac disk including system cleaning, leftovers, memory and mail attachment management.
Comes with Smart Assistant who reminds users for cleanup with a single button.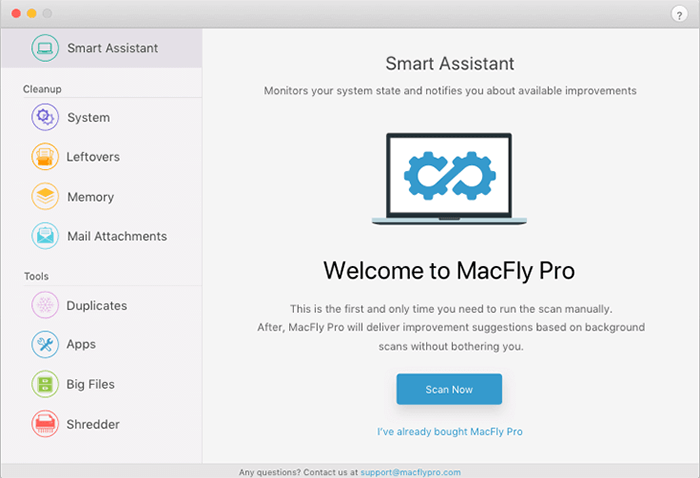 Pros
Excellent customer service to resolve all queries and problems of customers.
Scans results and offers tips.
Free trial available.
Cons
Some users complain about its shallow functionality.
Has lots of certain restrictions of free trial.
8. Disk Doctor - (8.5/10)
Disk Doctor is one of app in our best list. With the help of this tool, users maintain their Mac and optimizes its performance at the same time. It allows users to fix errors and find hidden preferences.
After scanning, the results sorted into various categories; application caches, logs, browser data, mail download folder, download folder, developer files, trash can, large files and others.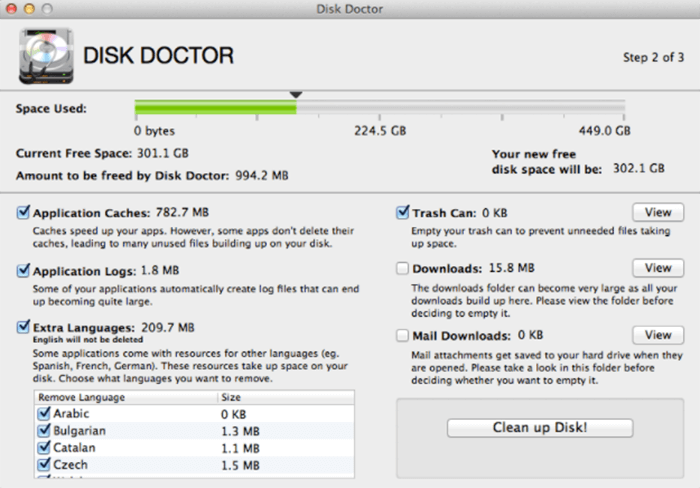 Pros
Has a straightforward and clean interface.
Offers full preview option to its users.
With a few clicks, you can delete files from wide range of categories.
Cons
Does not allow the user to deselect any individual item within categories.
It is a simple cleaning tool that doesn't focus on enhancements.
Poor customer service.
9. Appcleaner - (8.3/10)
AppCleaner is our last recommendation of one of the best free Mac cleaner, and it is easy to use. Just drag and drop the apps in the window of the app cleaner you want to uninstall. Not only the file will be deleted, but widgets will be sent to trash as well. Re-check the files and hit the empty button.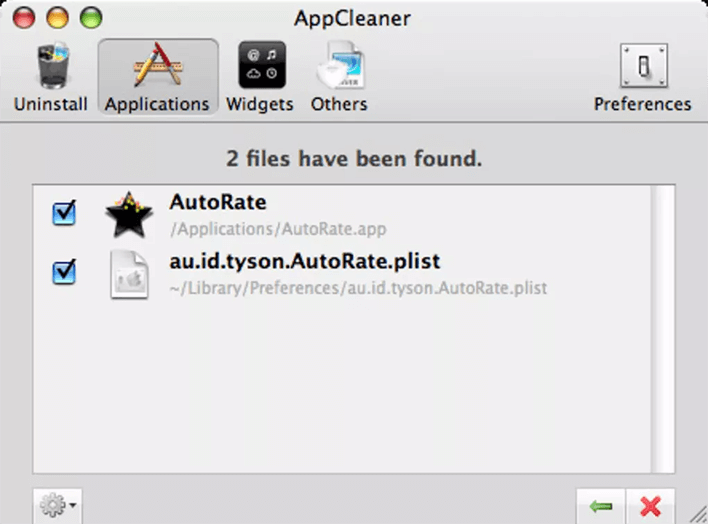 Pros
User-friendly interface and nice for newbie's.
Offers preview feature before deleting them.
Cons
Offers a limited function.
Doesn't delete all selected files.
No adequate support available.
Multiple deletion option is not available.
10. OnyX
Onyx is a free software but not for newbies. It will help you analyze and optimize disk space on Mac and optimize your Mac. It is an system-specific application; therefore you have to choose its OS version according to your version. The Deep cleaning option is provided.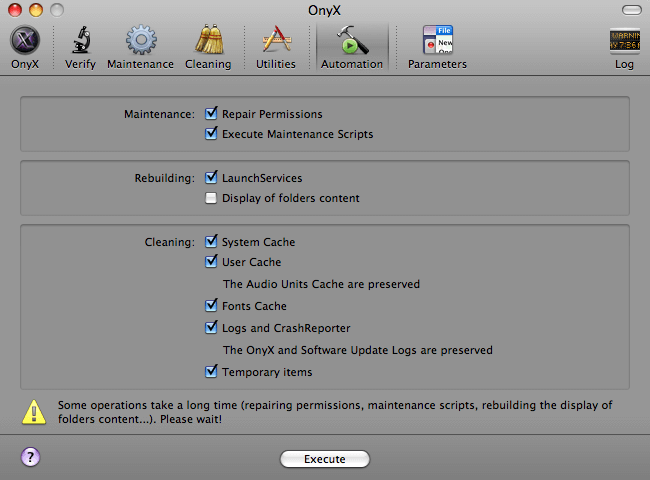 Pros
Supported to rebuilds Mac database.
Provides a warning in case of advances actions.
Cons
Not for newbie's with poor user interface.
Different versions required for different MacOS.
Features offered are very limited.
Customer service is not good enough.
Why Do You Need A Mac Cleaner
Mac cleaner is a utility application that is designed to speed up a Mac computer. The time you purchased your MacBook, it would have assisted you with incredible speed and performance. Meanwhile, in all these years or months, you would have downloaded ample amount of minutes, videos, files, apps. Thereby resulting in shortage of storage and resulting in slow Mac. Are you using all the apps, and files you have downloaded so far? There would be ample of them lying idly for months; you wouldn't have even used them once. Moreover, your Mac storage would also contain cache files, junk files and many other unused apps haunting your storage. This is when Mac cleaner steps in!
Mac cleaner is a RAM cleaner that helps remove cache files, duplicates, unused apps and many more files that are no more important to you. It is disk cleanup application that will thoroughly clean and maintain your Apple's computer health.
How to Choose Mac Cleaner
After reading the above 10 software, I believe you will be dazzled. Here are a few points from different perspectives suggestions to help you pick the best one for you.
Operating System: The first thing you need to do is make sure the solution you choose runs on your Mac.
Functionality: Choose one that corresponds to your needs; some software may only have a cleanup function, but not the ability to remove duplicate files.
Ease of Use: We recommend that you use software that is simple and easy to use. The user-friendly interface also helps individuals can use it easily.
Reliable R&D Company: Your files are identified during the process of using the Mac cleaner software. Reliable and honest good companies do not corrupt and store your information.
Real User Reviews: User reviews are an important measure of how good the software is. Good reviews show that customers love and trust this product; bad reviews may be a problem with the software or a problem with improper user operation.
Price: Prices range from free to high. A free product may solve your problem, but it may not work well. You should consider a cost-effective and reputable solution.
Frequently Asked Questions
Is Mac cleaner safe?
A cleaner from a trusted, reputable company is safe and will not damage the user's computer information and store the user's personal information. But before that, it is especially important to choose a reputable company.
Is it worth buying clean my Mac?
If you are bothered by the storage problem of your mac and this is affecting your work and life. It is worth buying, a well running mac is worth paying for mac cleaner software.
Conclusion
There is number of Mac cleanup utilities available, We have enlisted you the best of them you can rely on! Now, choose the one that suits you best. However, if you want our recommendation, we suggest Umate Mac Cleaner. It is the best app to clean Mac due to its functionality, features, pricing and competitive offerings. You can try it first with a free trial.