After a long time use, it is very hard to keep your Mac devices properly optimized. Evidently, they will become slower and slower to a point, where the performance of the device will annoy you.
Basically, the hard drive will hoard all types of data which finally slows down the Mac. This is a very common occurrence and happens to all types of devices. But don't worry; there are ways to enhance the Mac performance again. Generally speaking, there are 2 usual ways to speed up a slow Mac, the first one is upgrading new hardware, which is very expensive, and the other one is using a Mac optimizer. These programs are great and they will tune up the Mac and boost its performance if the slowdown issue is software related.
Obviously, the latter is more efficient and budget-friendly for most of the users. But with an extensive list of Mac optimization apps, it will be very hard for you to choose the right one, especially where all the apps claim to be the best and promise to make the Mac run faster! So, as challenging as it may be, there a few factors that must not be overlooked.
Quick Summary
So, after testing several such applications and comparing them, we found the best Mac system optimizer and it is called Umate Mac Cleaner. It is the leading cleanup tool to improve your Mac performance.
How We Picked the Best Mac Optimizer Apps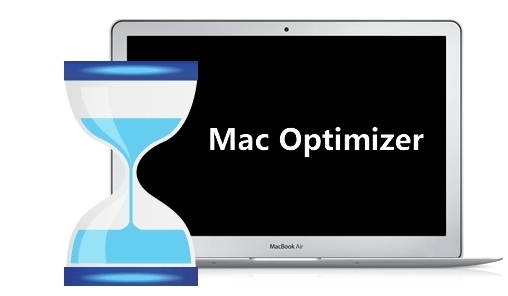 1. Security
The app should be secure and free of any virus or malware. Although Mac is not that prone to virus attacks like Windows OS. We ran a few security tests and removed the optimization apps which seemed malicious.
2. App Algorithm
The quality and efficiency of the application must be up to the mark. At least it must deliver what it advertises. The algorithm used by the app must be updated from time to time. This makes the app very effective and makes it capable of scanning for the junk files very quickly and accurately.
3. Ease of Use
The usage of the program has to be very simple. These apps are designed for regular users, not for professional software developers. If the application of the program is too complicated, then it will fail.
4. Price
The pricing is very important. If it is too high, then it won't be able to reach most of the users. It is true that you will find several optimizer applications that are available for free of cost but the paid apps obviously offer better services.
5. Compatibility
This one is very common for any type of program you use. Apple releases a new version of MacOS every year, if the app is not up to date with this system, then it will have a hard time adjusting to the new version of MacOS.
Till June this year, most of the users have converted to Mojave. We even tried to run some of them on it but most failed to even launch; so, we just eliminated them.
6. Tech Support
Most of the general population are not tech-savvy, it is also possible that some users have recently been introduced to Mac and it will be hard for them to understand the core operating principle of the device. So, convenient technical support is very important.
So, without further ado, let's come to the point. The following part shows our Mac optimizer reviews.
Top 5 Mac Optimizer Apps, Carefully Selected for You
Umate Mac Cleaner is quite frankly the best Mac optimizer we have come across. This is an intelligent application designed to make your MacBook faster. The app is quite capable of speeding up your Mac and making it more responsive. After a long time use, even the boot-up of the Mac gets slowed down.  This app can significantly reduce the load on the processer and makes it faster. It also frees up the load on your RAM and makes it a suitable space for apps. There are several installed apps that are considered memory eating, but this optimizer stops them on the track.
The app will make Mac boot 3x faster.
There are Quick Clean and Deep Clean modes available, which can instantly clean up your Mac with just 1 click.
The app is capable of freeing up more than 40% of the disk space in order to improve the performance.
It will free up your RAM space and boost the performance.
The app will also let you uninstall apps & extensions that are eating memory.
And all these features will clearly help you to improve the performance of your slowed down Mac.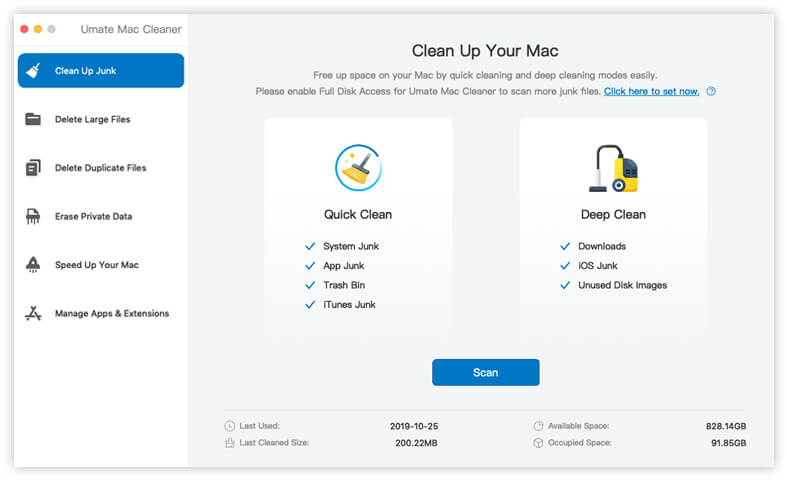 Compatibility
Umate Mac Cleaner is compatible with MacOS 10.14-10.10.
Price
The 1-year license for Umate Mac Cleaner will cost $29.95 and Lifetime License will cost $49.95.
Customer Support
24/7 customer service is available for 365 days.
MacBooster, as the name suggests, is also a great clean-up and booster program. The app offers standard disk clean-up options like scanning for large files, claiming memory back etc. The general performance is also good and it even scans for virus and malware.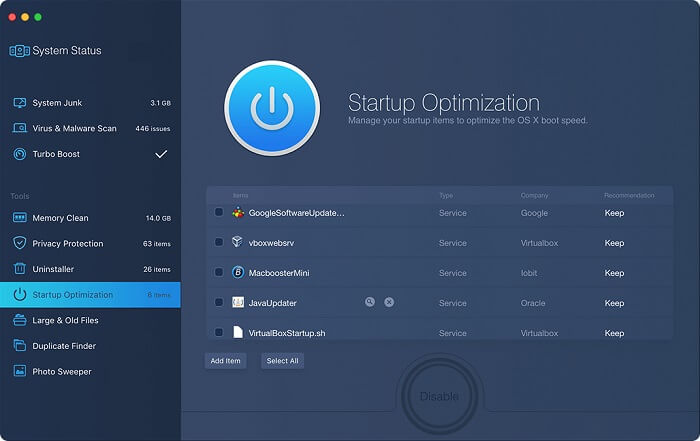 Although the app is quite excellent, it could be just too much for the beginners. So, it will be good for the users to make a backup of their hard drive before using this app.
The app helps you to increase disk space by eliminating a number of unwanted files from the Mac.
The app is equipped with a number of tools that can increase the performance of the Mac.
The app is easy to use.
The interface is very intuitive.
Compatibility
The latest version of Macbooster works with MacOS X 10.7 or later.
Price
The Standard Pack costs $59.95 for 3 Macs. But the highest price for a single license is $39.95.
Customer Support
The Standard Pack costs $59.95 for 3 Macs. But the highest price for a single license is $39.95.
CCleaner app is perfect for optimizing Mac. Especially for those who recently had a transition to Mac from Windows PC. CCleaner is a multi-platform application; this is a very popular tool, definitely one of the best out there.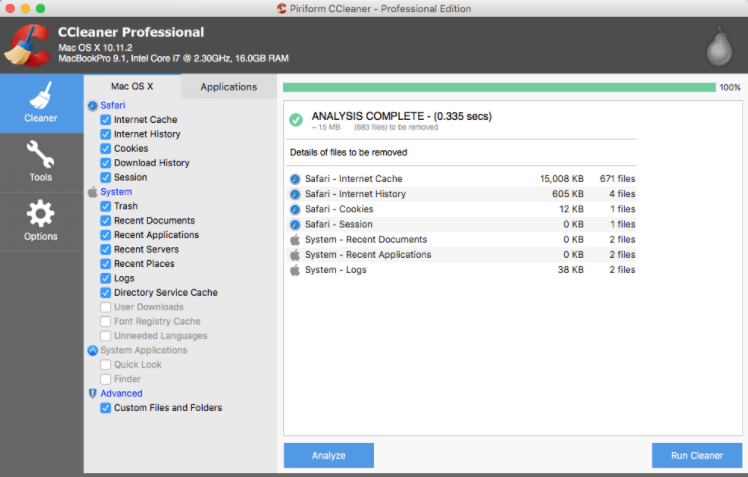 The problem is, due to its popularity with Windows users a lot of Mac users does not even know that the said app is available for Mac as well. This free Mac optimizer lets you scan and clean your computer but there is also a Pro version available. You have to pay for the Pro version which offers additional services like real-time monitoring, updates and support.
The app improves performance and fixes bugs.
Improved registry cleaning.
Improves the Drive Wiper performance.
There is a system restore detection routine available.
Compatibility
The latest version of CCleaner works with major macOS.
Price
The basic version is available for free and the Professional version with all the features comes at around $24.95.
Customer Support
Customer service is available but not very timely.
Stellar SpeedUp Mac is another great Mac memory optimizer. The app advertises to speed up your Mac by 25%. It can remove junk files, uninstall unwanted applications, and speed up Mac volumes. This is an effective application which is not only developed well but also boasts an attractive and user-friendly interface.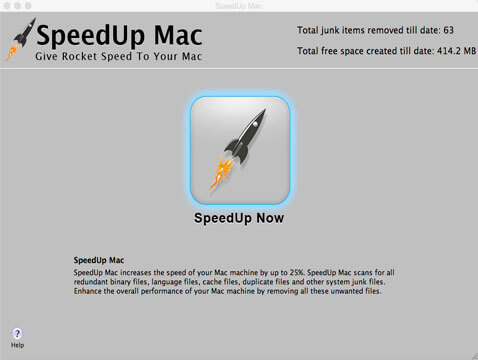 Text-based instructions are also available to make sure that users find the app convenient. The app seems to work really well. It is effective, easy to use and most of the users like it.
The app boosts Mac performance.
The optimizer repairs the disk errors.
If there are duplicate files, then will be removed by the application.
Wipes the device of all the junk files very securely.
Hard drive monitoring is available.
Compatibility
Compatible with MacOS X 10.11, 10.10, 10.9, 10.8, 10.7 and 10.6.
Price
1-year Pro-license will cost $39.99.
Customer Support
There is tech support but not so prompt.
Our last pick for this list is DaisyDisk. It is an excellent application that even provides colourful and interactive graphs. The app sorts out the files in groups like large files, documents, music, downloads and each comes with their own color schemes showing you how much space they are covering.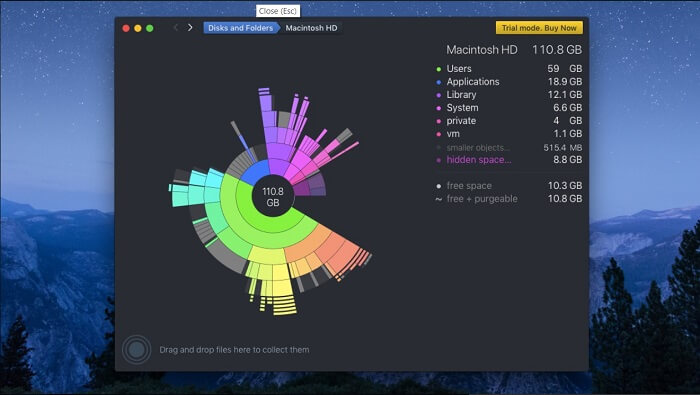 The app is very simple; at a single glance, you are getting the idea which files are taking most of the space. After that, it is up to you if you want to keep them or not. After you made the decision, just hit the "Delete" button and the selected files will be erased immediately. 
The user-interface is very unique.
The app easily finds and deleted all the unnecessary files and deletes them.
Claims to makes devices faster.
Provides disk-space information in real-time.
There is a built-in function for deleting files.
Compatibility
The app is compatible with MacOS X 10.10 or any later version.
Price
The app costs $14.99.
Customer Support
Free customer support along with technical support.
Conclusion
Overall, using a proper app it will be easier for you to make your MacBook faster but you have to be sure that you are using the right app. So, among these apps, if you are looking for the lowest priced app then, go for DaisyDisk, it is available at only $14.99. In our opinion, if you are new to the Mac ecosystem, then Umate Mac Cleaner will be useful as it is very intuitive and extremely user-friendly. But if you are going for brand value, then you can go for Stellar, CCleaner or MacBooster. However, considering every aspect, we found Umate Mac Cleaner to be the best. It satisfies all the required criteria one could ask for from an optimization software. It promises to speed up Mac and you will get other useful features as well.