Mac is a complex device and it gets harder to use due to the overwhelming presence of junk files. This makes the Mac run slower. These files can be erased manually but it is very hard and close to an impossible task. So, a proper tool is required in order to improve Mac performance.
MacBooster is known as one of the potent apps in the market. The app comes with several cleaning, optimizing and security features. So, let's have a look at our MacBooster Review below.
The MacBooster is a well-known Mac cleaner application with state of the art capabilities. The latest version of the app is called MacBooster 7. As far as the price goes, it is high! Priced around $59.95. Although the cleaning rate of the app is high, it is a bit confusing to use.
Part 1: MacBooster's Cleaning Feature
One of the most essential features of MacBooster is its Cleaning feature. This is an all-in-one app capable of removing junk files from your Mac effectively.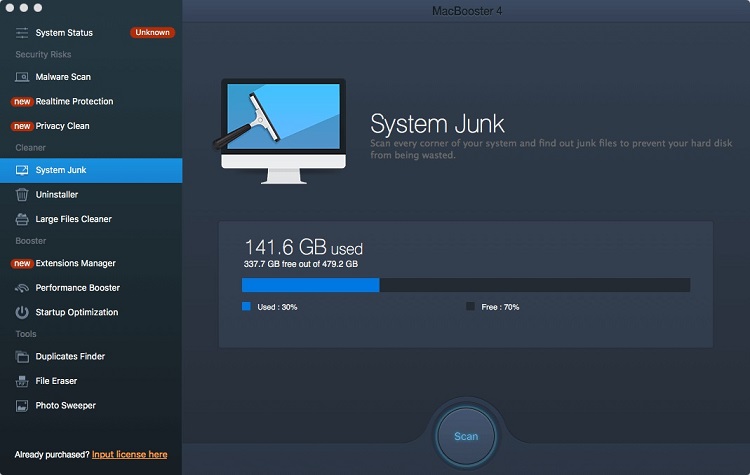 System Junk

There are several files on your Mac that are not essential. These are generated by the use of 3rd party applications. A quick scan of MacBooster will give you a preview of those files and the space covered by them. Click on the "Clean" button in order to remove them.

Uninstaller

The Uninstaller will display all the installed program on your Mac. The feature will allow you to remove them. You can uninstall one by one or multiple programs at the same time.

This feature will help you to locate, view and delete files/apps that take too much space on your Mac.

Pros

Easy to use.
Capable of locating junk files generated by 3rd party apps easily.
The uninstaller lists all the programs on the Mac and provides you with the option to choose.
Detects large files from a bunch of files effectively.

Cons

Performance is slow.
Part 2: Review of MacBooster's Optimization Features
The Optimization is another feature of the MacBooster application. This feature lets you optimize the Mac and improve its performance.
Extensions Manager

This feature lists all the 3rd party extensions on the Mac. The list includes Safari/Chrome add-ons, web plugins, preference panes, dictionaries, and Spotlight plugins.

Performance Booster

It cleans the Mac very thoroughly and boosts its performance. There are Application Optimizer, RAM Optimizer and Disk Permission fix options available which are the sub-features.

This feature displays all the login items that get launched as soon as the Mac gets booted. You will be able to delete those and speed up the startup process.  

Pros

Executions are very simple.
The extension manager keeps track of all the installed 3rd party extensions with the capability to remove them.
Effectively optimizes Mac
All startup items get removed.

Cons

Slow performing and difficult to use.
Part 3: Review of MacBooster's Security Features
Security features are also included in this application. It provides protection from different malware and viruses and provides real-time protection.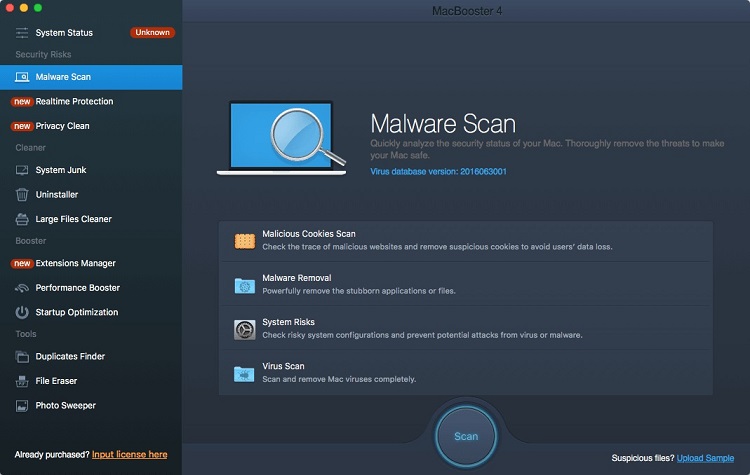 Malware Scan

Just like any anti-virus program, it scans and removes all type of virus and threats from your Mac.

Real-time protection

Effectively detects malicious files, websites, DNS etc. The app employs various shields designed to keep your Mac safe all the time.

Privacy Clean

Your private files will be deleted very safely.  

Pros

Protects Mac from any malware and virus.
Provides real-time protection.
Capable of cleaning private data, effectively of your choice.

Cons

Although malware scan and real-time virus protection are quite capable, private data clearing is glitchy.
Part 4: MacBooster's Best Alternative - iMyFone Umate Mac Cleaner
The best alternative for MacBooster app is the Umate Mac Cleaner. The app is equipped with several features. It can clean up junk files, locate and delete the large files, duplicate files on your Mac effectively. It works far better than manual methods. The program also optimizes Mac by disabling login items, launch agents and processes which consume large amount of CPU and RAM. It is a great all-in-one Mac manger.
Unlike MacBooster, Umate Mac Cleaner by iMyFone is available at a much cheaper price with only $29.95 per year. The cleaning success rate of the said program is very high and appreciated by its large number of users. As usual, the program is very easy to operate, and professional knowledge is not required.  There is 24/7 support available so that you don't need to worry about anything.
4.1 iMyFone Umate Mac Cleaner's Cleaning Features
The Cleaning feature of Umate Mac Cleaner is very effective. Using this feature, the program runs a quick clean at the very beginning in order to detect the junk files. Afterwards, those unnecessary files get cleaned in one single sweep.
The Mac cleaning gets completed using 2 methods. The usual quick clean is always available but if you need, then you can also perform a deep clean.
Quick Clean

Quick Clean is the default procedure. It detects the useless files automatically. This procedure is 100% safe, as only the junk files get deleted. It will cause no harm to Mac's program files.

Deep Clean

Sometimes, making quick cleaning is not enough. You need thorough deeper cleaning in order to free up more space on Mac and Deep Cleaning feature is necessary for that. The number of scanned files gets increased during the use of this feature, helping you to erase more files.  
Type of Files can be Cleaned with Umate Mac Cleaner:
System Junk
System Cache
System Log Files
Damaged Login Items
Corrupted Preferences
Outdated Updates
XCode Junk
Documents
App Junk
Trash Bins
Removes items in trash folders on your Mac and external hard drives
Installation Packages
Deletes those unwanted installation package files
iTunes Junk
iTunes Cache
iTunes Broken Downloads
iOS Junk
iOS Apps
iOS Device Backups
iOS Software Updates
Downloads
Clean up downloaded files in the default storage path
Large Files
Cleans up large files that are occupying a lot of disk space
Unused Disk Images
Clean up the unused disk images on your Mac
Now, here are the pros and cons of Umate Mac Cleaner's Cleaning feature;
Pros
The Quick Clean mode detects the junk automatically, professional knowledge is not required.
Junk files can be removed with s single click.
Cleanup supports more than 40 types of junk files.
There are 2 different cleaning modes available, dedicated for removing every trace of junk from your Mac.
In the Deep Clean mode, you can delete files selectively.
A preview feature is also added to figure out which files are necessary to remove.
Cons
Not available for free.
4.2 Delete Large Files
This is a new feature released on 3.0.0 version in resent days. It can find all the files larger than 50MB on your Mac, so that you can decide to delete them to get more free space or not.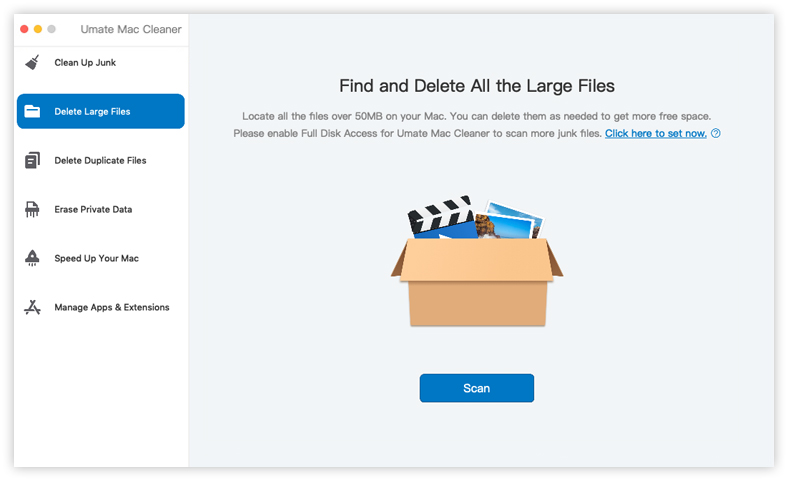 4.3 Delete Duplicate Files
Along with the feature of deleting large files on Mac, this features is also a new features on 3.0.0 version. It added the support to find all the duplicate files on your computer, then you can delete them to release much space occupied by these meaningless duplicate files.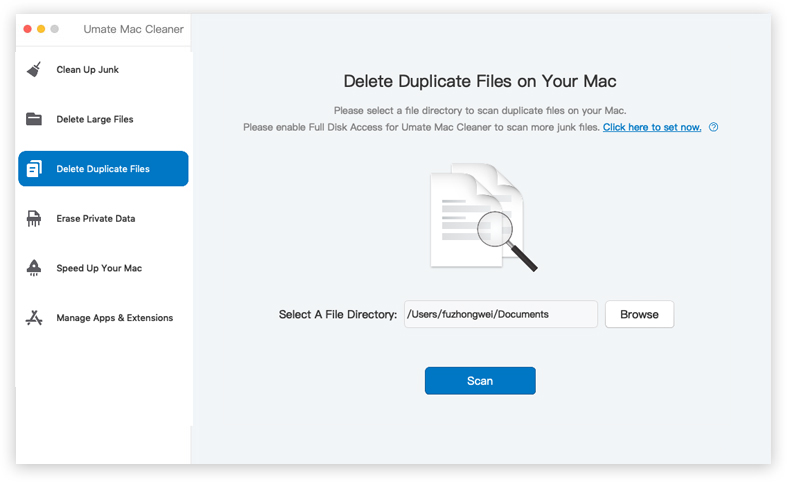 4.4 iMyFone Umate Mac Cleaner's Erase Private Data Features
Another feature of Umate Mac Cleaner is called Erase Private Data. Using this feature you will be able to clear everything from Mac usage data to your personal files as well. This feature is basically designed for protecting your privacy.
Erase Private Data feature is capable of erasing quite a few different types of files. Let's have a look:
Online Traces
Umate will clean up all the locally stored items from the browser and the Wi-Fi network list. The list includes: 
HTML5 Local Storage
Autofill Values
Last Session
Browsing History
Cookies
Download History
Chat Data from iMessage
The chat data from your iMessage can also be removed for clearing more space.
Usage Traces
All the files in the "Recent Items" inside the Apple menu will also be erased. It includes;
Recently Launched Application
Recently Accessed Server
Recently Opened Documents
Mail Attachments
The downloaded mail attachments can also be deleted, along with all its local copies. But the app won't delete the modified files, the deleted files can still be accessed via email.
Photo Junk
Your photo library cache and face cache will be cleaned up without deleting any actual photos.
Here are the ups and downs of Umate Mac Cleaner's Erase Private Data feature;
Pros
The feature supports a total of 5 types of private data cleanup to protect information leakage.
A preview feature is available.
When deleting Online Traces all the open and secure networks will be displayed on the screen. But you can only erase the unsecured ones.
You will also get a list of recently launched apps, accessed servers, opened documents etc. All these can be cleaned up as per your requirement.
 When deleting mail attachments, the program will delete all the local copies and downloaded files. If you have accidentally deleted wrong files, then you will be able to restore them.  
Photos library files can also be cleared without creating issues for the original files.
Cons
The erased files are completely unrecoverable. Be completely sure before deleting them.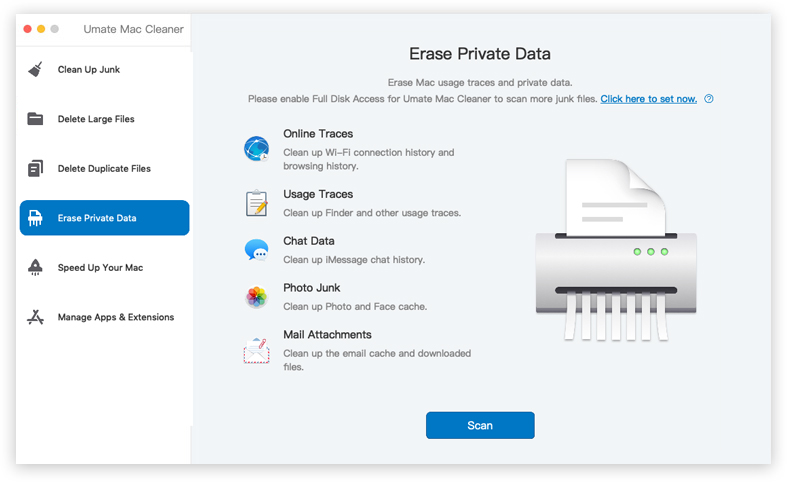 4.5 iMyFone Umate Mac Cleaner's Speed Up Features
The 3rd feature of Umate Mac Cleaner is known as Speed Up Mac. This feature makes your Mac run faster by disabling the startup items, deactivating the heavy consumers and removing the launch agents.
Disable Startup Items

Disable those startup items that are automatically launched when you boot the Mac.

Deactivate Heavy Consumers

There are apps and other programs known as heavy consumers, as they consume too much CPU power and RAM memory.  

Remove Launch Agents

The launch agents run in the background of the Mac, as soon as it is turned on. Then, these agents launch their parent programs consuming Mac's memory and slowing down the device.

Free Up RAM

RAM is an important factor of Mac's performance, if the RAM is ran out of on your computer, then the running speed can be very slow. The app will help you to release the occupied RAM to speed up your system.
Here are the ups and downs of the said feature;
Pros
You will be able to disable the startup items with a single click.
The heavy consumers get deactivated and reduce CPU usage. Making the Mac run faster.
 It also removes the launch agents, in the preview you get to choose any files you want.
Cons
Not available for free.
4.6 iMyFone Umate Mac Cleaner's Apps & Extensions Management Features
The last feature of Umate Mac Cleaner is Manage Application & Extensions. Using this feature you get to uninstall the apps that are left unused on your Mac. Also, the unnecessary extensions can be removed to booster your running speed.
Uninstall Applications
You will be able to uninstall apps that are not used by you. These apps consume unnecessary memory. The app will list the information of using frequency, size or name to you. It can uninstall the unwanted applications and its associated files on your Mac without any file corruption.
Manage Extensions
Managing extensions from the Internet, Quicklook, Spotlight, Safari and Dictionaries are also a part of this feature.
Here are the ups and downs of the said feature:
Pros
All the details regarding the apps will be available.
The system will filter apps automatically.
Complete removal of the app is very easy.
When removing extensions, you will be able to remove everything like Safari, Internet, Spotlight, Quicklook and Dictionary extensions.
Individual and bulk removal is also possible.
Removal speed if fast.
Cons
Not available for free.
By here, you can have a clear understanding of Umate Mac Cleaner an how does its features working. The procedure of using the app is very simple. Just follow thw steps below to enjoy the features:
Choose the related feature tab in the left panel and then manage the files and items as your need.
Start to scan the files and items.
Summary
So, considering all the facts and after going through all the features of MacBooster and Umate Mac Cleaner, we would like to recommend the product of iMyFone for the users. As it is the best and convenient option that can be used to free up space and speed up Mac.