[Answered] Is There a Free iMyFone MirrorTo Registration Code?
Category: Mirror Tips
3 mins read
Are you looking for a registration code for iMyFone MirrorTo? Whether you know about MirrorTo or not, you will get a lot of surprises from this article.
More and more people want to play mobile games on a bigger screen like a PC, turn the tablet screen into a second blackboard when painting or teaching, and try to view the screen of the elder to help them with usage problems.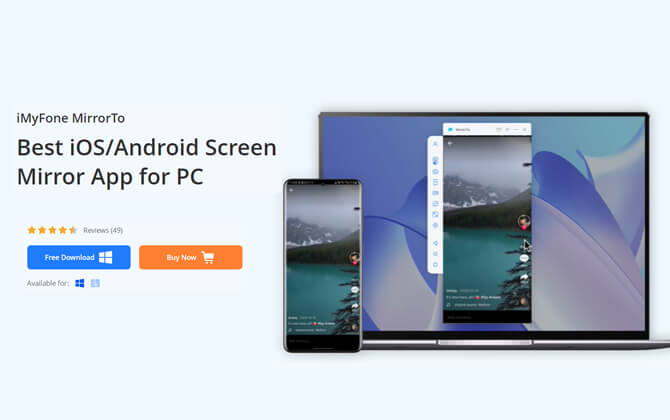 All of these are related to screen mirroring. Screen Mirroring is getting more and more popular in our life and work. iMyFone MirrorTo can help you with it easily to make your life more efficient and enjoyable.
1

Why You Need iMyFone MirrorTo
---
iMyFone MirrorTo is one of the best screen mirroring apps in the market. It is very easy to use for beginners and those who know little about technology. It supports almost the mainstream devices and platforms.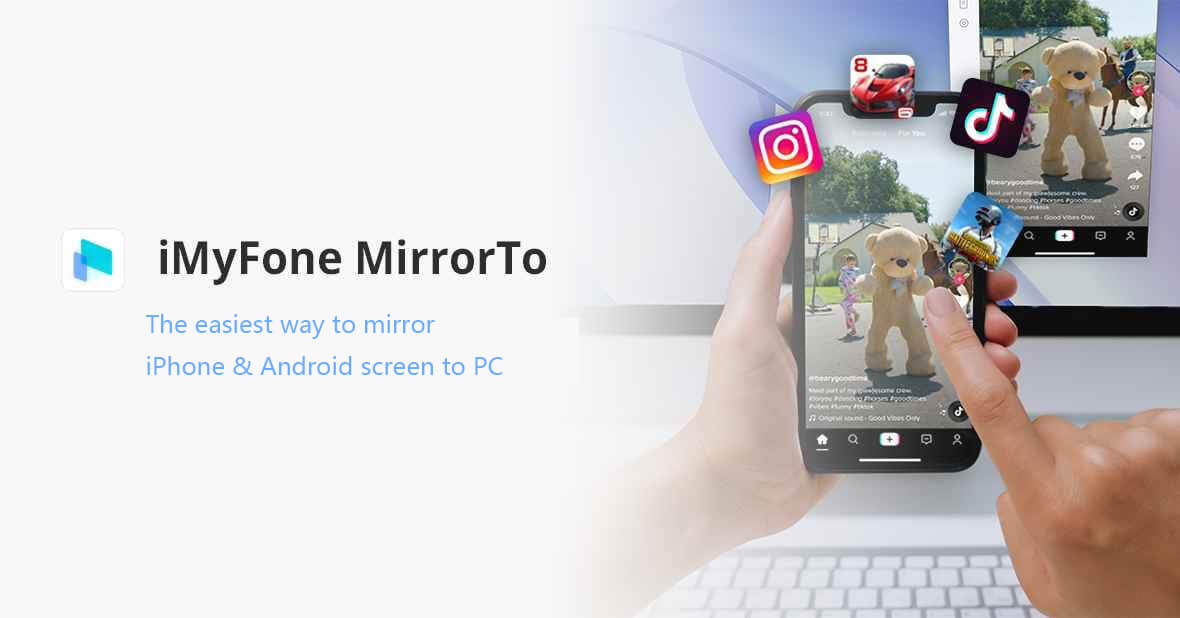 When iMyFone MirroTo can help you?
When you want to play mobile games on your computer without emulators.
When you work on a PC without bothering to pick up your phone, control it with a keyboard and mouse.
When you want to watch movies with a bigger full screen on a PC.
When you want to stream live from your phone to your PC. MirrorTo supports various app streaming, such as Zoom, YouTube, TikTok, Snapchat, and so on.
When you want to screenshot and record your phone screen and edit the video and picture on PC.
No matter what your reason is to mirror and control your phone/tablet on PC, iMyFone MirrorTo will be your best choice for its lower price and powerful features. It really offers you more fun and convenience for your life and work.
Video Tutorial on Mirroring the iPhone screen with iMyfone MirrorTo: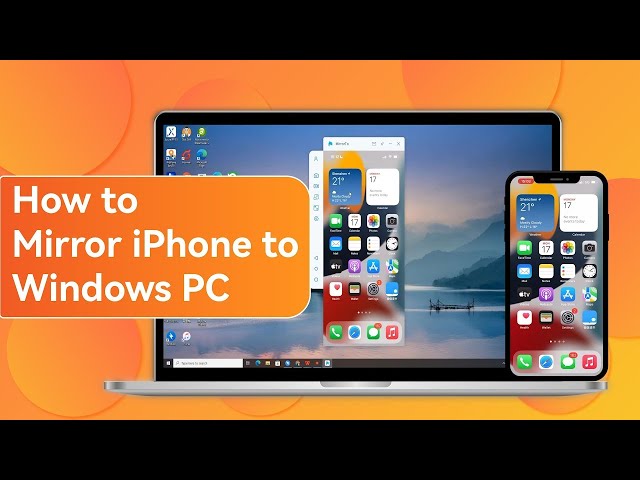 Steps to mirroring your Android phone to a PC:
Step 1. Download MirrorTo on your PC and phone. (If you have an iPhone, you don't need to download the app on your iPhone.)
Step 2. Launch the program and connect your phone and PC with a USB cable.
Step 3. Choose "Android" according to your phone.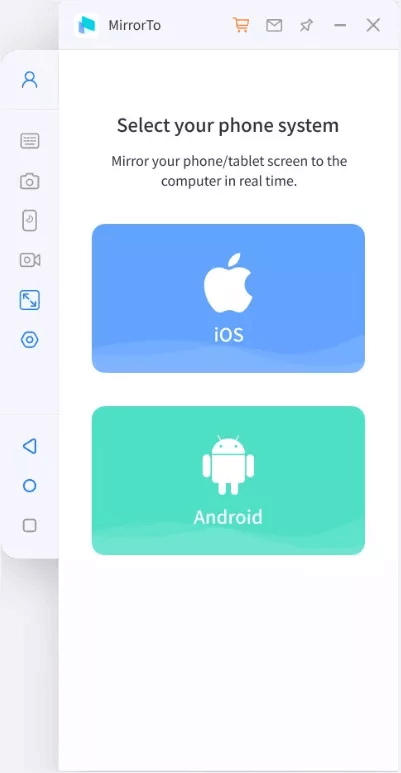 Step 4. Go to Setting > About phone > Software information. Then click "Build number" for 7 times.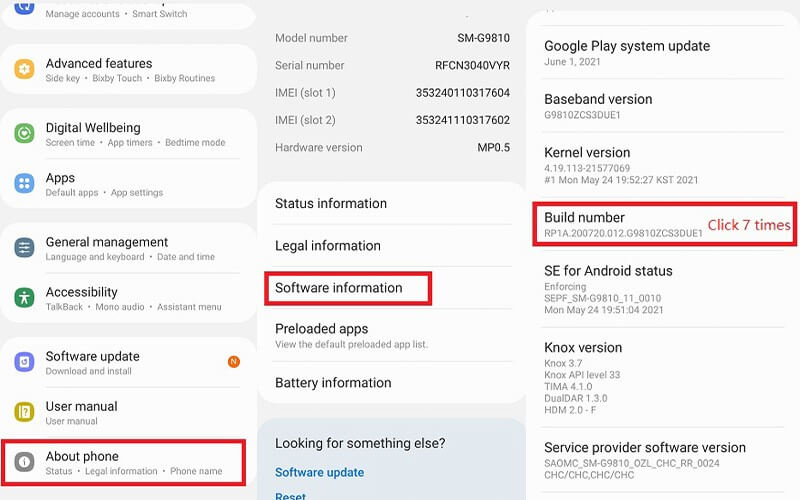 Step 5. Go back to Setting > Developer option. Enable the USB debugging.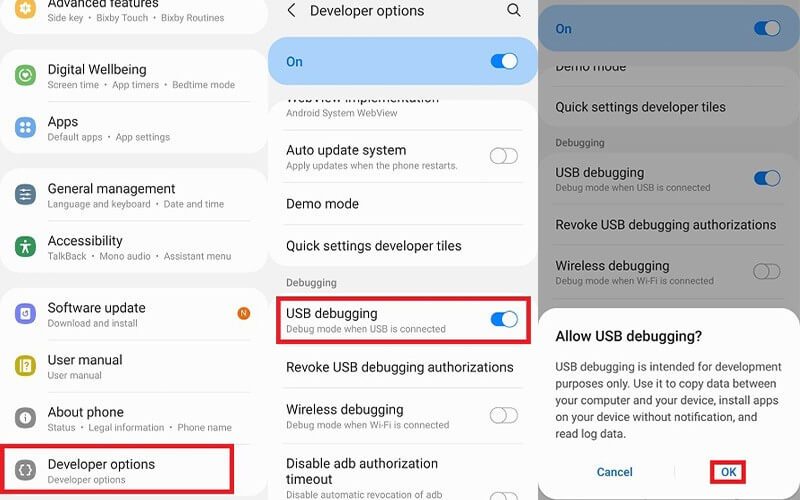 Step 6. Click "Turn on" when "Permission appilication" pop up on your phone. Then MirrorTo apk will be automatically downloaded in your Android phone. Now you can view and control your phone on a PC.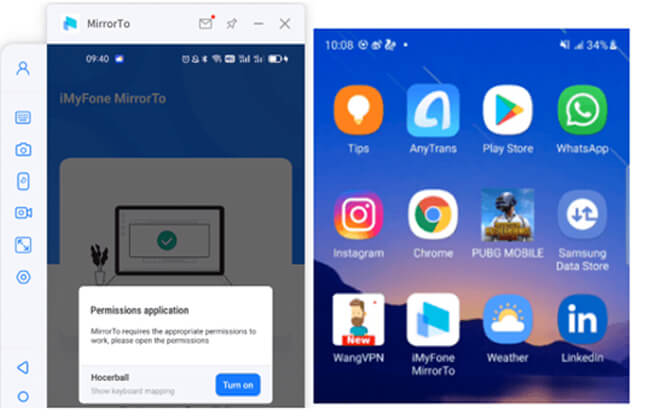 Click here to see more detailed guides.
2

Is There a Free iMyFone MirrorTo Free Registration Code?
---
To be honest, there's no free code online. Only through official activities can you get a free registration code. The free registration code online that can be seen by all people are tricks, which wastes your precious time.
The only way to get a registration code for iMyFone MirrorTo is to buy from iMyfone official website. Here are the official purchase plans. It's cheap compared with other products in the market. There are 3 plans to choose from if you want to get the premium features of iMyFone MirrorTo.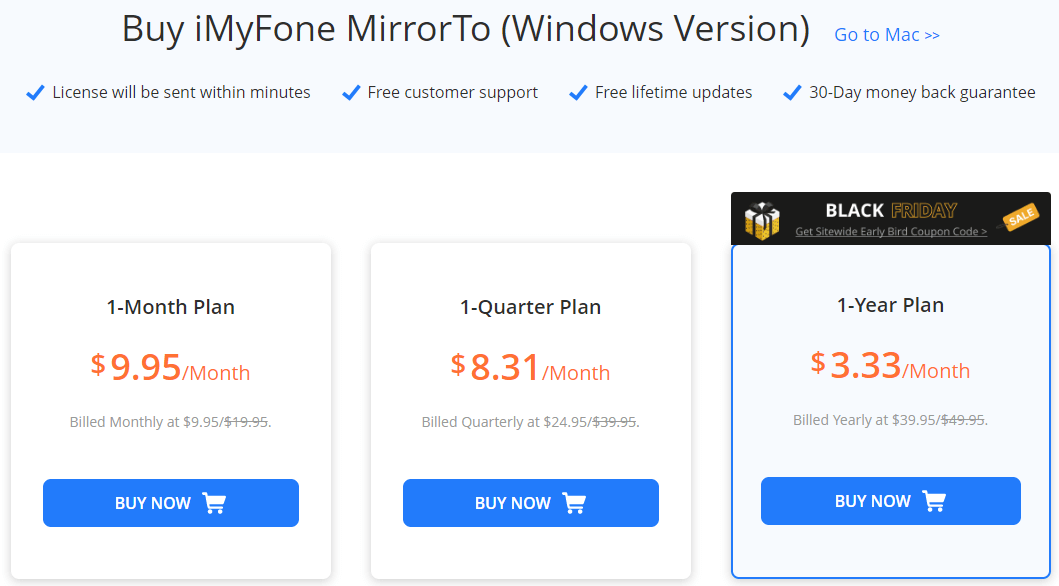 1-Month Plan: $9.95/Month. If you buy one month. It is a suitable choice if you want to have a try and experience more functions in the short term.
1-Quarter Plan: $8.31/Month. You can get a premium plan for 3 months by one-time purchase. The price is $24.95 in total. It's $5 cheaper than buying it one month by one month.
1-Year Plan: $3.33/Month. If you buy MirrorTo for a year. You just need to pay for it $3.33 a month. It means it costs only $9.99 a quarter. The total is only $39.96 for a whole year. You can use all the functions of MirrorTo without any limitations whenever you need it.
You can choose the most suitable plan for yourself from these 3 plans. No matter which plan you choose to get, you are allowed to use the screen mirroring function and others of MirrorTo for free.
3

Why You Should Get Your Own iMyFone MirrorTo Registration Code?
---
Powerful Premium Functions
For Windows PC Users: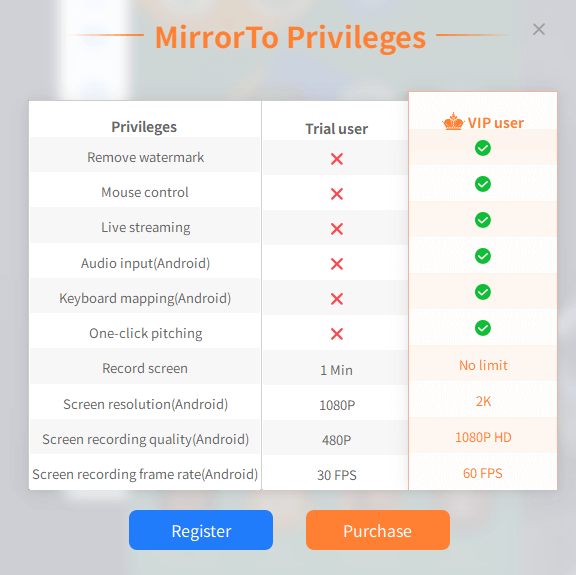 For Mac Users: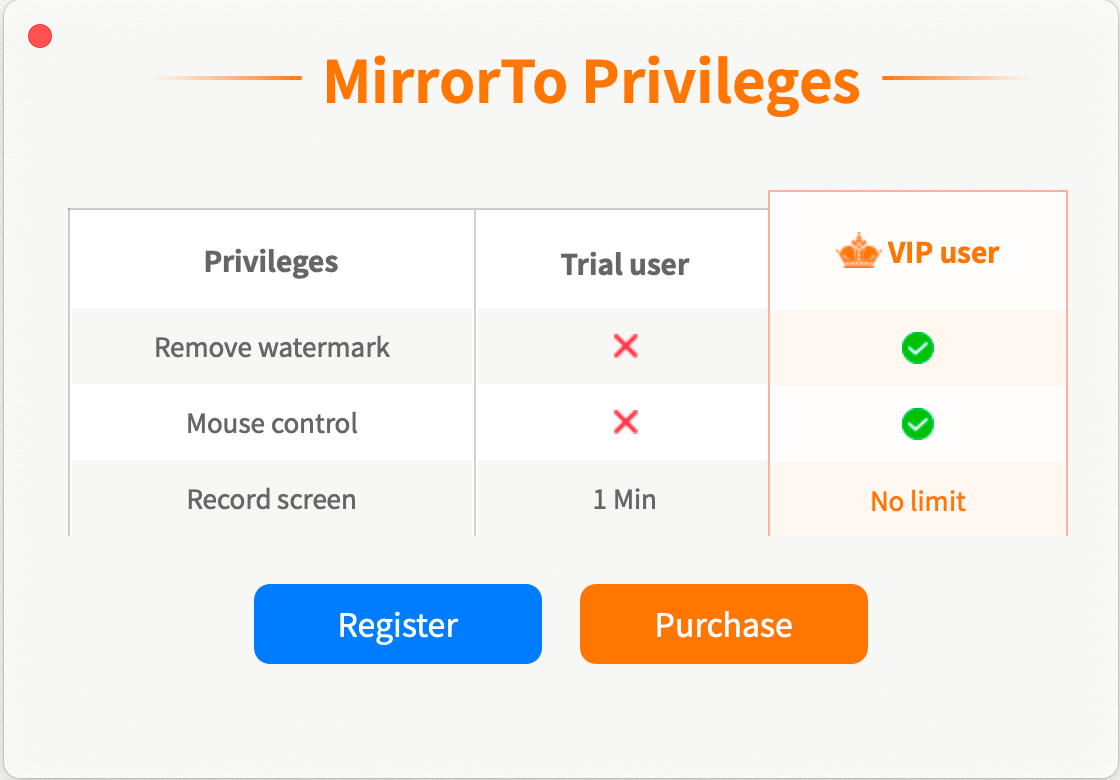 iMyFone MirrorTo is one of the most powerful screen mirroring applications in the market, but it has the lowest price. It's very cost-effective. What's more, there are varieties of activities on our official website, from which you can get a great discount and even a free reward for the registration code.
Therefore, be sure to subscribe to our official website to follow and participate in our occasional activities, such as ongoing Black Friday Events.
For our VIP customers, we support professional technical service personnel at your service. They can solve problems for you remotely.
Your Support Is The Greatest Impetus for Us
For all the customers using MirrorTo, your support is vitally important to us. Everyone who tries and uses iMyFone MirrorTo gives us the power to improve the product. It's very proud of us to help you solve your problems and make your life more enjoyable and easier. All of this pleasure comes from you.
4

Bonus: 10% OFF for the iMyFone MirrorTo
---
To thank you for supporting us thus far, we offer an official registration code for you with a 10% discount.
10% off Coupon Code: YTR5E7
Let's see how to use this coupon to buy iMyFone MirrorTo:
Step 1: Copy the coupon code above. Then move to iMyFone MirrorTo Purchase Page.
Step 2: Choose the version according to your PC or laptop. We have Windows Version and Mac Version. Be sure to choose the right one. If you choose wrong, don't worry, contact us and iMyFone Customer service will help you with it.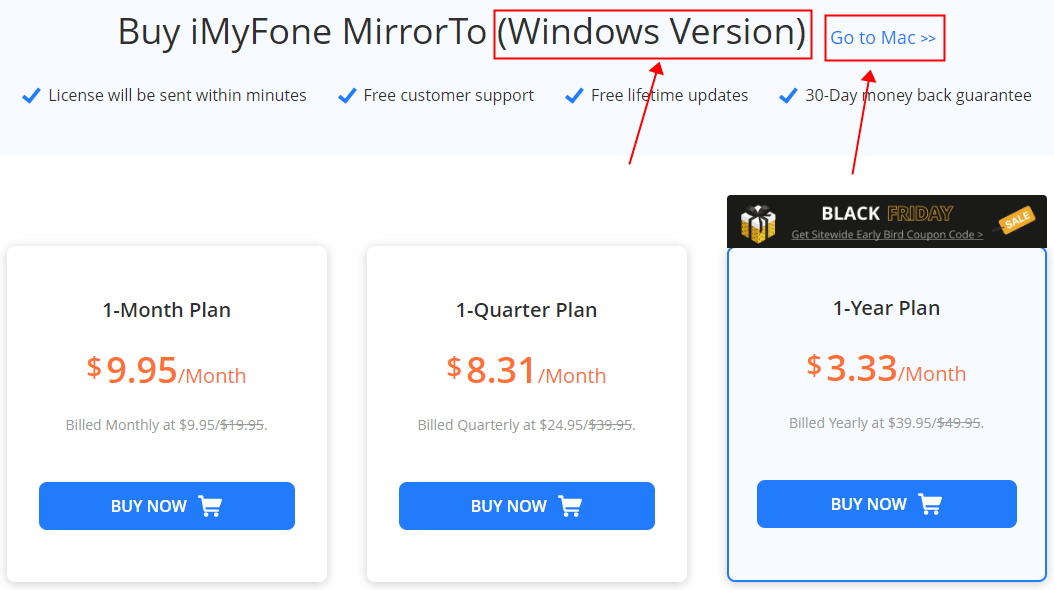 The coupon doesn't support PayPal.
Step 3: Choose a plan introduced above and click the "Buy Now" button.
Step 4: You can freely delete the purchase plan you don't want by clicking the ashbin pattern at the back of every plan.
Step 5:Click "I have a coupon" in the lower left corner.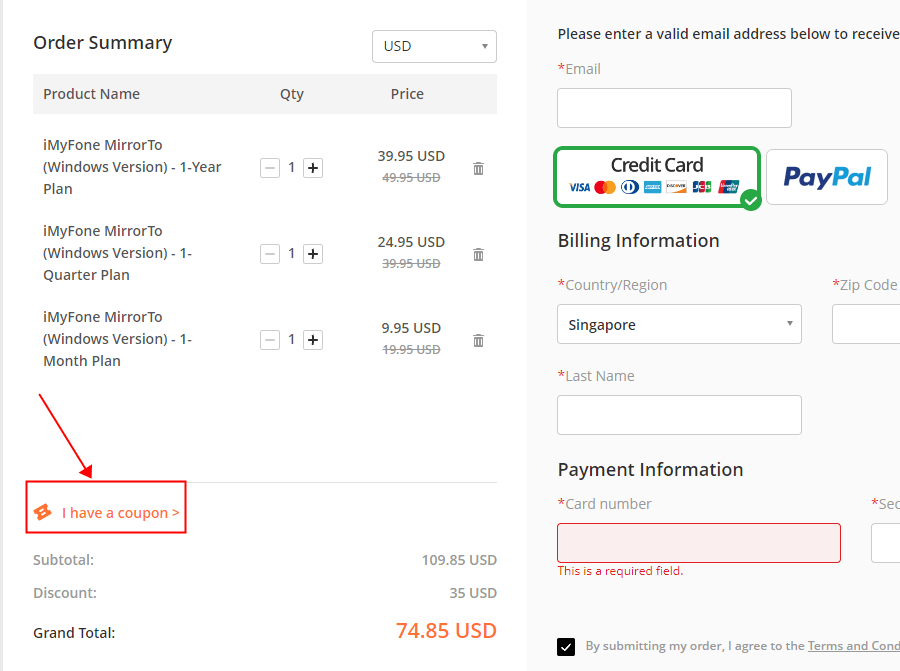 Step 6: Enter the coupon code: and click "Apply".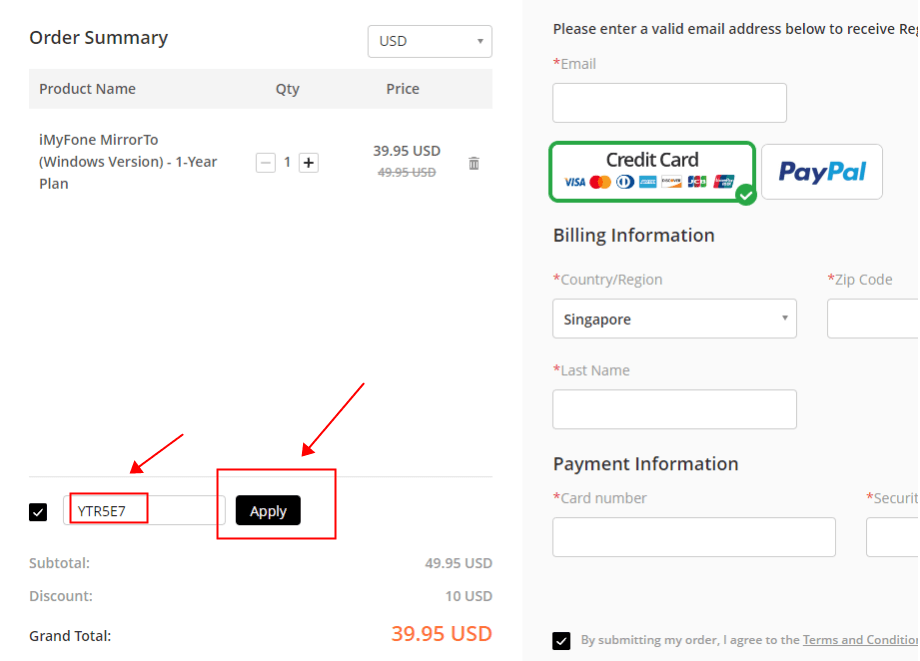 Step 7: Now you can get 10% off to get premium MirrorTo.
Final Words
Have you already known about the iMyFone MirrorTo and the registration code for it? Get the coupon code and try it. You will get more fun in your life. Thank you for your support sincerely once again. Any questions, please feel free to contact us and we are very willing to help you.