How to Stream to TikTok from OBS: Everything You Need to Know
Category: Mirror Tips
2 mins read
In June 2018, TikTok was one of the most downloaded apps on the internet. There is no doubt that TikTok has gained the attention of every social media user. It was designed to share short videos but later on, multiple advanced features were introduced which include streaming to TikTok from OBS.
However, with every passing day, seasoned streamers are looking for a more professional streaming alternative to the OBS. So let's discuss this in detail.
Part 1. What is OBS
OBS Studio is a free and open-source software for video recording and live streaming. It's available for Windows, macOS, and Linux. OBS Studio lets you record your screen or webcam and stream to YouTube, Twitch, Facebook, and more. You can use OBS Studio to create professional-looking live streams and video recordings.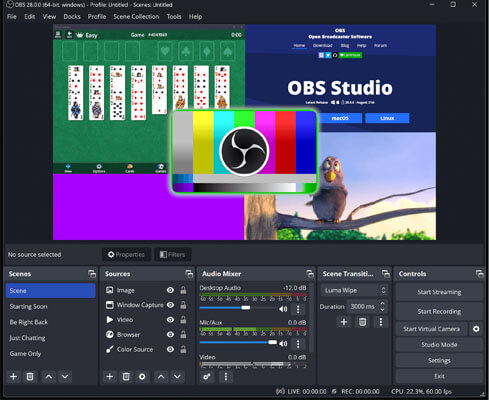 With its easy-to-use interface and advanced features, OBS Studio is the perfect tool for any streamer or YouTuber. But there are some cons of using OBS studio like:
It is not proper for beginners.
It has a lot of features which are not necessary.
Its interface is not user-friendly.
It is not compatible with all the devices.
So, in this guide, we'll show you how to use OBS Studio to record on your screen or webcam, and stream to YouTube, Twitch, Facebook, and the best alternative.
Part 2. How to Stream on TikTok Using OBS
As we have discussed above Open Broadcaster Software (OBS) is a popular, open-source live streaming and recording platform. While it can take a little bit of time to get set up and familiar with the interface, OBS is a powerful tool that gives you a lot of control over your TikTok live OBS. Whether you're looking to stream games, music, or other content, OBS is a great option.
Here's a quick overview of how to use OBS for live streaming:
Step 1. Download and install OBS from OBSproject.com.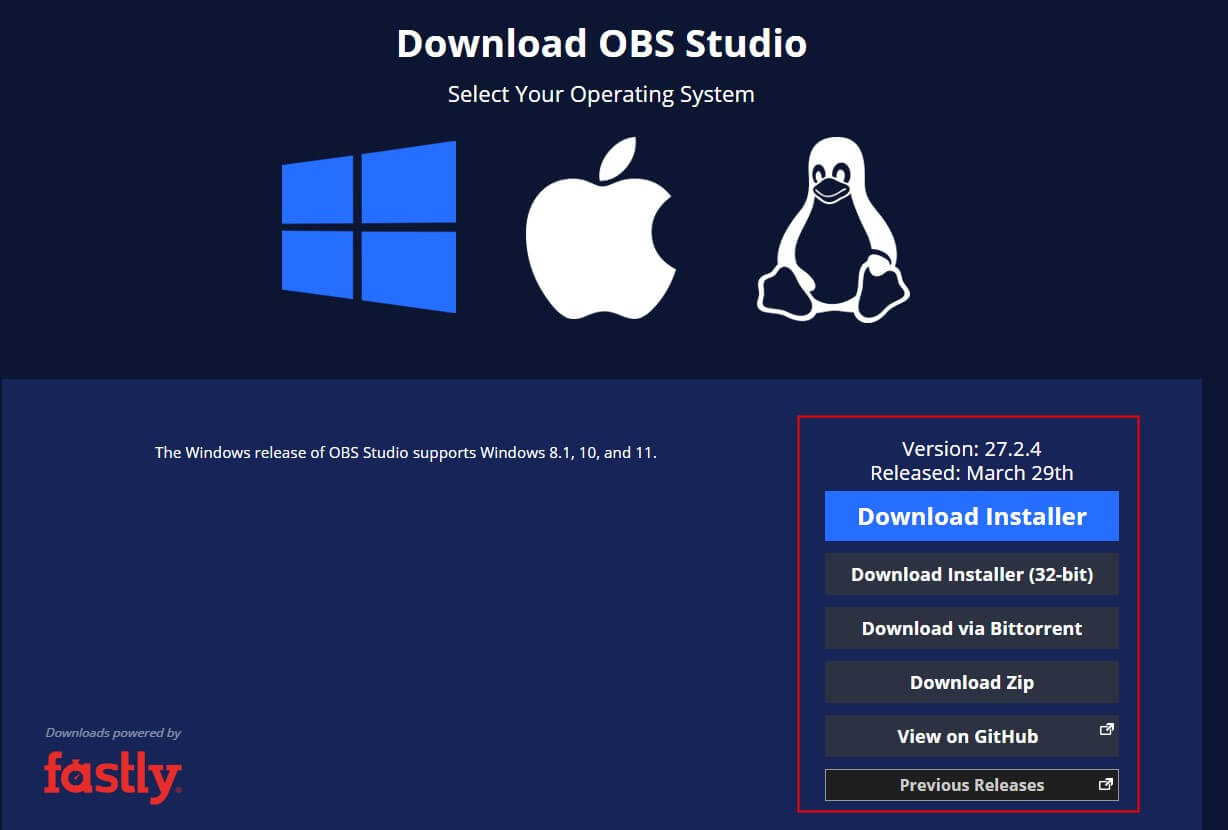 Step 2. Open OBS and set up your scene. This is where you'll add your video and audio sources, such as your game capture, webcam, and microphone.

Step 3. Configure your settings. In the Settings menu, you'll be able to adjust things like your bitrate, resolution, and frame rate.
Step 4. Start streaming! Once you've got everything set up, click the "Start Streaming" button in the OBS interface. Your live stream will now be live on your chosen platform.

Step 5. Go to Settings > Stream > Survice > Custom.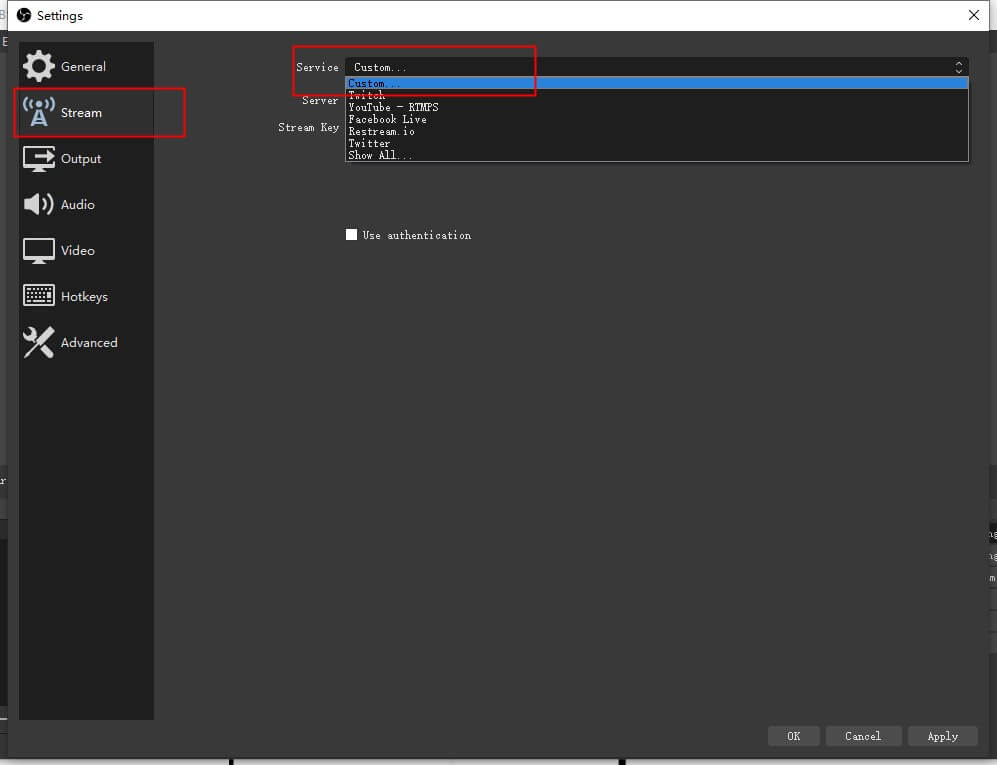 Step 6. Now, go to TikTok. Follow the instructions below to set TikTok.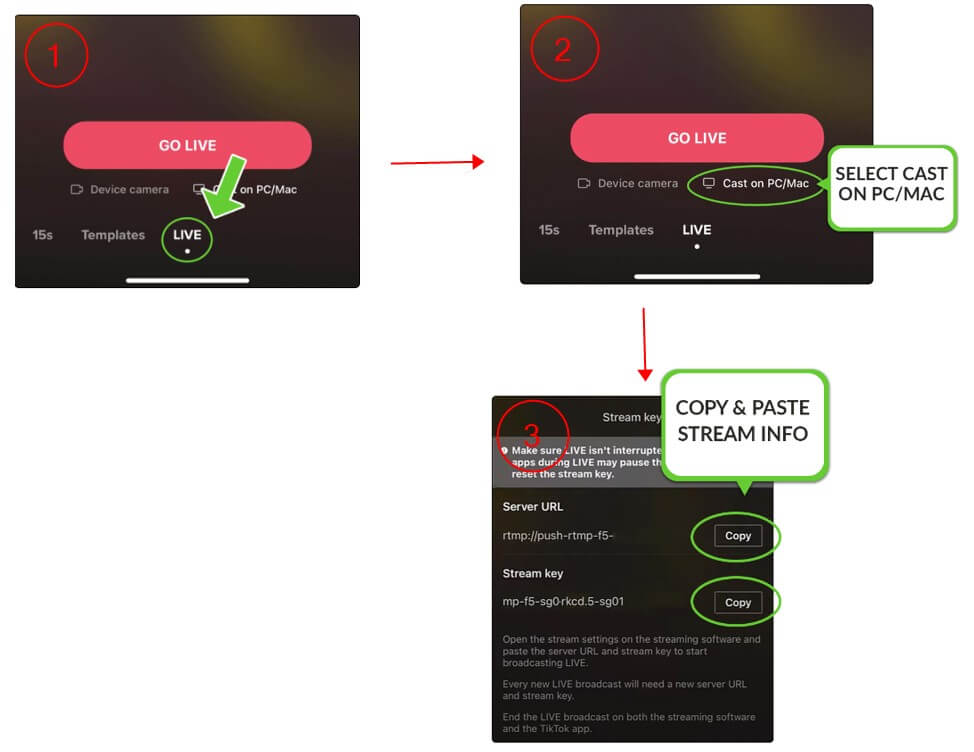 Step 7. Finally, copy the stream key of TikTok to OBS. Then you are good to go live.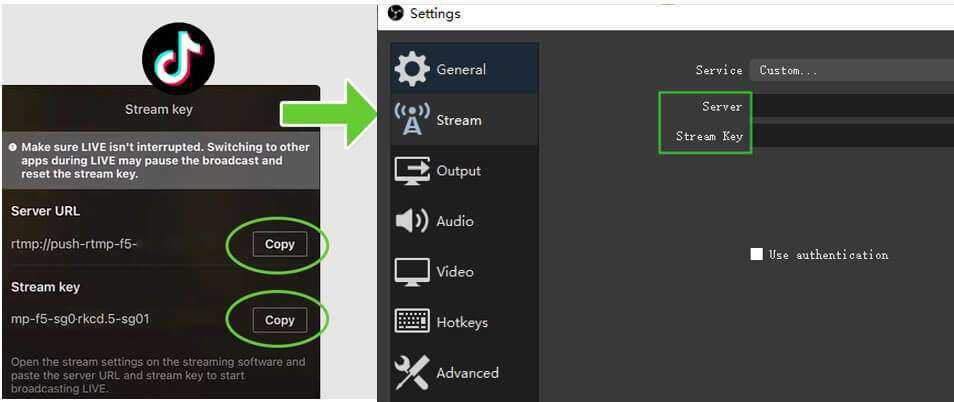 Part 3: The Best Alternative to OBS to Live Stream TikTok on PC
There are many alternatives to OBS Studio, and one of the best is iMyFone MirrorTo. This software allows you to easily record your screen and audio on your computer, and it also has several other features that make it ideal for recording gameplay footage and other types of video.
For example, it allows you to record your screen and audio at the same time, which is perfect for recording gameplay footage. Not just this but it can record in high definition, which make it the perfect alternative to OBS Studio.
Mirror & Stream Your Phone Screen to PC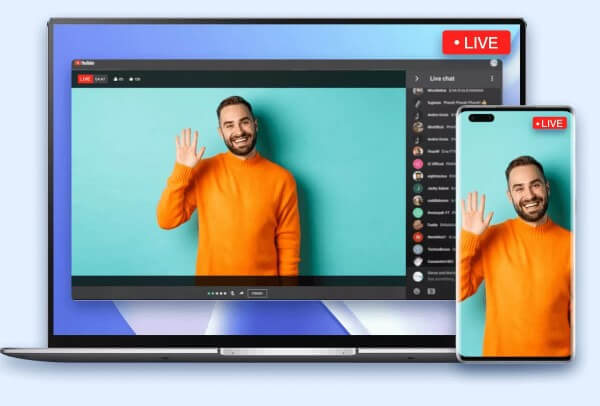 Effortlessly share your Android/iOS phone screen on PC with HD screen and fluently audio.
Offer a stable and fast performance when streaming your phone screen on TikTok.
Freely control your phone from your computer with your keyboard and mouse.
Stream your phone to YouTube, Facebook or other social platfroms like Skype, Zoom and other tools.
Follow the stpes to live stream on TikTok via MirrorTo:
Step 1. After successful connection of your phone and computer, click on the stream button in the toolbar. Choose the "to live streaming platforms" option in the toolbar.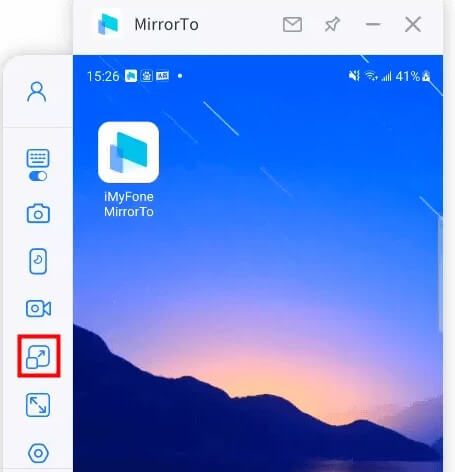 Step 2. Take TikTok, for example, start the TikTok live streaming by clicking the "Go LIVE", a screen will appear with the Server URL and your Stream Key, then copy them.
Step 3. Paste the stream code to the window "Please fill in your live streaming information".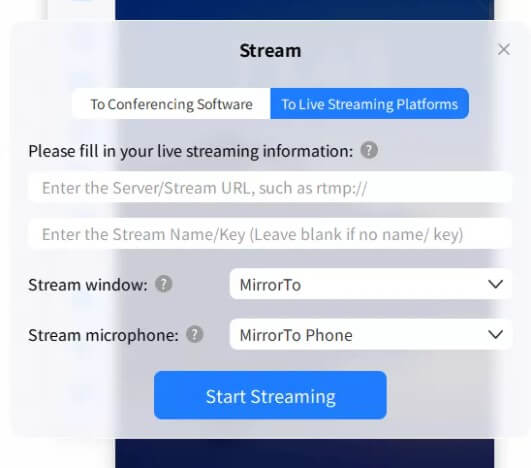 Conclusion
There is no doubt that OBS Studio is a powerful tool for stream to TikTok from OBS and recordings. However, it can be a little bit complicated to set up and use for TikTok live OBS, and it doesn't have all the features that some streamers might want. If you're looking for an alternative to OBS Studio, iMyFone MirrorTo is a great option. It's easy to use, it has all the features you need, and it's much more affordable than OBS Studio.