Mobile phones have become a part of our daily life and not a single day goes by, without us using it for different purposes. But there is a certain lifespan for these devices and they must be changed once in a few years. The changing of a mobile is not a hard thing, but the transferring of data between 2 mobiles can be if you don't know the right applications to use.

For HTC users, HTC Transfer Tool is a must-used application when they get their brand-new HTC phones. Here in the article, we'll give you the instructions of HTC Transfer Tool and have a discussion of HTC transfer methods, which are sorted by different destination devices. You can get a better understanding of HTC Transfer Tool and HTC data transfer after reading.
Part 1: Introduction of HTC Transfer Tool

HTC Transfer Tool is an application developed by HTC for transferring contacts, messages, photos, bookmarks and etc. between HTC devices. The data transfer process is not that difficult especially when we have such a specialized tool developed by the company itself. Note that this tool works on devices that have Android 2.3 or higher versions in it.
Step-by-step Guide to Use HTC Transfer Tool
Here we are going to tell you how to use HTC Transfer Tool to transfer data from HTC to HTC.
Take your new HTC device and go to the Settings menu. Tap on Transfer Content and then select HTC Android phone.
Your old HTC device might not be having the HTC Transfer Tool. In that case, download and install it from the Store.
Launch the transfer tool on your old phone, and follow the instructions to pair them. The pin displayed on both of them will be the same if the pairing is successful.
Take your old HTC device and select the contents you need to transfer to your new device by checking the box and hit Start.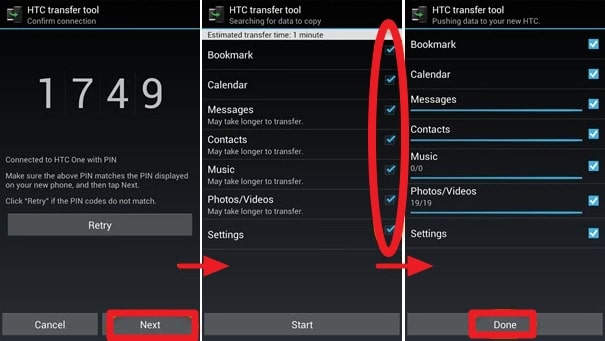 The transfer process will take some time, wait patiently. Close the apps on both phones once the process is complete. Now you are good to use your new HTC device.
Part 2: HTC Data Transfer
In recent years, HTC has been sharing less and less of the mobile phone market, which can be seen from its sixth straight quarterly loss in Q3 2019. Besides, the app HTC Sync Manager designed by HTC to help iPhone users transfer data to HTC is no loner supported. The situation leads to the fact that many HTC users are seeking to or may seek to switch to other popular phones such as iPhone, Samsung, Huawei and etc., since these phones are provided with much better services.
For your convenience, here we provide you different methods to transfer data from HTC to iPhone and Android phones (e.g. Samsung phones), so that you can mark this article and simply turn to it when you decide to change from HTC to other devices.
2.1 Transfer Data from HTC to iPhone
Moving from an HTC device to an iPhone can be a big step and will need some 'getting used to' with the new device. So the best thing in such a confusing time is to have the contents of your old device safely copied to your device.

Method 1: Moving Files to iTunes on PC
This is a very simple method and we will be utilizing the iTunes for the transfer of files. Also, a drawback of this method is that only photos and videos can be transferred from an HTC device to an iPhone.
Use a USB cable and connect your HTC device to your PC.
Open the storage drive of the HTC device on your PC. Select the images and videos you wish to transfer and copy all of them to a folder.
Now connect your iPhone to the same pc and open iTunes. Click the Device button, then Photos, Selected Photos and finally find the folder you have created on your pic and tap Sync.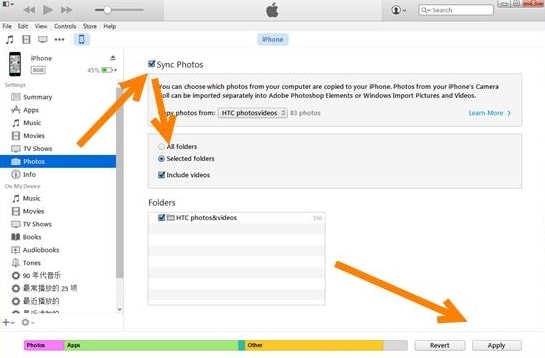 Once the syncing is complete, you will be able to access all the files in the folder on your iPhone.
Method 2: Using Move to iOS App
Move to iOS is an application developed by Apple to transfer files from any device to an iPhone. Which means this application can be used only if the target device is an iPhone.
Install the Move to iOS application on your HTC device from the Google Play Store.
Turn on your new iPhone and select the Move Data from Android option which can be seen while you start setting up the device.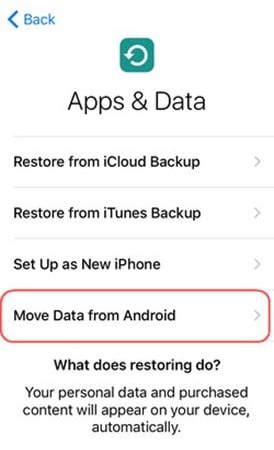 Open the Move to iOS application on your HTC device and hit Continue.
Enter the code generated by your iPhone in your HTC device to proceed. A secure wireless connection will be established, once you enter the code.
Select the files or applications you wish to transfer and move on with the transfer process.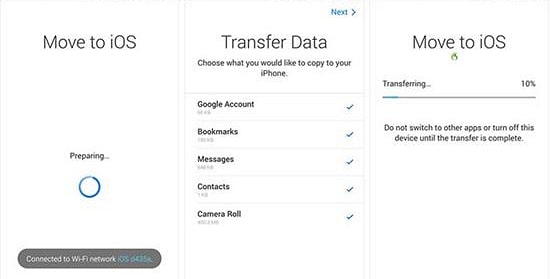 Once the transfer is complete, safely terminate the connection between both the devices.
2.2 Transfer Data from HTC to Other Android phones
It's not just HTC and iPhone that are available in the global market. There is a great probability that most of the people will be choosing any other Android device once they are done with their HTC device. So let us have a look at the methods which can be used to transfer files from an HTC to other Android devices.

Method 1: via Bluetooth
Bluetooth is one feature that has been in use for transferring files for a long time. Even though there are better options for file transferring now, Bluetooth is still used and is one of the easiest choices, if the file size is not very large.
Turn on the Bluetooth on both your HTC and the other Android device. Pair both the devices using the passkey.

Take your HTC device and go to the location of the files you wish to transfer. Select the files and tap on the 3 dots at the top. Tap on the Share option and select the Bluetooth icon. Tap on the name of the paired Android device, which will be displayed on the top.
The transfer process will be initiated. The time taken to complete the transfer will depend on the Bluetooth version and the file size.
Method 2: via a Traditional SD Card
This is the oldest method of file transferring we have been using. To carry out this process, there should be an option to insert an external SD card in both the HTC and the other Android device.
Take your HTC device and copy the files you wish to keep on your removable external SD card.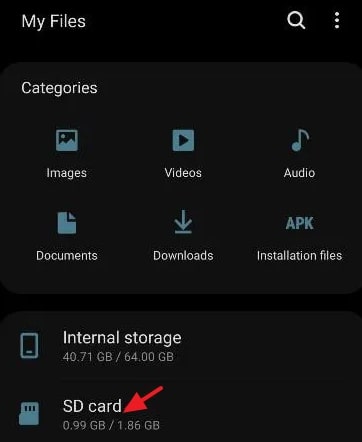 Once the copying is complete, safely remove the SD card from your HTC device and insert it into your new Android device.
You can either copy these files to your device storage by using the Copy and Paste option, or you can choose to access these files from the SD card.
2.3 Transfer WhatsApp from HTC to Any Other Phone
iMyFone iTransor Pro is a very useful and secure application to transfer WhatsApp from one device to another. It is an all-in-one transfer option which allows the migration of all the WhatsApp data between any two devices, i.e. between two Android devices, between two iPhones or between an iPhone and an Android.
This application lets you get the HTC WhatsApp transfer done in few simple steps.
Install the application and open it on your PC.
You will see a Transfer WhatsApp column and you should hit this option. Both your devices must be connected to the PC via a USB cable after doing so.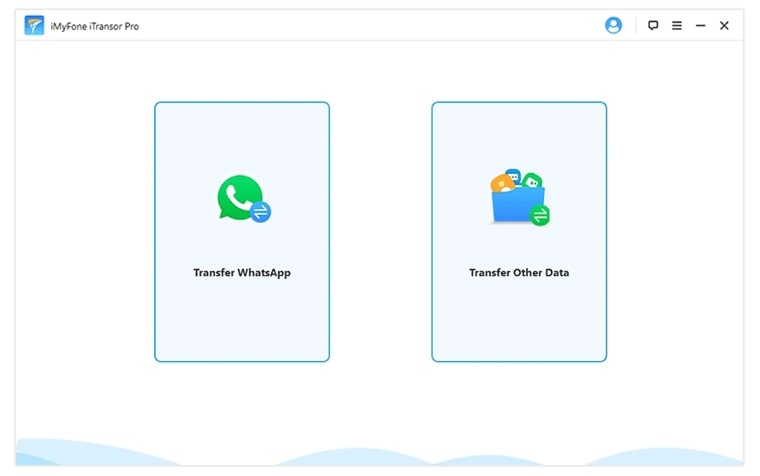 Check whether the positions of both the source and destination devices are marked correct. If not, tap on the Switch button in between.
Now you can hit the Transfer button.
The transfer process will begin and will be completed in a few minutes. Once the transfer is complete, unplug the devices and check your destination device for the transferred data.
---
Conclusion
Now you know different methods to transfer data from an HTC device. Each method has some limitations of its own and is only suitable for certain devices. So choose the one that suits you best and get your HTC transfer done. Please let us know what you think about our suggestions in the comment box below.