How to Change WhatsApp Number without Notifying Contacts and Groups
Category: Transfer WhatsApp
6 mins read
If you have previously changed your phone number for reasons such as upgrading to a new phone, you may be familiar with the difficulty of updating your contacts. But what if we told you that you might change your WhatsApp number without alerting your contacts? This tutorial will walk you through the simple procedures of changing your WhatsApp number utilizing the WhatsApp number function and continuing to use the services to stay connected without notifying your contacts and groups. Our editor recommends iMyFone&nbsp WhatsApp data management solutions ChatsBack for WhatsApp recovery and iTransor for WhatsApp transfer. You can try it free now.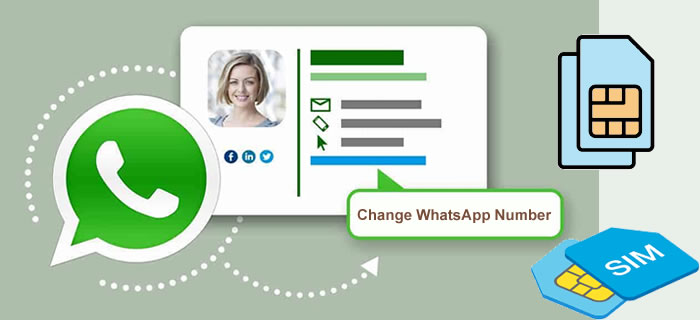 Part 1: What is WhatsApp Change Number Feature?
The WhatsApp change number feature is a feature integrated into the WhatsApp application that allows users to change their phone number from an old one to a new one without needing to uninstall and reinstall the app, or clear the app storage and data. Instead, the data from your former number is seamlessly transferred to your new number.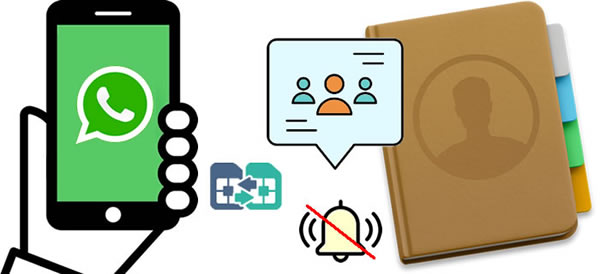 What Will Be Removed – Phone Number & Account
When you utilize this function, your previous phone number and account will be removed, and your messages will no longer be delivered to you. In addition, your last seen will disappear, and senders will be alerted with a single grey tick. However, your chats and messages will remain untouched; they will be preserved in their entirety, including all the media.
What Will Be Preserved – Groups, Profile, Settings & Tones
Your groups, like chats, will be preserved. You will not be removed from any groups; instead, a notice message detailing the number change will be sent to all the groups that you are in. Your WhatsApp profile settings and information are also unaffected. Your WhatsApp privacy, tones, and other settings will be seamlessly transferred to the new account, so you won't have to make any changes again. Also, your personal information, such as your status and profile photo, stays unchanged.
You May Want to Know:
How to Use WhatsApp without Phone Number?
Part 2: How Can I Change My WhatsApp Number Without Notifying Contacts? [Android & iPhone]
Here are the ways you can change WhatsApp numbers without alerting your contacts, we show you the steps for Android, iOS users and offer the general way you can do it. Keep reading.
1

On an Android

The methods below will show you how to change your WhatsApp number without notifying your contacts on your Android phone:
Step 1. Launch WhatsApp on your smartphone.
Step 2. Tap the "..." three dots at the top of the screen to access "Settings".
Step 3. Now, navigate to "Account" and choose the "Change number" option.
Step 4. Enter your new and old phone numbers as directed, then click the "Done" button.
Step 5. Choose one of the three available choices for notifying your contacts.
Step 6. Click "Done" to confirm your new phone number. You will get a six-digit verification code on your phone through SMS for verification; input that code to confirm verification.
2

On an iPhone
Step 1. Open WhatsApp on your iPhone and navigate to "Settings" by tapping the gear icon in the bottom right corner of the screen.
Step 2. Now, go to "Account" and pick the option to update the number.
Step 3. Enter your new and old phone numbers and press the "Next" button.
Step 4. Choose the method via which you want to notify your contacts about the new phone number.
Step 5. Finally, click "Done" to confirm your new phone number.
2

Change WhatsApp number by uninstalling the app

If you have deleted and reinstalled WhatsApp on your new phone in order to create an account with the new number, you may use the aforementioned approach to change the number while authenticating the old number again. When you do this, no changes will be made to your account settings or information.

However, if you opt to verify with the new number, the following modifications will take place.
If you just deleted WhatsApp, your previous account will not be deleted. Furthermore, your settings, groups, and profile picture will remain on the WhatsApp server for 45 days. You may get them all on your new phone by authenticating the old number.
If you deactivated your account before deleting WhatsApp from your phone, no data will be stored in the servers, and you will also be removed from any WhatsApp groups.
Your contacts may now see your last seen, as well as the date on which this phone was last used for WhatsApp. Furthermore, if you want to verify your old phone number again, all of your messages will be restored.
When you authenticate your new phone number, WhatsApp will send you a message with instructions on how to restore the chat backup. Your prior chats will be reflected on your phone as a result.
You May Want to Know:
How to Turn Off WhatsApp Notification
Part 3: How Does WhatsApp Notify Contacts of Number Change?
It is essential to tell your contacts once you have successfully updated your WhatsApp number if you want them to keep in touch. This may be accomplished by either utilizing a native option or doing it via broadcasting messages. If you still want to notify your friends while changing number, here is how:
Method 1
You may utilize the native option to notify your contacts of your phone number change. When you change your phone number, you are prompted to notify your contacts using one of three options: all contacts, custom contacts, and contacts with whom you have chatted. You may select any of these alternatives, and WhatsApp will notify your contacts of the new phone number.
Method 2
You may use the broadcast list tool to notify your contacts about your phone number change. You must use your former phone number for this because it is already stored in their phones. If you do this with your new number, the message will not be delivered because they haven't saved this new number.
When it comes to groups, WhatsApp immediately notifies them of the number change.
Step by Step Tutorial
Notify Select Contacts About Number Change
The new WhatsApp Change Number function is essentially the same as the previous one, but with a few more choices. To use the feature:
Step 1. Go to WhatsApp Settings; open WhatsApp on your phone and press on the three dots in the upper right corner.
Step 2. Now, go to "Settings" and then "Account".
Step 3. Tap "Change number" under "Account" settings.
Step 4. Then, at the bottom, hit the "Next>" button and input your old and new phone numbers, along with your country code.
Step 5. Tap "Next" one more. You'll find the option to "Notify contacts" here.
Step 6. Tap it to enable the Notify your contacts about your new phone number option. This provides three options: "All contacts", "Contacts I have chats with", and "Custom".
Step 7. So, if you simply want to tell a few people about your new WhatsApp number, choose the third option and then choose the contact to whom you want to send a message about your number change.
Another method is using the broadcast list function to notify your contacts of your phone number change. You must send this broadcast message before proceeding to change your number at all. You must also use your former phone number for this because it is already stored on their phones. If you do this with your new number, the message will not be delivered because they most likely haven't saved your new number.
Bonus Tips: Backup and Restore WhatsApp Data at Any Time
If you are worried about the data loss while switching number for your WhatsApp, we suggest you to make a full backup for your WhatsApp data first. iTransor for WhatsApp is the best solution for backing up your WhatsApp data and restoring them at any time. With iTransor for WhatsApp, you can easily back up and restore your stickers, images, videos, contacts and messages without stress.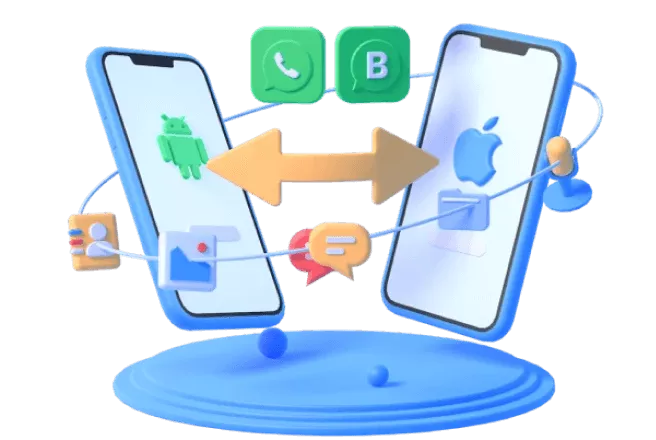 Back up WhatsApp data from Android and iPhone to pc.
Transfer WhatsApp data between Android and iPhone directly.
Restore WhatsApp backup to iPhone and Android devices.
Steps to Back Up and Restore WhatsApp Messages Using iTransor for WhatsApp
1

Back Up WhatsApp Data
Step 1. For your first step, please download and install iTransor for WhatsApp on your PC. Launch it and choose 'Back Up WhatsApp on Devices' module. And now, connect your Android/iOS device to computer via USB cable. When iTransor finish to anaylze your device, hit 'Back Up' to start.
Step 2. When the 'WhatsApp Messenger backup successful' comes up, you are done with it!
2

Restore WhatsApp Data to Android/iPhone

Choose 'Restore/Export WhatsApp Backup' module and simply select the backup that you've made by iTransor previously. You can choose to restore to devices or on computer.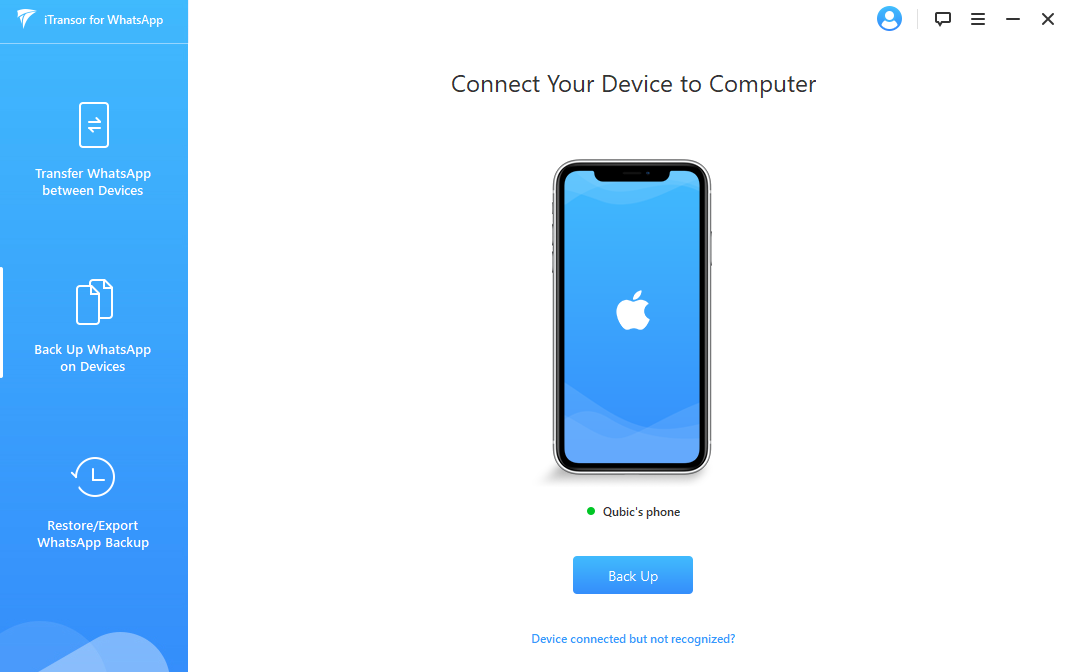 1. Restored data will overwrite your current WhatsApp data on the device. Please back up your current data in advance if needed.
2. For Android users, you need to install a customized WhatsApp version for data recovery. You can follow the guide shown on-screen to follow.
You May Want to Know:
How to Restore WhatsApp Backup without Installing [Full Guide]
FAQs: More Tips About WhatsApp Number and Account
1

How to change WhatsApp number without losing chats?

One sure way to achieve this is using the WhatsApp number change feature, where you do not have to uninstall and reinstall WhatsApp, thereby losing your data. Instead, all your account information, chats, settings and configurations are transferred to the new number you wish to change to.
2

Can I have 2 WhatsApp accounts on one phone?

Yes. It is very possible to run two WhatsApp accounts on your phone, whether it is an iPhone or Android. You can do this by downloading the regular WhatsApp and Business WhatsApp apps from Google Play Store or Apple store as the case may be. Doing this will allow you to run a normal account as well as a business account. You can know more guide from: Have Two WhatsApp Accounts on One Phone.
Conclusion
From the above steps, you shouldn't be among the people cluelessly asking, "How can I change my WhatsApp number without notifying my contacts?" anymore. Follow the steps above to avoid announce your friend that you have changed a WhatsApp number. To avoid data loss, you'd better give iTransor for WhatsApp a try to back up your precious data before starting the number changing process.
Customer Reviews