Question
Can I Transfer WhatsApp Messages from Android to iPhone without PC?
Many users are not comfortable to use a computer to transfer the WhatsApp messages or sometimes the computer is not at the user's disposal when they switch their phones. So, they think whether the transfer is possible even without a PC.
Yes, there is one available for transferring the WhatsApp messages without PC.
When users migrate from Android devices to the iPhone, the most important thing is to transfer the data you need. With all the important messages on WhatsApp, some users may need to transfer the messages during the switch.
Some users want to know whether they can transfer WhatsApp messages from Android to iPhone without PC. And you would be glad to know that it is possible to move all your WhatsApp messages from Android to iPhone if you do not need to use a computer or PC. Just read on to check the possible ways and their pros & cons in this article.
Transfer WhatsApp Messages from Android to iPhone without PC
Below are three useful methods for migrating WhatsApp Messages from Android to iPhone, you can use email, a new phone number, or a third-party app to move WhatsApp from Android to iPhone. And we have noticed that people try to keep using the wrong way to restore WhatsApp from Android to iPhone via Google Drive backup, if you want to avoid this, go on reading.
Method 1

Transfer WhatsApp from Android to iPhone via Email Chats
This method can be used to transfer one WhatsApp conversation at a time from your device to your email address. WhatsApp allows us to mail chats to any contacts, however, these backups can not be used for recovery.
Step 1: Open WhatsApp on your Android phone. Go to "Settings" > "Chat Settings" and select "Email Chat".
Step 2: Now select one conversation that you want to send. You will get a pop-up message, "Attaching Media will generate a larger email message". You can choose any one option by clicking "With media" or "Without media".
Step 3: Next, enter your email address and click "Send".
Step 4: Once you send the email, log into your email account on your iPhone and view WhatsApp messages.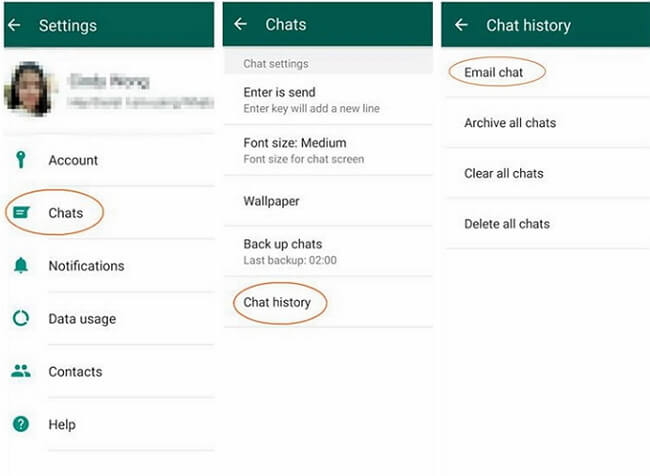 Cons
This method allows you to transfer only one conversation at a time. So, it is time-consuming because the bulk transfer is not possible using this method. If you prefer to transfer WhatsApp Chats in bulk, you can ahead to 'Stable Way to Transfer WhatsApp between Android and iPhone directly' part.
The transferred WhatsApp messages cannot be moved to your WhatsApp account which means if you switch to a new phone or log in to your WhatsApp account on another device, the transferred chat will disappear.
Method 2

Sync WhatsApp Chats to iPhone with New Phone Number
Switching phone number is another way to sync your WhatsApp data between phones. People are fear of changing phone number while switching to a new phone cause they may not no longer be able to access their previous backup. Frankly speaking, you need to enter the same phone number to get your previous WhatsApp backup on new phone. But there is another way to make this happen by switching new numbers. Here are the steps:
Step 1: Change a new SIM card on your Android. Please make sure both new and old numbers are all active for use.
Step 2: Launch WhatsApp on Android and go to "Settings" > "Account" > "Change Number". Tap on the "Next" button.
Step 3: Enter your old and new phone numbers and keep going. You will receive a unique code and verify it.
Step 4: And now, take a backup on local storage from your new number and move it to iPhone. (Note: Make sure you use the same new SIM on your iPhone as well.)
*If you still wonder how to sync WhatsApp messages from Android to iPhone with same phone number, watch the steps below:
Step 1: First, make sure that you have made a backup of WhatsApp data on your Android device. After you have made a backup, uninstall WhatsApp from your Android phone.
Step 2: Now download and install WhatsApp on your Apple iPhone. Register on WhatsApp using your phone number.
Step 3: Once you confirm your number, there will be a pop-up message informing you that WhatsApp backup is found.
Step 4: Click "Restore" and wait until the process completes. Once the process is over, all the WhatsApp conversations will be available on your iPhone.
Cons
Can not choose specific contents to transfer since this will sync all your WhatsApp data from Android to iPhone.
Method 3

Use 3rd-Party Android App to Switch WhatsApp Data to iOS
This app is a little bit like "Samsung Smart Switch", but you need to use a OTG cable or USB-C cable to connect two phones.
Step 1: Download Wutsapper from Google Play on your Android. Open it and click "Start", the app will check if your phone has WhatsApp backup.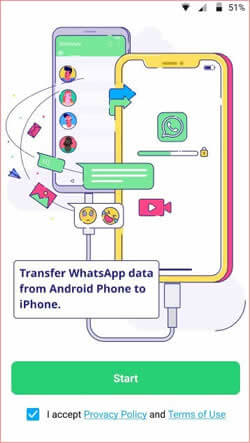 Step 2: Connect the two phones with OTG/USB-C cable, click "Trust" on your both phones.
Step 3: Enter your phone number that used for WhatsApp. Then start the process.
Cons
It may not be stable on cable connection or network connection.
Your phone might get hot when there is a huge amount of data that needs to be transferred.
A Common Wrong Way You Should Avoid
Tips

Wrong to Transfer WhatsApp from Android to iPhone without PC - via Cloud Backup

People always try to restore WhatsApp backups from Android to iPhone with cloud storage which is totally not advisable. Since Android uses Google Drive to store WhatsApp data which iPhone needs iCloud to restore data back, there is no bridge between these two different OS to access their storage, thus, it is impossible to transfer Android WhatsApp data to iPhone neither from Google Drive nor iCloud. Even 'Move to iOS' can not do a favor.

Notice

iTransor for WhatsApp is going to launch a version with the latest Google Drive function which enables you to download WhatsApp data from Google Drive to the local computer. Hence, you can easily restore WhatsApp chats on both Android and iOS devices. Keep an eye on us!
The Best Alternative to Transfer WhatsApp Messages from Android to iPhone Directly
We have learned some ways you can perform WhatsApp transfer without pc, but they still own a lot of disadvantages. And here, we offer you a more stable yet efficient way to transfer WhatsApp Messages, photos, videos, chat history, attachments and more from Android to iPhone, as well as iPhone to Android. But this needs to download a program on computer to achieve.
iMyFone iTransor for WhatsApp
If you want to easily transfer WhatsApp messages from Android to iPhone, there is one specialized tool available, popularly known as iMyFone iTransor for WhatsApp. With just a few clicks, all your Android WhatsApp messages will be easily transferred to your iPhone.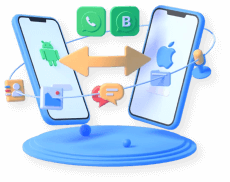 This software is made with the latest technology and comes with a 100% success rate.
You can not only transfer WhatsApp text messages but also videos, documents, audio, etc from Android to iPhone or from iPhone to Android.
No technical knowledge is required for using this tool because of its outstanding usability.
It supports all Android and iOS devices, as well as the Android OS and iOS versions.
Step 1: Download and install iMyFone iTransor for WhatsApp on your computer and then open the tool. Choose "Transfer WhatsApp between Devices".
Step 2: Connect Android phone and your new iPhone to your computer using the USB cable. You need to allow USB debugging to connect the Android device and you will have to unlock your iPhone and tap Trust this computer for connecting Apple iPhone.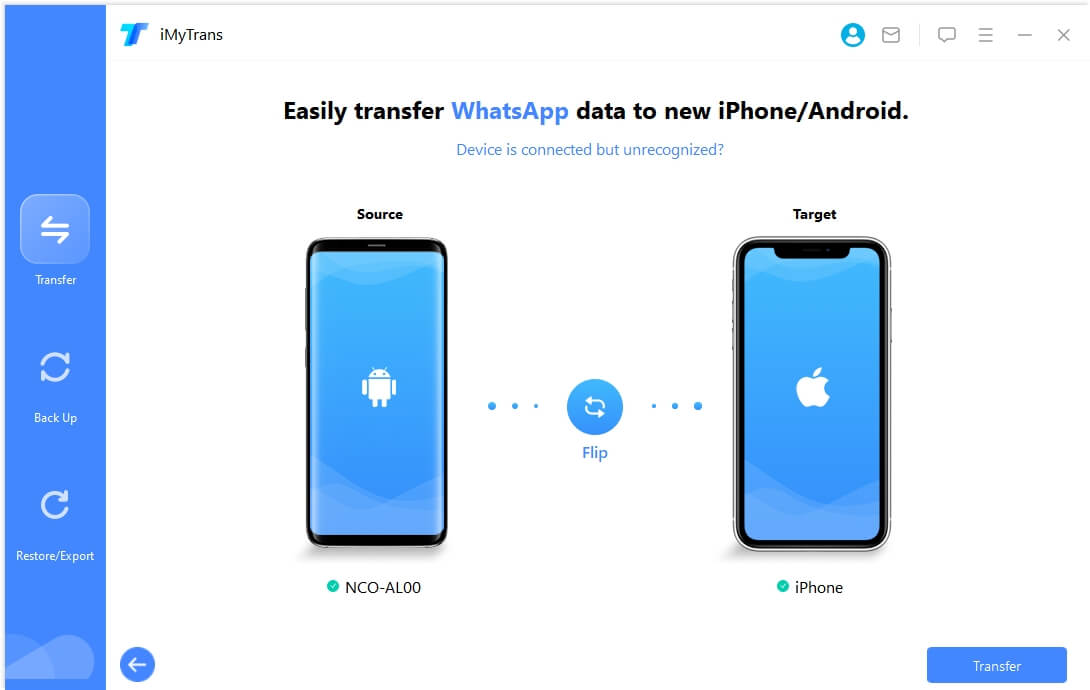 Step 3: Click on "Transfer" and start the transfer process once both the devices are connected. Once the process is over, you can see the entire WhatsApp data on your iPhone.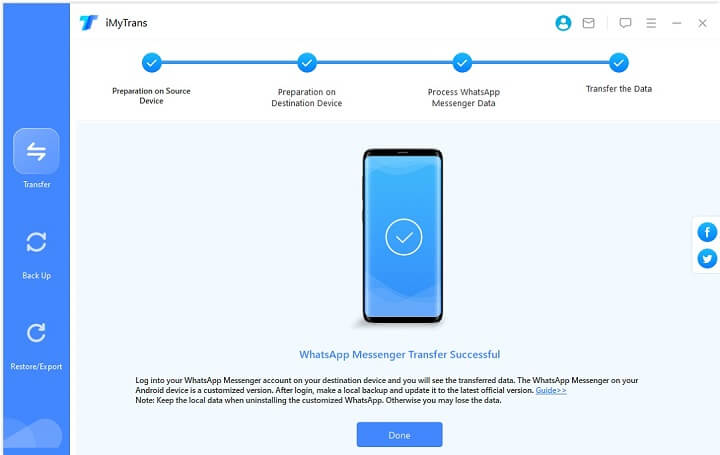 When the data transfer is finished, the WhatsApp data on the target device will be erased. So, back up WhatsApp if needed and this tool offers a totally free function to back up your WhatsApp data.
Note
For transferring WhatsApp data to the iPhone, you will have to turn off "Find My iPhone" on the destination iPhone and then install WhatsApp on it.
The transfer process will complete in half an hour or depending on the size of the WhatsApp data.
Now you don't need to worry when you are switching from Android to iPhone because there is an advanced tool for transferring the WhatsApp data from Android to iPhone. Download the trial version and check how easy it is. What's more, many professional media sites have trusted and highly recommended this tool.

FAQs: Tips You May Want to Know About WhatsApp Data Backup & Transfer
1

Does Samsung Smart Switch Transfer WhatsApp?
No! Samsung Smart Switch can't transfer WhatsApp since it fails to access WhatsApp data base to get the data. You can find other ways as we listed above to help you out.
2

How to Transfer WhatsApp Chats from iPhone to Android?
We recommend you to use iTransor for WhatsApp to transfer WhatsApp chat, media, document and more between iPhone and Android, or you can refer to Ultimate Way to Move WhatsApp Data from iPhone to Android for more help.
Conclusion
We have provided you with the possible method and its best alternative in case you want to transfer WhatsApp messages from Android to iPhone without PC.
Apart from WhatsApp messages, you can transfer more data from Android to iPhone without PC. The following posts will give you the most detailed instructions:
Don't forget to share this article with your friends and they are supposed to know that an advanced tool for WhatsApp data transfer between Android and iPhone exists. Mention your queries or suggestions in the comment section below.