These days Kik has become one of the most popular messaging apps for both Android and iOS. Many people use Kik to stay in touch with their friends, family members, even meet strangers from across the world. Despite being a popular chatting platform, however, Kik users have often reported encountering a few unexpected errors that destroy the overall user-experience.
One such error is a difficulty in restoring deleted Kik chat history. If you've accidentally uninstalled the app, you may have lost the chat history as well. If that's the case, let us guide you through different ways to recover Kik messages/photos after logging out on Android.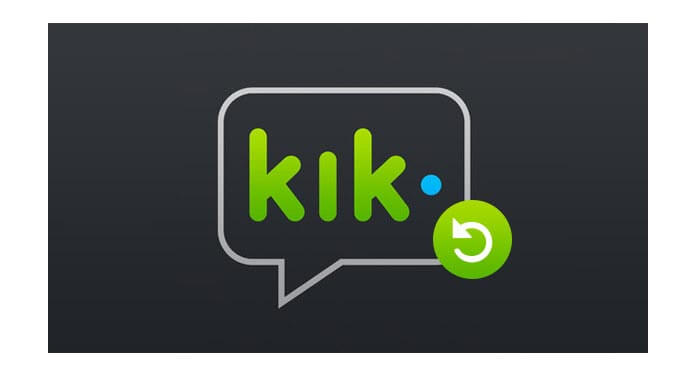 Part 1: Reasons Behind Kik Data Loss
After Logging Out

on Android

There are several reasons why Kik messages and photos might get deleted on an Android device. Some of these reasons include:
You've recently performed a factory reset on your device.

You've uninstalled Kik messenger from your smartphone without backing up the data.

Your smartphone has been infected with viruses or potential malware.

You've accidentally deleted Kik messages.
Part 2: What Rules Does Kik Have for Their Users-Can I Recover Old or Deleted Kik Messages?
Simply put, the answer is yes! You can recover deleted Kik messages from Android. However, unlike other messenger apps, Kik doesn't provide the backup feature. It means that any messages that you delete could not be recovered using Kik itself. In addition to this, there's a limitation to how many messages you can see in the recent chat history of the app. If you're an Android user, Kik will store only 600 messages that you've sent or received in the past 48 hours.
Since Kik doesn't offer any built-in chat backup feature, recovering deleted Kik messages might get a bit challenging. However, the following methods will make it easier to get back your messages as well as deleted Kik data. So, without any further ado, let's start with the recovery methods.
Part 3: How to Get Back Messages Of Kik After Logging Out on Android from Backup
1. Using Cloud Drive to Restore KIK Messages After Logging Out on Android
The first method to retrieve deleted messages on Kik messenger is to use Google Drive backup. As you might already know, Google Drive is a cloud-storage service that provides 15 GB of free space. It means you can utilize this space to backup your chat history from different messaging apps, including Kik, and restore them anytime you want.
However, this method will only work if you've configured Google Drive to backup your chat history from Kik. If you haven't, you might have to follow one of the other methods mentioned below.
Here's the step-by-step process to recover deleted Kik messages through Google Drive.
Step 1 - Go to "Settings" and select "Account."
Step 2 - Sign-in with Google account that you've used to back up the chat history.
Step 3 - Once signed-in, tap "Backup & Restore."
Step 4 - Now, select Kik backups and tap restore to recover Kik messages/photos on Android.
Step 5 - Alternatively, you can also restore messages by navigating to Google Drive>Backups>Kik Backup>Restore.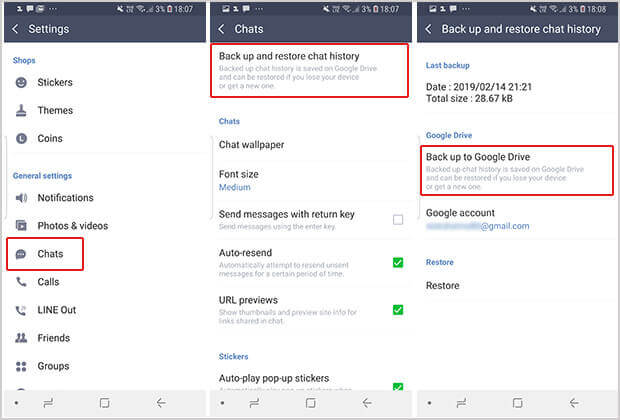 2. Get Back Deleted Kik Messages/Photos From Android Backup
Many users even store a local backup on their Android device itself. In case if you've set up your smartphone to backup Kik data, you can restore it from local backup as well.
Follow these steps to restore deleted Kik messages and photos using the local Android backup.
Step 1 - Open "Settings" and tap "Account."
Step 2 - You might be asked to sign-in with your password. Enter the password and tap "Ok."
Step 3 - Now, select "Backup & Restore" and click "Restore."
Step 4 - You'll see Kik backup listed here. Tap the option, and you'll be able to restore all the backed up Kik messages on your smartphone.
If you have set up the Google account to backup Kik data, you can use the above two methods for recovering deleted Kik messages. However, in case there is no backup, you might find it difficult to do so. If you're also stuck in a similar situation, the next methods will help you recover Kik messages after logging out.
Part 4: 2 Ways to Retrieve Deleted Messages of Kik Without Backup
Option 1: Recover Kik Messages With Preview By D-Back For Android (Without Root)
When it comes to recovering deleted Kik messages without backup, you'll need a third-party tool to do the job. Even though there are plenty of recovery apps, we recommend using iMyFone D-Back for Android. It is an exclusive data recovery software that's specifically designed to help users recover deleted data on an Android device. What separates D-Back from other recovery tools is that it can be used to recover different types of data, including photos, videos, calls, chat history, etc. Whether you've accidentally delated Kik chat history or have restored your device, D-Back will help you recover the entire data without any hassle.
Here are some of the additional features that make D-Back for Android a reliable Kik messenger recovery software to get back deleted Kik messages.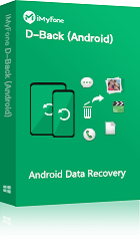 1,000,000 Downloads
Features of D-Back Android
Capable of recovering deleted Kik Messages on Android/tablets with or without backup.

You can recover all sorts of files including images, videos, chats, contacts, music and more.

It offers a dedicated "Preview" feature that allows users to preview their files before restoring them.

The recovery process is very simple, you can retrieve your Kik Messages through only a few steps.

Compatible with Android OS 2.0 to 10.0.

98% success rate and easy to use.
How to Restore Kik Messages after logging out from Android in 5 Minutes
Step 1 - Install and launch D-Back for Android on your PC. Now, connect your smartphone to the PC via USB cable.
Step 2 - In the main interface of D-Back, select "Android Data Recovery".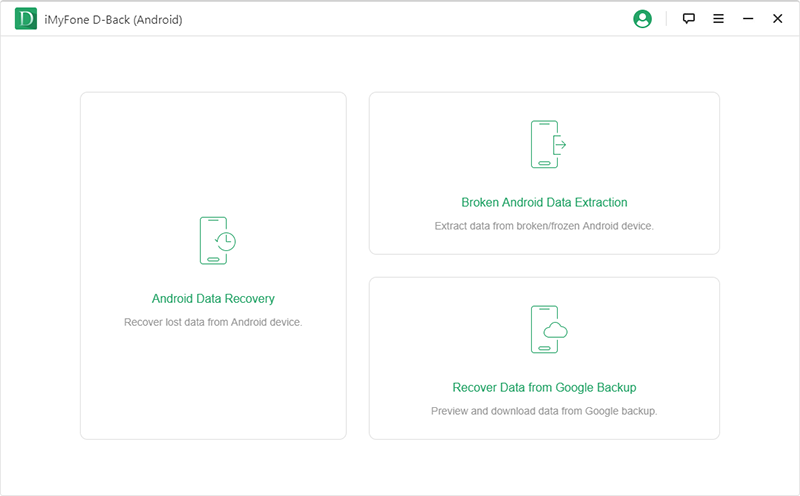 Step 3 - Use the drop-down menu to select the right device information and click "Next." Make sure to choose the right device name and model; otherwise, you won't be able to recover the data.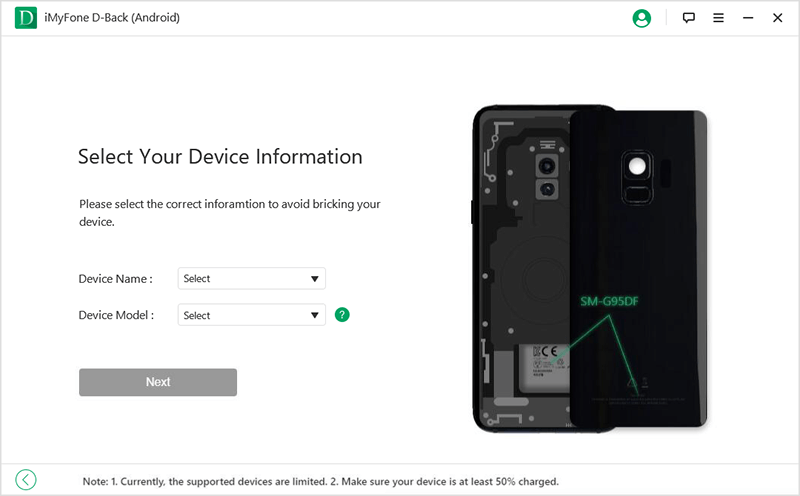 Step 4 - The software will start downloading the right data package as per the entered device information.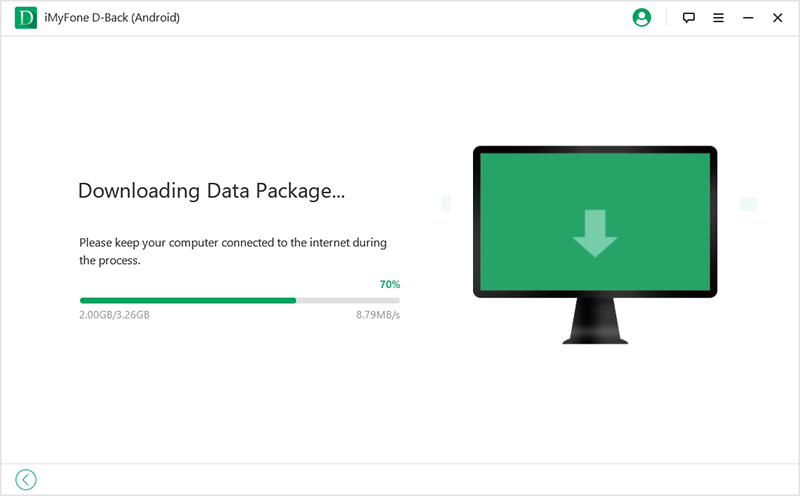 Step 5 - Tap "Next" and follow the on-screen instructions to put your device in "Download Mode."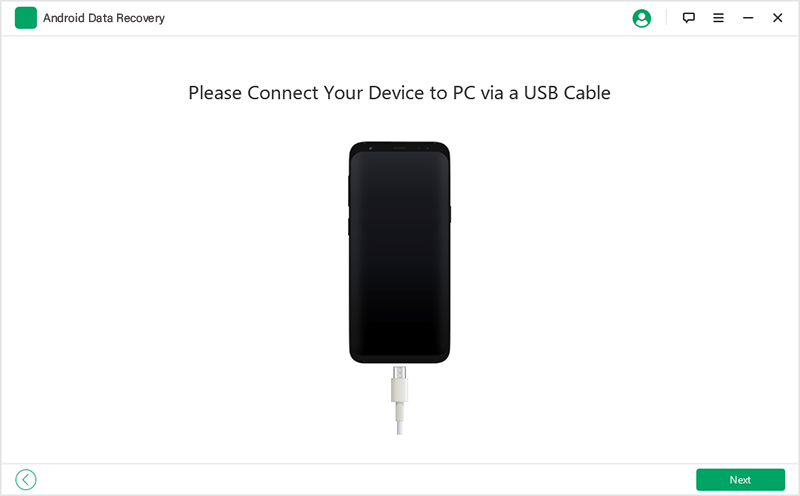 Step 6 - You'll be asked to select the right file type. Select the right file type and click "Next."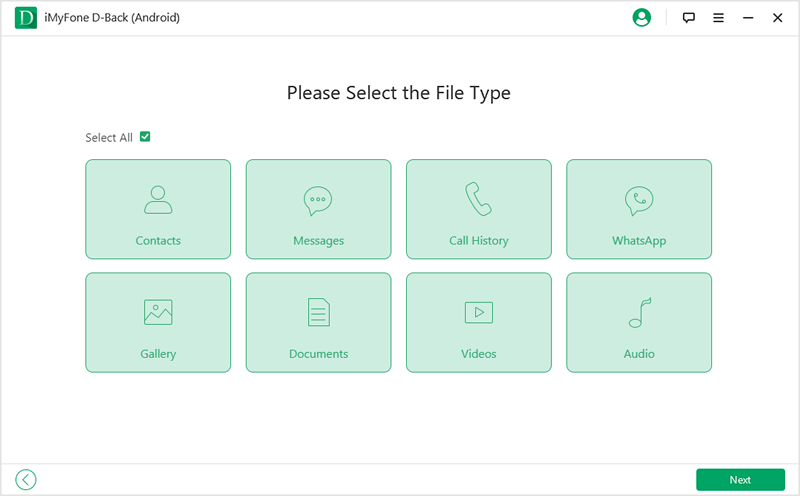 Step 7 - D-Back will start scanning your device for deleted files. This process can take a while so be patient.
Step 8 - Once the scanning process completes, tap "Recover" to restore the deleted files and select a destination folder for them.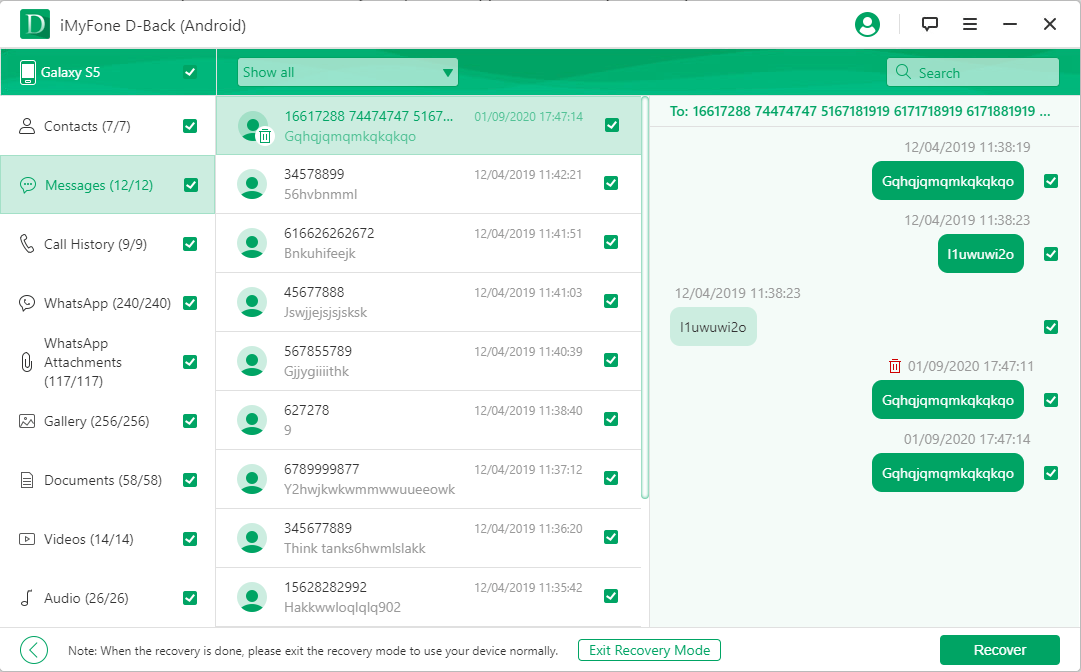 That's it! The Kik chat history and images will be restored on your PC, and you'll be able to access it anytime you want.
Option 2: Other Utilities To Recover Deleted Kik Messages (Need To Root)
If you have a rooted smartphone, you can also use GT Recovery to recover Kik pictures on Android. Like D-Back for Android, this tool will also help you recover deleted Kik messages. However, GT Recovery is only compatible with a rooted device. So, if you have a non-rooted Android device, it would be better to utilize D-Back for Android to recover the deleted Kik messages.
Follow these steps to recover deleted Kik messages using GT Recovery.
Step 1 - Install GT Recovery on your rooted smartphone and grant it all the root access rights.
Step 2 - In the home interface, select the right file type. Since we want to recover deleted Kik messages, select the right option.
Step 3 - Click "Next" and select the "Scan Device" option to scan your device for deleted Kik messages.
Step 4 - Now, select the messages that you want to restore and click "Save" to restore them on your smartphone.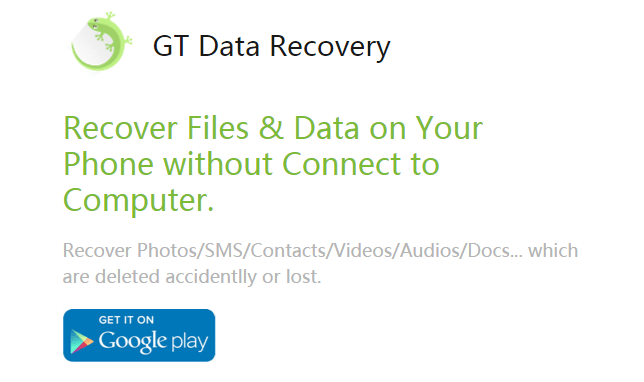 Part 5: How Do I Backup Kik Messages Manually
In case there is no cloud-storage app that has been installed to backup your Kik messages, you can also do it manually. Here are two different options to manually backup Kik messages.
Option 1: Take A Screenshot to Back Kik Messages on Android
The most convenient way to locally back up your Kik messages is to take the screenshot of your conversation. Since the screenshot will be saved in the Gallery, you'll be able to access it anytime you want.
Option 2: Record the Video for Kik Photo Or Call History That Matters To you
Along with screenshots, you can also take a video of your Kik conversations using another smartphone or camera. In addition to this, you also have the option to install a screen recording app and use it to record your conversation.
Conclusion
Accidentally deleting Kik messages and photos can be extremely frustrating, especially when you have no backup to recover the data. Fortunately, the methods mentioned above will help you retrieve old Kik messages on Android even if you don't have any Cloud or local Kik backup. However, if none of the methods work for you, there's also an option to contact your friends and ask them for the screenshots of your chat history.