Orna RPG is a geolocation and augmented reality-based role-playing video game or mobile RPG. Therefore, his maps are based on real-world maps. It works pretty much the same as Pokémon Go, and fans of this AR game from Niantic Labs should be interested.
The mobile GPS Orna RPG debuted on Android and iOS devices in the summer of 2018. It is the work of the Canadian studio, Northern Forge. Multiplayer, role-playing allows players to enjoy turn-based combat. It gives them the opportunity to collect and upgrade various weapons to defeat their opponents.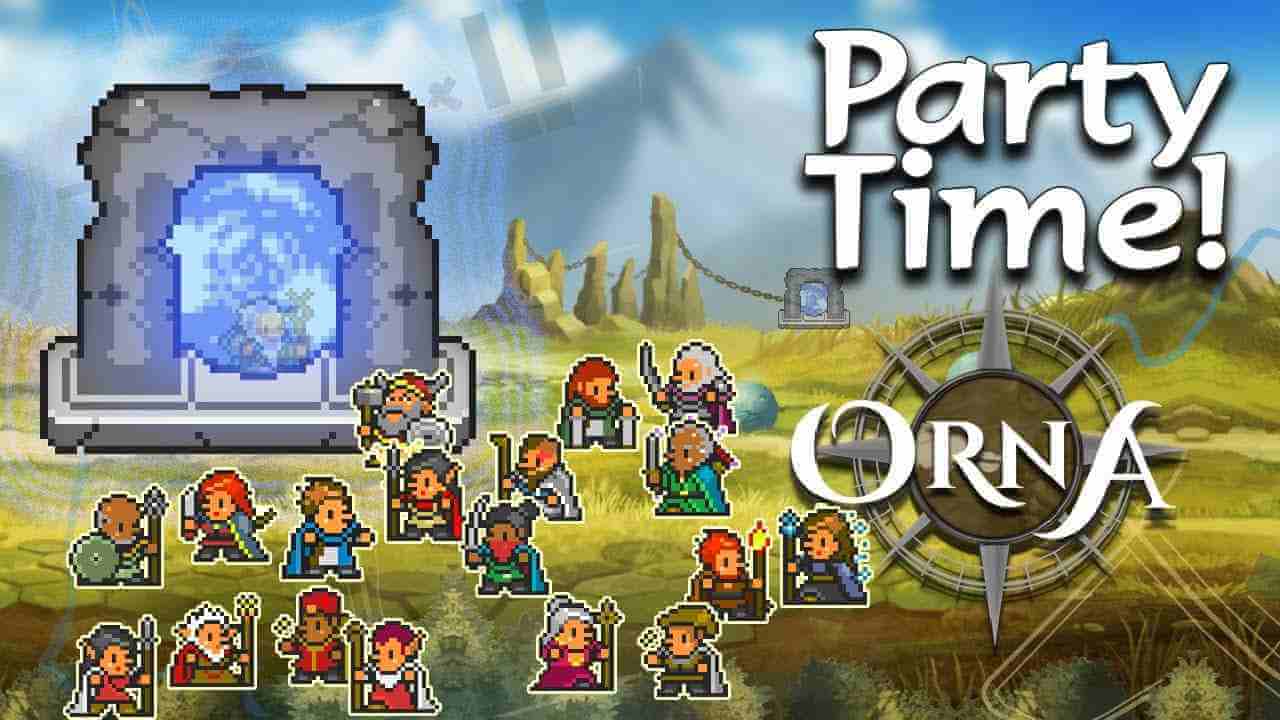 No matter where they are, they can obtain different real-world landmarks online using the GPS location capabilities of their mobile devices. Although this kind of game that requires real outdoor participation will not make you an Internet addict who plays games with a mobile phone all day, it will make you tired. How to fake Orna RPG GPS location? How to get more achievements in this game in a way that saves time and effort? Don't worry, in this article, you will get the answer.
Part 1: How to Fake GPS on Orna RPG?
---
For those of you who play Orna RPG, here are a few ways that I have tested and selected for you to spoof the Orna RPG GPS location on your device.
1. Location Spoofer - iMyFone AnyTo
---
I discovered this location spoofer iMyFone AnyTo through my experience with GPS-based games. I have to say that this software is very powerful, it can not only change the GPS position of Orna RPG. At the same time, it can also be used as an auxiliary software, or a cheating tool, for several other popular AR games. Such as Pokémon Go, Ingress Prime, Jurassic World Alive, Harry Potter, etc.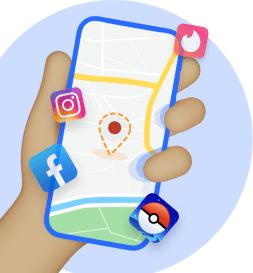 Change GPS Location on iOS/Android
Location Changer - you can change your device's GPS location to any place when playing location-based AR games.
Create Routes with Customized Speed & Pause Anytime.
Historical Records - save the historical spots.
Let's see how to use the program:
Step 1: Setup iMyFone AnyTo
Click the Try It Free button below to install iMyFone AnyTo on your computer. Then open it and click Get Started. Connect your phone to the PC via USB. Click Trust on the device for the prompt.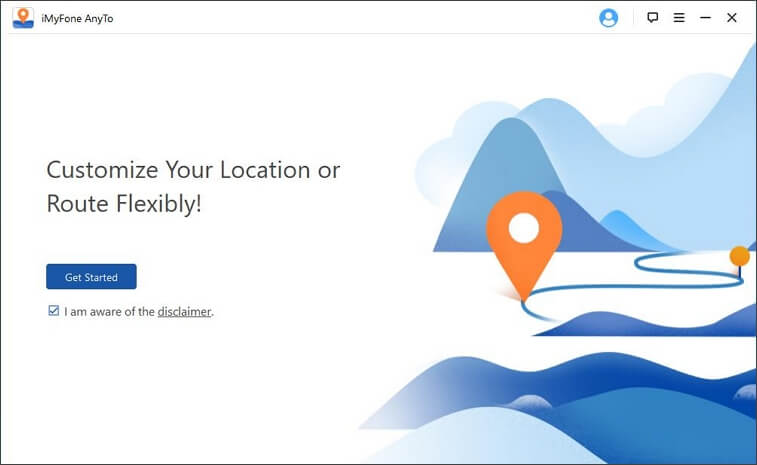 Step 2: Select Teleport Mode
After your map has loaded, it will show where you are on the map by default. choose Teleport Mode in the top right corner, the third icon.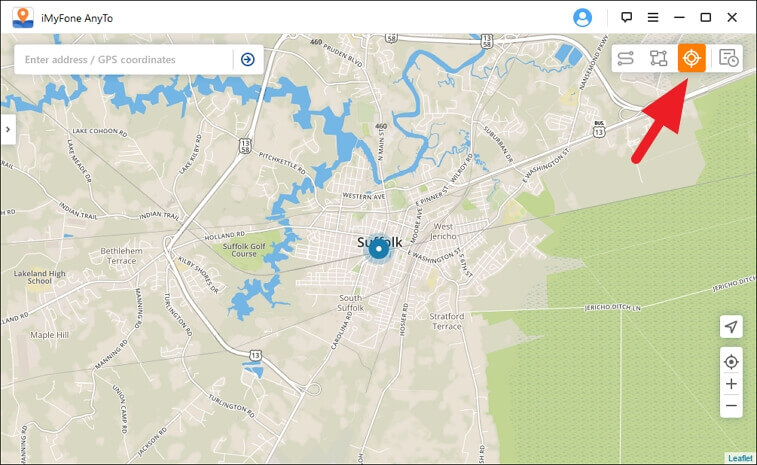 Step 3: Select an address for Jurassic World Alive Spoofing
Now on the map, just pinpoint a place that you hope you were there. Let's say, Vancouver.
You can drag and pinpoint Vancouver on the map, or search Vancouver in the Search box. Then this Pogo spoofer will show the infomation including address, coordinates and the distance. You can zoom in and out the map to locate your place.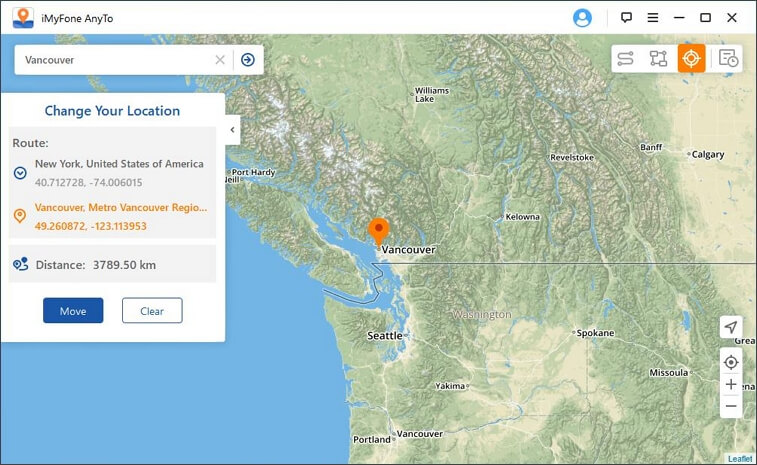 Alright! Now just click on the Move button. You can see the location is changed to the new place instantly.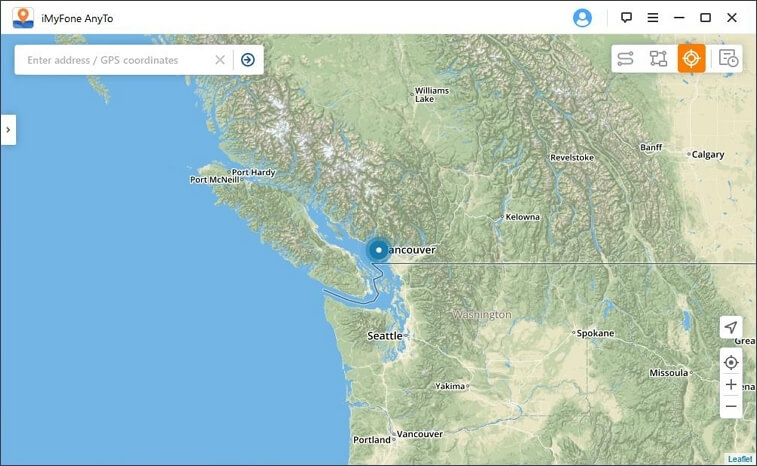 Open Jurassic World Alive, you will find that you have successfully spoof your location in the game. Now that you have started, you can continue exploring the application and its wide set of benefits for the avid Jurassic World Alive player.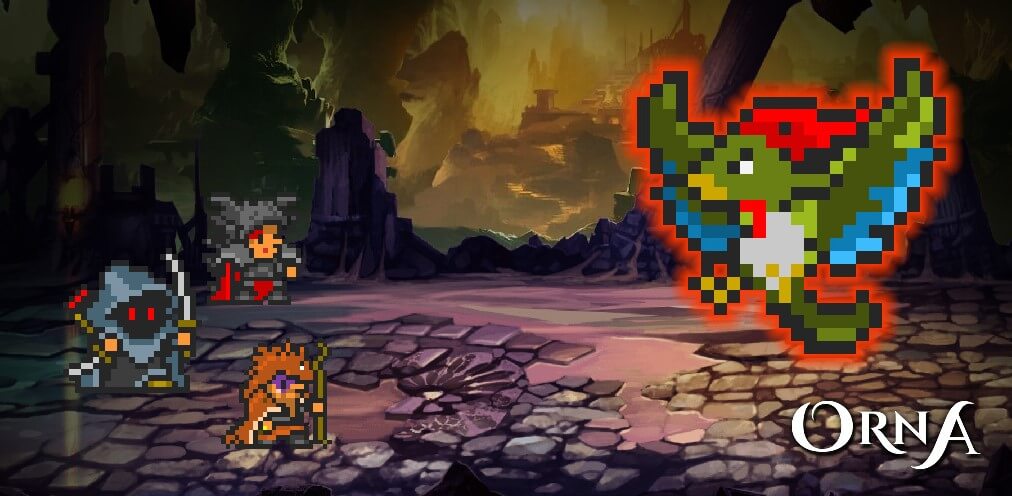 Good luck!
Pros
Change the GPS location with one click.
Choose to speed up or slow down your walk on yourself.
Plan imaginary journeys with multipoint mode on the route planner.
Cons
Based on PC or Mac, so your phone or tablet must be connected to the computer.
So you can also use this brilliant tool to create virtual routes to move along in the game, while you are just sitting home (see the guide >> ).
2. VPN App - NordVPN
---
As the recommended app for spoofing your location on Ingress Prime, Nord VPN's value goes without saying. Unlike spoofing your device's GPS location, a virtual private network (VPN) masks your actual location by running important proxy server applications so that your IP address is no longer identifiable.
Setting up a VPN on your iPhone/iPad/iPod is a bit complicated. As we mentioned above, you first have to jailbreak your iOS device. And make sure your iOS version is running on iOS 12 or below. Also, make sure your iTunes is up to date. Then you can start.
Step 1: Download NordVPN from App Store and install the app.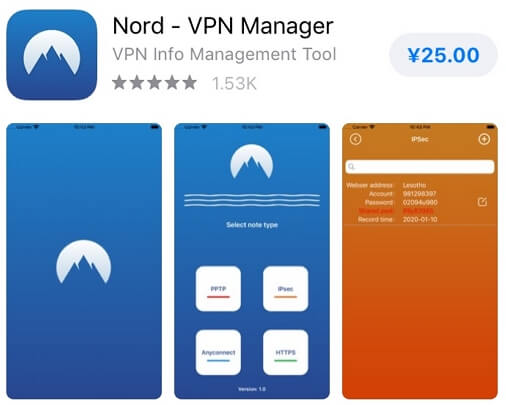 Step 2: Disable your screen passcode through the settings. Connect the device to your Mac/Windows via USB.
Step 3: Turn on Airplane mode on your device.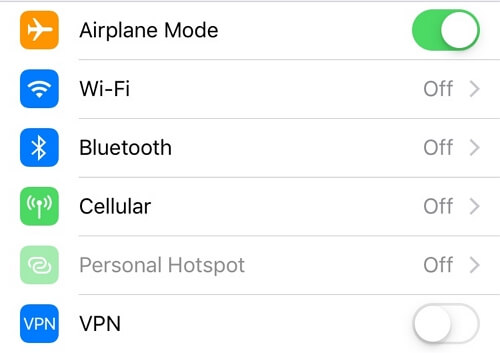 Step 4: Visit this site and follow the prompts. Then ensure your trust settings acknowledge the developer.
Step 5: Next, run the application downloaded from the site.
Now you successfully finish the jailbreak. Then you can learn how to fake GPS in Orna RPG.
Step 6: You can go to the Cydia Store (an app merchant for devices after jailbreak). And get the location spoofer from Cydia.
Step 7: Ensure you have tsProtector enabled. Enable your device's VPN and ensure it matches the spot you chose in the spoofer app.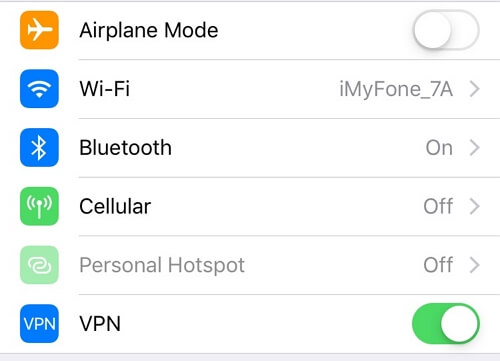 Step 8: Get started with Orna RPG - now you can catch them all.
Pros
Huge server selection.
Smart Play Technology.
Cons
3. Game Emulator-Bluestacks Emulator
---
Compared with the above four tools, this operation may be a lot of trouble. However, it is still undeniable that this is also an excellent game aid. Feel free to fake your location on your device to play Orna RPG remotely through the Bluestacks emulator. Let's see how this software is used.
Step 1: Open the app that requires the location, in this case Orna RPG. You will see the location provider icon on the right edge of the bottom bar.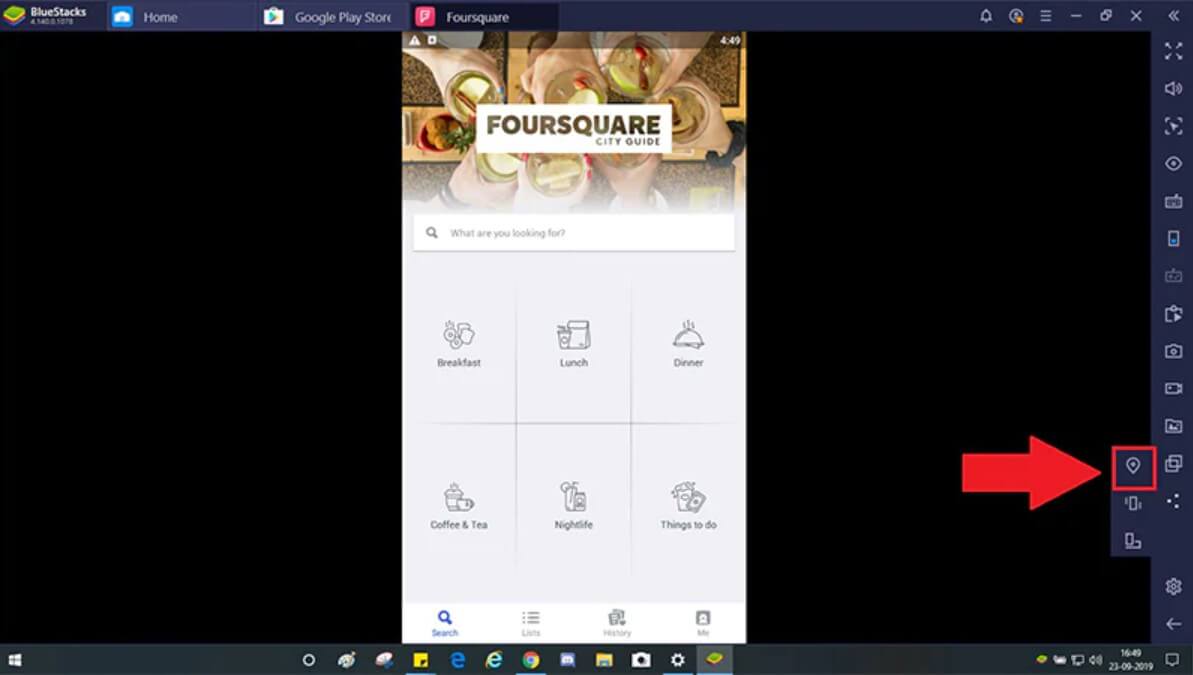 Step 2: Click on Location Provider button and the world map will open. Make sure Mock Location is enabled. You can also click Search and type the location to which you want to transfer the device location.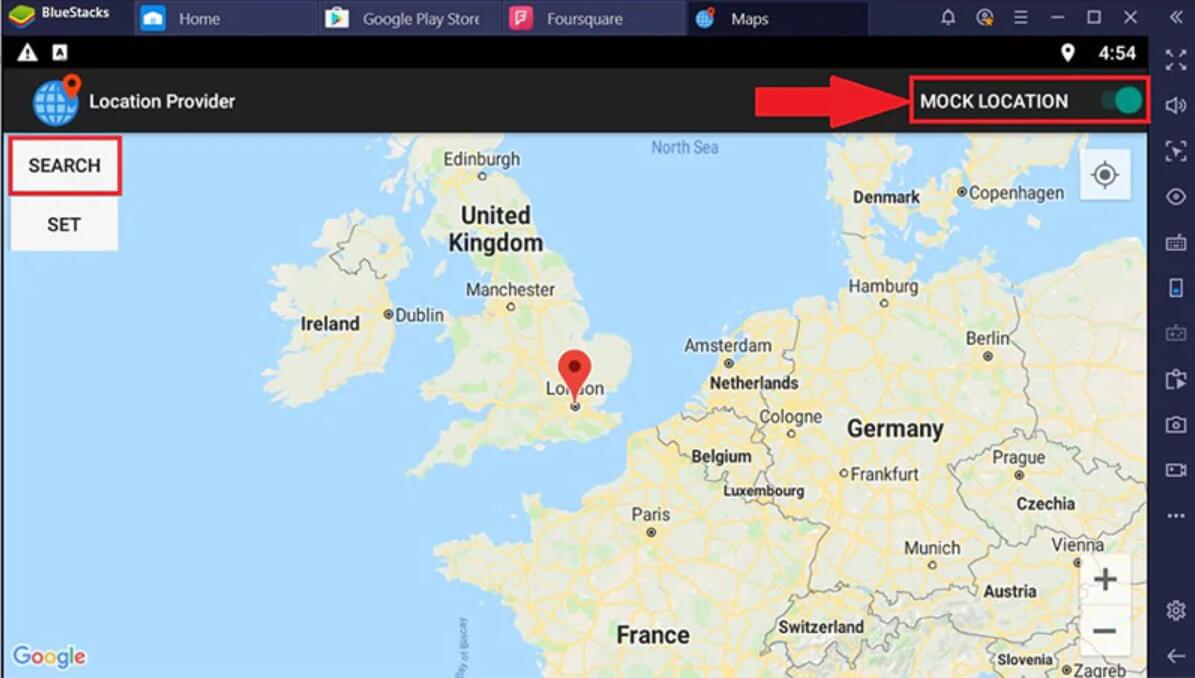 Step 3: Enter your preferred location and click the Search button.
Step 4: Your location will be updated automatically. Then set the location to the new address by clicking SET.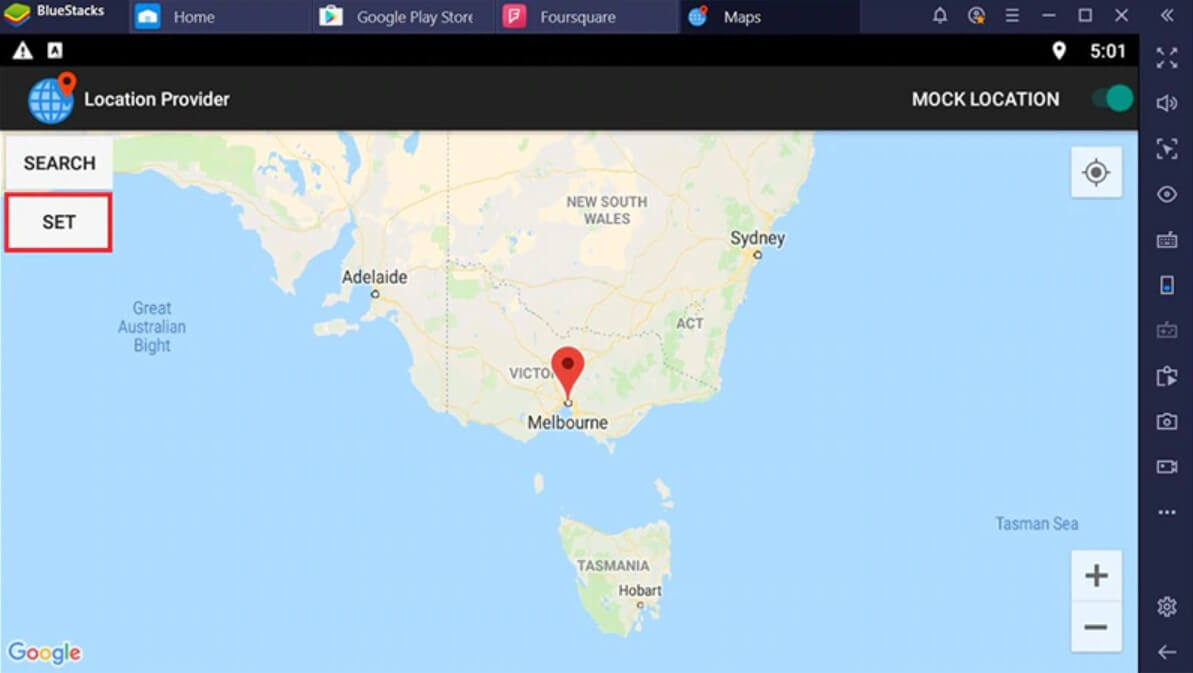 Pros
Customizable movement speed and path.
spoof to different locations at once.
Cons
When teleporting too far from a location in a shorter period of time, a soft ban or account suspension may occur.
Part 2: How to Fake GPS on Orna RPG?
---
When you start to play Orna RPG, you must first figure out the basic operation and basic gameplay definition of this game. Before understanding how to fake Orna RPG for you, it is necessary for me to provide you with an example of this game. Function and operation guide.
1. Make An Informed Choice
---
When you start playing ORNA, you are first guided to choose between three different categories. Of course, the chosen one may change throughout the game.
1

Warrior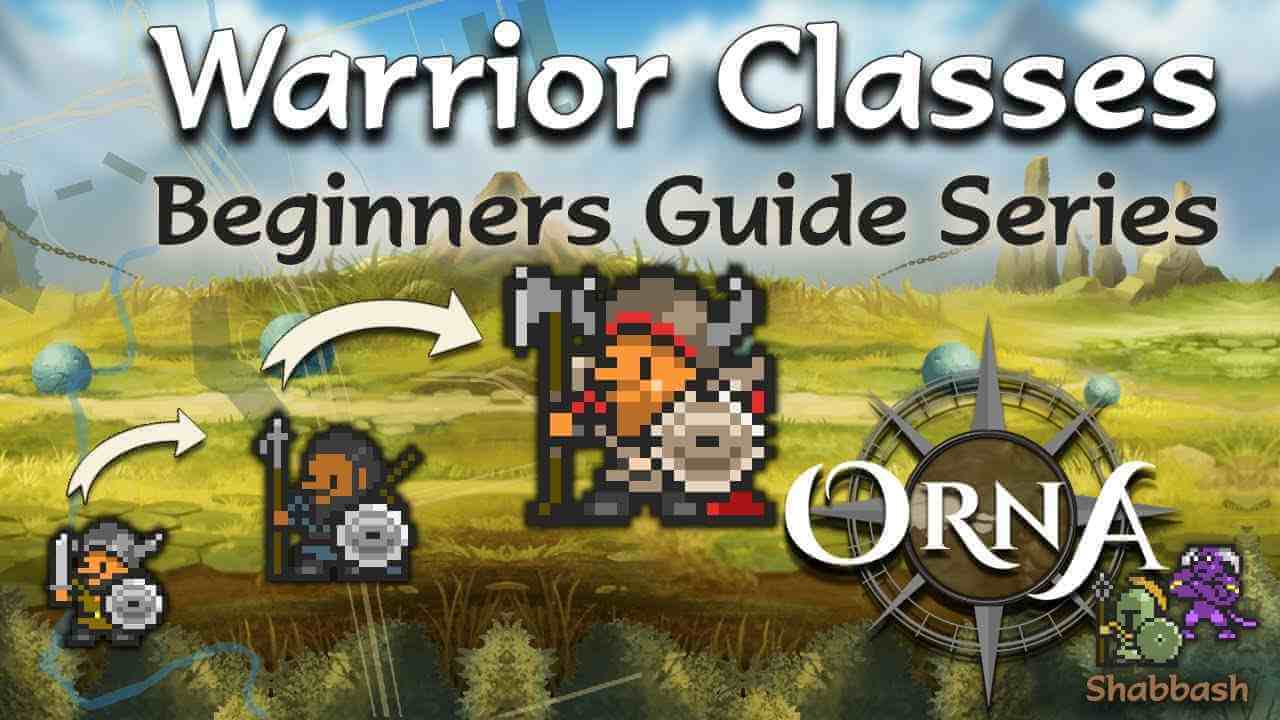 Among the occupations that can be chosen in ORNA, first and foremost is the warrior. By choosing it, we will be entitled to a character that specializes in melee combat, and therefore can also be a melee character. It uses resistance, defense and attack stats. However, it ignores Dexterity and Magic attributes.
2

Magician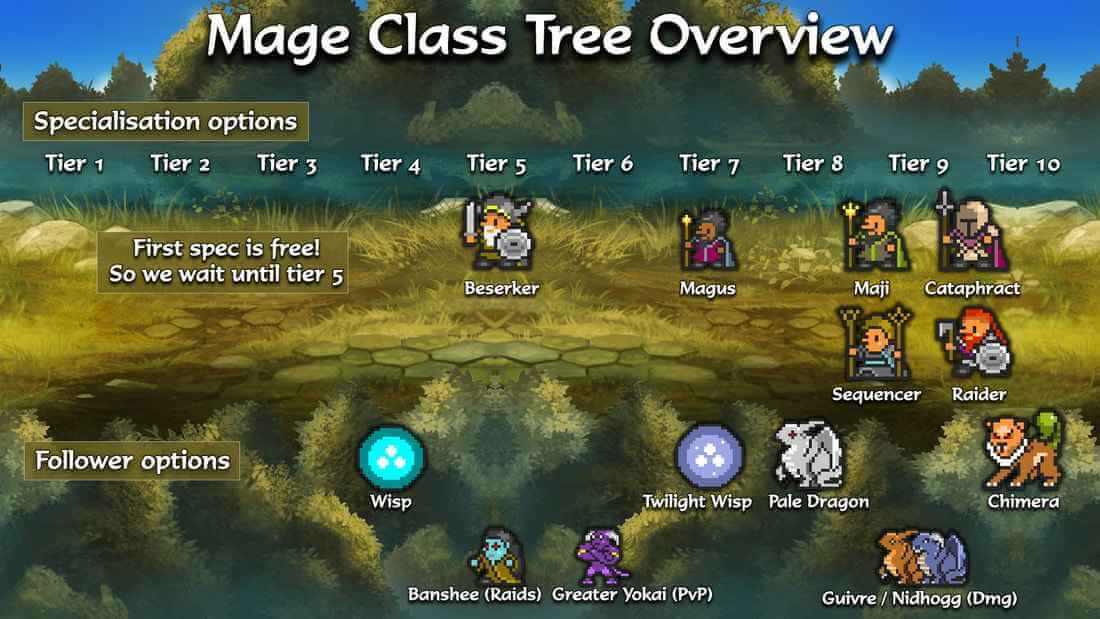 This second category is characterized by magic. Here, the character thus does not make physical attacks. Instead, he specializes in magical attacks and spells. Unfortunately, his defense is weak.
3

Thief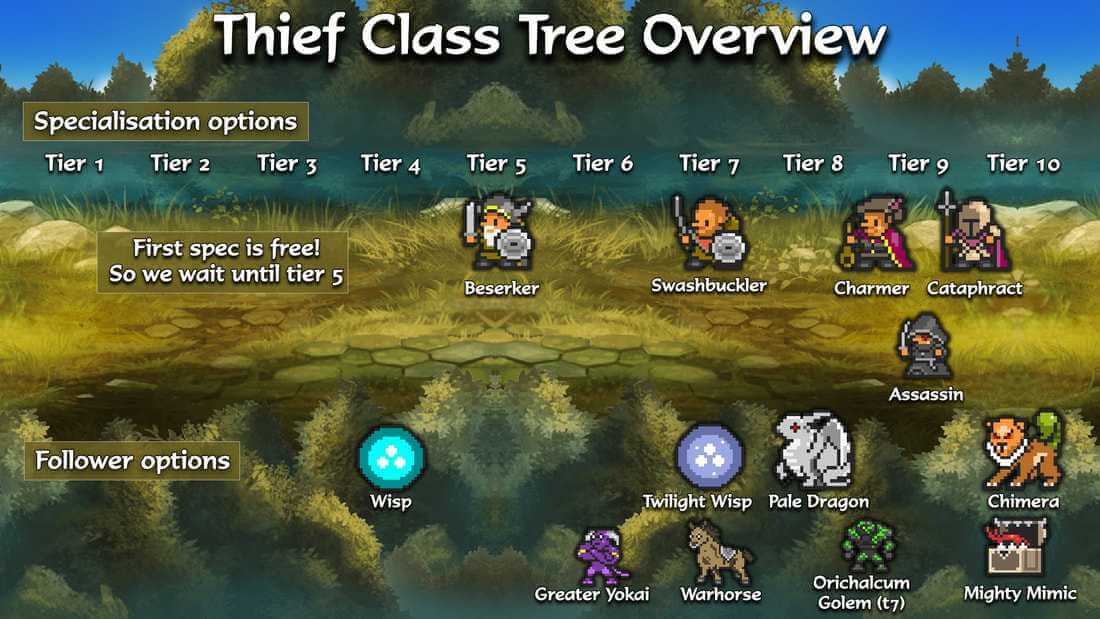 For this third category, characters are based in particular on aggression and dexterity. Therefore, it is the ace of dodge and precision. To defeat his enemies, he tends to use various weapons such as bows and daggers.
You'll be able to unlock several other more interesting classes as you progress through the game. These include, but are not limited to, Archmage, Frost Mage, Knight, Legionnaire, Paladin, Rogue, Royal Guard, Rune Knight, and more.
2. A Few Statistics to Know
---
In Orna, every character benefits from seven important stats. They increase with the player's level, but also according to the chosen class. Depending on the latter, you can earn specific bonuses.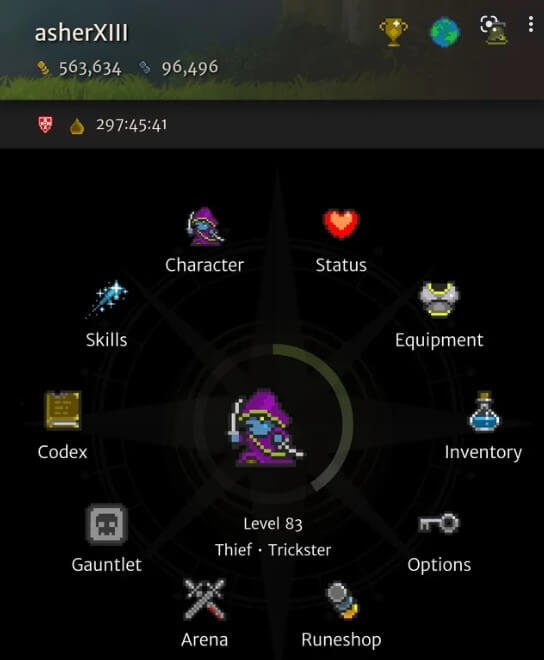 1

Life value
HP is of course the abbreviation of English health point. This first stat clearly shows the health point of the player.
2

Attack
Attack stat means physical attack, such as a sword. Not useful for mages of course, but essential for players who have chosen the warrior or rogue class.
3

Magic
As the name suggests, magic shows the damage done by magical attacks and spells. Unlike attack, this stat is quite important for mages, but not for fighter or rogue type players.
4

Mana
For mages in particular, each spell requires a certain amount of mana. As for the characters of the other two classes, they need it for special attacks. Of course, mages have more mana.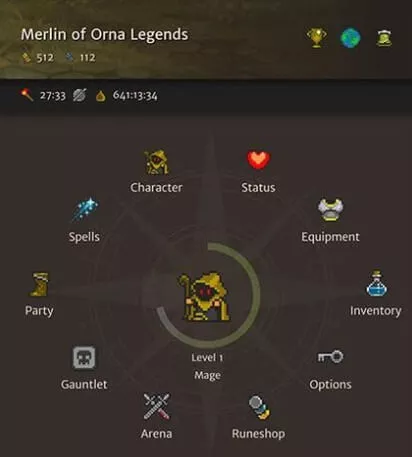 5

Defense
Of course, the higher the defense attribute, the less damage you will receive from physical attacks. But of course it will decrease as we cash out.
6

Resist
Resistance is similar to Defense, but more about magical attacks and spells. Therefore, if the attribute is high, a person will take less damage in the case of magical attacks and spells.
7

Dexterity
The last stat indicates the player's attack accuracy and ability to dodge enemy attacks. Of course, the higher the better.
3. Orna RPG Player's Mission
---

Explore a dungeon in a fantasy world by exploring your own dungeon.
Enjoy modern 8-bit pixel graphics.
Join kingdoms and fight in wars and online raids.
Challenge other players in PvP arenas.
Level up and progress in over 50 game character classes.
Collect over 1,000 in-game items.
Put their characters to the test with over 300 monster types.
Find and defeat over 100 unique bosses and raids.
Part 3: Best Tips for Proper Progression in Orna RPG
---
In order to get right in ORNA GPS RPG and ultimately win, there are some practical tips not to be taken lightly. They are of course especially aimed at beginners, but are also useful for more advanced players.
1

Avoid moving too fast
Many players may want to level up as soon as possible to quickly discover higher levels. So they make sure to always get more XP , but that's not a good idea. In doing so, they will find that their devices fail them at some point. Then it may be difficult for them to progress.
2

Prefer coins, trinkets and other items to XP
When facing different monsters in ORNA, the ideal is to make sure you get the most gold, Orns, and other items in addition to XP. To increase your chances of winning, you can rely on the Ring of Restraint. These help reduce XP gain significantly.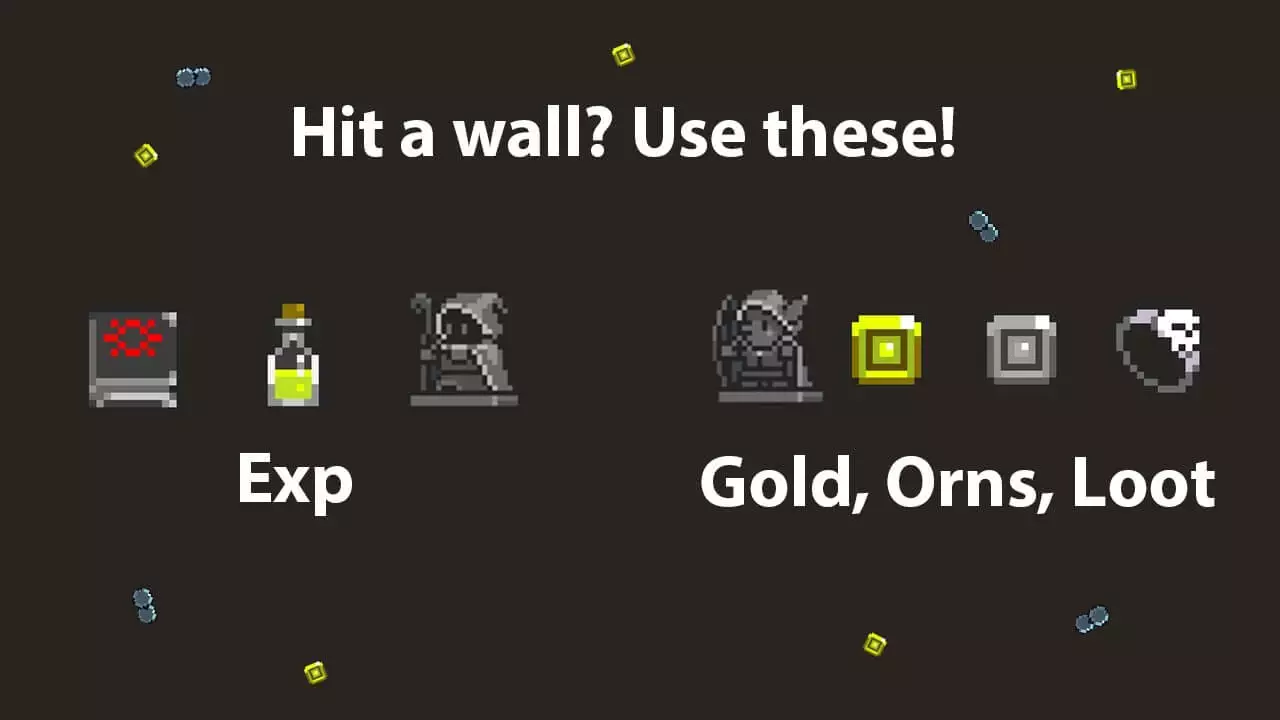 It is possible for you to dismantle the thus obtained items to obtain materials that you can use to improve your equipment at the blacksmith. Even if you level up much slower, you'll have better gear.
3

Make a blacksmith your best friend
By constantly improving your gear to always take it to the next level, you are sure to outshine other players and remain invincible. This way we rarely lose PVP battles in realm or arena battles.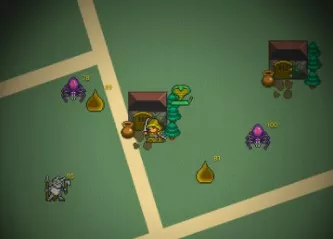 The problem is that a lot of players tend to ignore the blacksmith and still think that leveling up is about having more power. However, it is often the equipment that determines the outcome of various battles. With good equipment, even various monsters and wild bosses are easier to deal with.
4

Prioritize Orns Income
Also, in ORNA, getting Orns is better than getting XP. We can't forget that we need it to upgrade our classes and our equipment. This is another reason not to upgrade too soon.
It is also difficult to defeat hordes of monsters if you upgrade your class and equipment late. Plus, anything involving player-to-player is pretty much impossible.
5

Prioritize rare and premium equipment
Obviously, in order to progress quickly, we tend to take everything we find at the beginning of the game. However, as you progress, it's wise to only choose rare and premium equipment.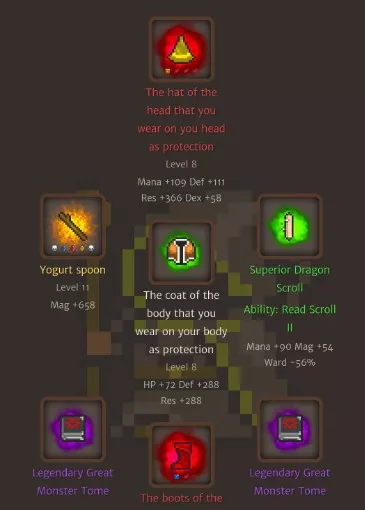 Part 4: Hot FAQs about Spoofing Orna RPG?
---
1 Is Orna like Pokemon go?
Well, Orna is a full-fledged RPG that uses your own environment to create dungeons that you can explore with the characters you create. That alone is enough to count it as one of the best games like Pokemon Go.
---
2 Can Orna RPG GPS location be spoofed?
Doing so is simple. There is no "fake GPS location" setting built into either iOS or Android, and there are many tools on the market that can help you spoof your location. Following the tutorial, you will soon learn how to use them simply.
---
3 Is there a risk in spoofing GPS location on Orna RPG?
Honestly, whether there is a risk or not has a lot to do with the location spoofing tool you choose. Choosing a good location spoofer can reduce almost all risk for you. Of course, with a reasonable amount and infrequently changing your location, there is generally no risk.
---
Conclusion
Well, that's all I have for you. Today we shared with you how to fake Orna RPG GPS location, and brought you a lot of tips on how to play the game. It is very important to choose a high-quality location cheater to help you play this game well, iMyFone AnyTo will be your best choice. Hope the above can help you.