You may want to delete music from iPod Nano/Shuffle/Classic and have more space for new songs. It may not be easy for you to make it if you are working with an old iPod. The traditional way to delete music from old iPods is using iTunes. But you can still make it without iTunes?
1. Delete Music from iPod Nano/Classic/Shuffle without iTunes
Without iTunes, you can come to iTunes alternative, like the professional one called iMyFone TunesMate. It supports all models of iPhones, iPads and iPods, and iPod Classic/Shuffle/Nano are included.
Totally free to delete music - iMyFone TunesMate offers the free trial to delete music from iPod/iPhone/iPod. You can delete all music at once, delete music selectively in bulk or delete songs one by one. It can also delete podcasts, audiobooks, playlists, iTunes U, music video, etc.
So how to delete songs from iPod Shuffle/Classi/Nano?
Step 1: On your computer, launch iMyFone TunesMate. Use a usb cable to link your iPad with your computer.
Step 2: From the top menu, choose "Music" tab.
Step 3: Carefully select the songs you want to remove and click on the "Delete" button to confirm. (If you tick the little box beside "Name", all songs will be selected.)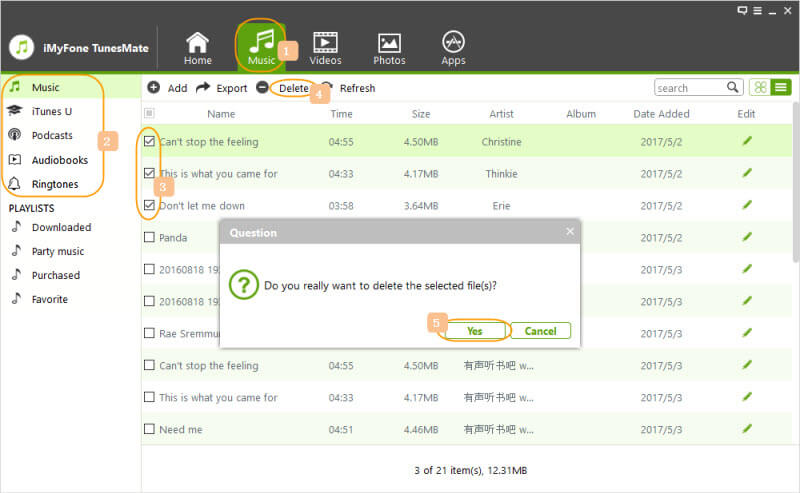 What Else Can TunesMate Do?
iMyFone TunesMate has been designed to let you manage large data in terms of media and files.
You can transfer music from computer to iPod Classic/Shuffle/Nano or vice versa.
You can rebuild your iTunes music library from iPod or other iOS devices.
You can transfer music from iTunes library to iPod without ever opening iTunes if you mistakenly delete some.
Duplicate music files can be found and removed.
You can also automatically fix or manually edit music ID3 tags for iPod.
2. Delete Songs from iPod Nano/Classic/Shuffle with iTunes
Way 1: Delete Music from iPod Classic/Shuffle/Nano But Keep Them in iTunes Library
Step 1: Connect your iPod to computer and run iTunes on it.
Step 2: Tap the device tab at the top right corner.
Step 3: Click "Summary" and tick "Manually manage music and videos".
Step 4: Click on the 'Music' icon at the left side menu.
Step 5: The pop-up window will show all your iPod music. Right click on the unwanted one and choose "Delete" option to remove.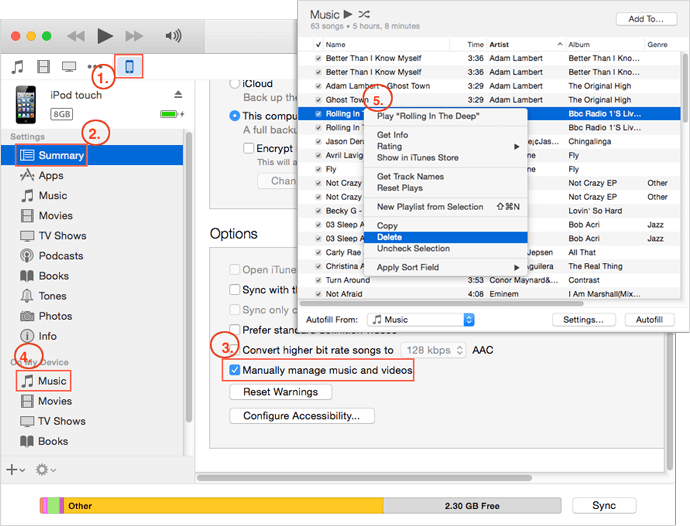 Way 2: Delete Songs from iPod Classic/Shuffle/Nano & iTunes library
We all know that iTunes allows us to sync music, videos, photos, and other data from library to iDevice. If you do not want some songs any more, you'd better delete them from iTunes library as well.
Step 1: Launch iTunes and make sure you have log in your account.
Step 2: Click "Music" mark and choose "My Music".
Step 3: All your songs will be displayed there. Tap the song you don't want and choose "Delete" option to remove.
Step 4: Connect your iPod to PC. Click device tab and go to "Music". Click on "Sync" button to sync music from library to your iPod. And the songs deleted from library will disappear from your iPod.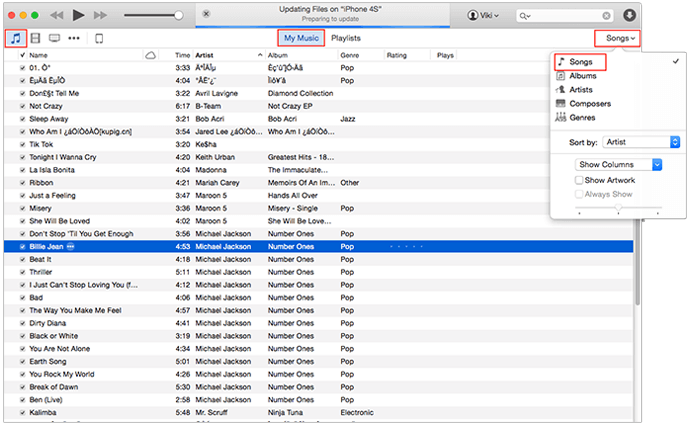 Note: A window will pop up at Step 3 to ask you, "Do you want to move the selected songs to Trash or keep it in the iTunes Media Folder?". You'd better choose "Keep File" so that you can recover them when necessary.
Limitations:
Music deleted from iTunes Media Library can never be recovered. If the song was purchased from the App store and you delete it using iTunes, you still would not be able to recover it.
You need to delete songs one by one.