If you are an iOS user, you probably have come across a situation where you want to listen to your favorite music but then, iTunes keeps you from enjoying your favorite tunes. In most cases, you will find an iTunes exclamation point next to your tracks. This is not a good thing for anyone. We want you to get your music back on iTunes and start enjoying listening to your favorite tracks again. This is the reason which has prompted us to write this article. We will help you fix the iTunes can't find my music issue and also get rid of iTunes exclamation point.
Part 1: Why iTunes Can't Find My Music
1

Exclamation Mark
The iTunes exclamation point is a way of iTunes telling you that the particular track you are trying to play is missing. iTunes usually stores your music files on your hard drive. This music file collection is known as the iTunes Library. The collection will exist in the Home Directory: ~/Music/iTunes/iTunes Media/Music.
Every time you add a music file to your iTunes, the music file is supposed to be added to iTunes Media directory. The track itself is then added to the list of tracks available on iTunes. When you tap on the track on the list, it should start playing.
If the music file disappears for any reason from your iTunes Media folder, iTunes will lose track of the file and hence display an iTunes exclamation point. Some of the reasons why the music file might go missing include deleting the track or moving the folder. The iTunes exclamation point is like a way of iTunes telling you "Hello, I remember having this music track, however, I can't find the file to play it right now."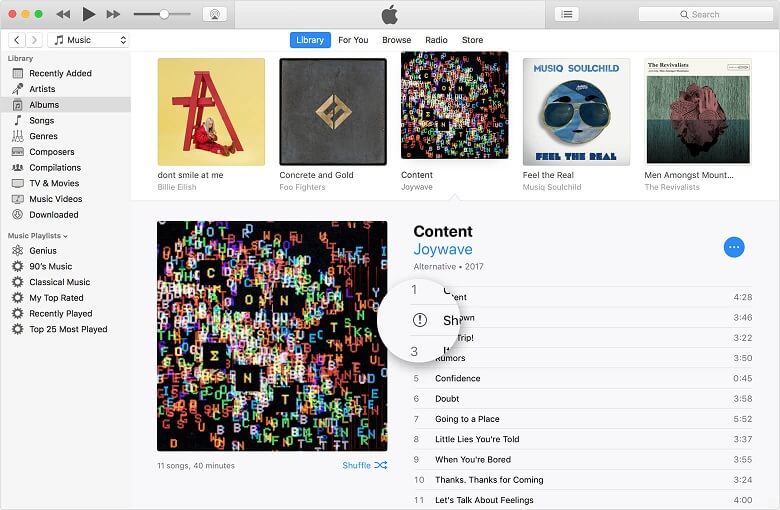 2

Hidden Purchase
This is the most common case for people who are experiencing the iTunes can't find my music issue. This can be frustrating since you have already spent your money to buy a music track but you still can't figure out how to enjoy it. A hidden music file won't be displayed in your music track list on iTunes. The good news is that hiding a music track does not delete it. You can unhide any music track quite easily. We will be showing you how this can be done.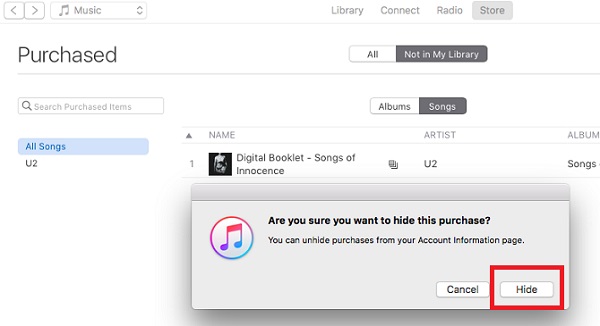 Part 2: How to Fix iTunes Can't Find My Music
1

Locate iTunes Music File
This solution will be applicable if you are seeing an iTunes exclamation point next to your music tracks/track. Follow the steps below to locate your music file:
Launch iTunes and double-click the missing file.
Tap Locate.
iTunes opens a window. Use this window to locate the missing music file in the iTunes Media folder. If the music track is not available in the iTunes Media folder, import it again.
Click Open and try playing the track again on iTunes.
2

Unhide a Purchase
If the iTunes can't my music issue is as a result of your purchased music tracks being hidden, follow the steps we have outlined below to unhide the music:
On your computer, launch iTunes.
If you aren't signed in, tap Store and then Sign in. Input your Apple ID and password and then tap Sign In button.
Select Store and then View My Account. If asked, enter your password again.
On the Account Information page, click Manage Hidden Purchases.

Click Music at the top of the page.
Your hidden music tracks should be available. Tap the Unhide button next to a music file you would like to unhide.
Part 3: An Alternative Way to Back Up Your Music: Use TunesMate
The problem with using iTunes is that this Apple service has a lot of bugs. Users are usually frustrated by the crashes that happen on iTunes every now and then. Also, iTunes has been known to mess up people's music tracks. On top of all these, iTunes has a number of limitations. For example, it supports a maximum of 5 iOS devices and 5 computers, it limits you to only one-way transfer, it is susceptible to data loss, it has been known to erase data while syncing, and more.
Instead of letting iTunes limit you, you can use a third-party tool to manage your music backups. The best tool to use is iMyFone TunesMate . This tool which supports all iOS devices and works on both Mac and PC has the following features:
To use iMyFone TunesMate to manage your music backups, follow the simple steps outlined below:
Launch TunesMate and connect your iOS device to your computer.

In the top bar, click Music. Then select the music tracks/files you would like to export to your computer.

Tap Export and then click Export to PC. Browse and then select the folder you would like to store your music. Tap OK to initiate the Export process.
If you are experiencing the iTunes can't find my music problem, you should have the ability to fix the issue by following the steps outlined in this article. Instead of letting iTunes limit you or even mess your music tracks due to bugs, you can use TunesMate to back up your music tracks. You can get a FREE TunesMate trial version today.