If you have gotten a new PC, you may consider transferring your iPhone backups to the new computer. This will give you access to your iPhone backup in the event of an issue with your phone. While you can always access and transfer the backup directly from its location, not all of us are that savvy. In this case, some simple tools could be of help.
How to Transfer iPhone Backup to new Computer with TunesMate
iMyFone TunesMate remains one of the more powerful iPhone data management software. Amongst its many functions as a data management tool for iDevices, it can also be used to selectively backup iTunes files, as well as transfer these from one device to another. If you have just gotten a new PC, iMyFone TunesMate can be used to smartly restore your entire iTunes library, including your movies, music, videos, podcasts, audiobooks and TV shows. Compatible with all iOS versions, there are no limits to the number of PCs or iDevices on which it can be used, freeing users from the limitations of iTunes. .
Key features of iMyFone TunesMate:
Two-way transfer: Freely import and export data between devices.
Avoid number limitations: iTunes is known for its limitations to the number of PCs and iDevices you could connect, but TunesMate helps you bypass those limitations.
Preview and selectively backup: It is not all the time that you want to backup all of your files; in that case, TunesMate allows you to preview and decide on which files you want to backup without losing any previous backups.
1-click transfer: Transfer media files across devices in only one click.
Bypass iTunes limitations: iTunes is hugely unpopular for its many flaws, many of which turn out to be limitations to your activities. TunesMate helps you avoid both the purposeful limitations and the bug-induced limitations.
Steps to transfer iPhone backup to new computer with TunesMate:
Launch TunesMate on your PC. Connect your iPhone to the computer using a USB cable.

On the home interface, select "Transfer iDevice Media to iTunes" and click "Start" on the pop-up window. This will scan every media file on your device not currently on your iTunes library.

Check (or uncheck) the list of media types that pops up until you are left with only those you wish to transfer. Click "Start" to begin transfer and "Complete" to finish.



How to Transfer iPhone Backup to New Computer with iTunes
One of the more obvious methods for those looking to transfer iPhone backups from one computer to another will be to make use of iTunes. iTunes allows for data backup from iPhones and other iDevices. If you have just gotten a new computer, you can transfer your backup data to he new computer by locating the backup file on your computer. Note that iTunes does not allow for preview and selective backup of files.
Steps to transfer iPhone backup to New computer with iTunes:
Locate the iTunes backup file on your Windows or Mac PC.

1) Mac: /Library/Application Support/MobileSync/Backup/


2) Windows XP: Documents and Settings(username)Application DataApple ComputerMobileSyncBackup

3) Windows Vista and later: Users(username)AppDataRoamingApple ComputerMobileSyncBackup


Insert your USB device into your old computer and copy the backup folder to the drive.
Remove USB from old computer and plug into the new PC.
If you don't already have iTunes on your new Windows PC, download and install it.
Locate the iTunes backup folder on the new computer and copy your backup file from the USB drive into the new computer.
Limitations:
iTunes does not allow preview and selective transfer, the whole backup file will be copied altogether.
You can't backup photos, videos, and documents from third party apps.
How to Transfer iPhone Backup to New Computer with iCloud
An alternative way to backup your iPhone files is to back them up to iPhone's cloud storage system, iCloud. This will make your backup files available to you at any point in time, on any of your devices.
Connect your iPhone to WIFI.
Go to settings and select iCloud.
Turn on "iCloud Backup"
Select "Backup Now"
Then you can access your backup files on your new computer by downloading iCloud for Windows on the PC.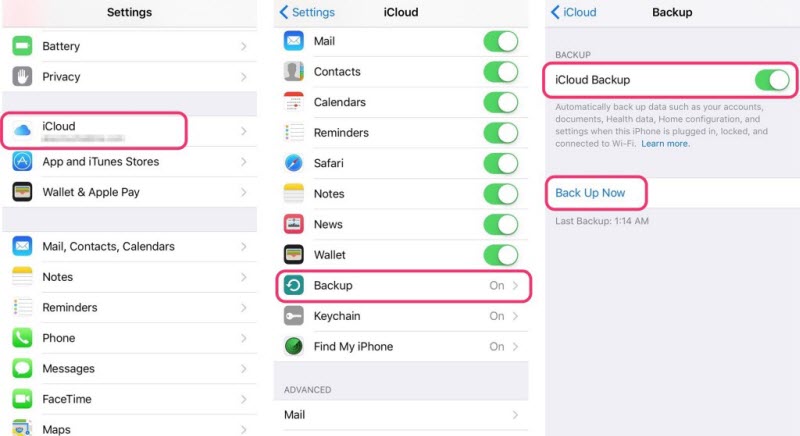 Limitations:
It's not a convenient method to open the backup on Windows PC.
You will constantly require internet connection to access it.
---
Nothing can be more frustrating than losing your files for any reasons, hence the need for backups. Transferring your iPhone backup file does not have to be a very difficult process. You could use iTunes and iCloud systems to ensure you have your iDevice backup on your new PC. On the other hand, with iMyFone TunesMate, you can have access to your backup files on your new computer without having to go through any elaborate procedure. Download it for free and try it now!