Apples' iPhone has one of the best camera features, and because of these features, the use of digital cameras and camcorders have extensively reduced. Many iPhone user prefers to save their iPhone photos and other media files on a computer for easy access in case if the need for printing photos arises. Hence, they need a good solution to get photos off the iPhone.
Solutions of how to get files off an iPhone are many, but knowing the right one to use based on the type of file you want to share or the device you want to share iPhone files with is usually a big nut to crack. In the light of these issues and problems, we shall be introducing you to the best methods to share files between iPhone, computer and other media storage devices.
How to Get Files off iPhone
The following solutions will help you know how to get files off an iPhone to a computer or other storage devices.
#1. Use iMyFone TunesMate iPhone Manager
Any guide on how to get files off iPhone that doesn't contain iMyFone TunesMate as the prime solution for iPhone file sharing is not complete. We say this because iMyFone TunesMate is the best way to share iPhone files across numerous desktop and mobile devices.
TunesMate can get any type or kind of iOS file off an iPhone to any locations, media storage device, or cloud server. It does what iTunes do in a better way, and hence earned the title "Best iTunes Alternative Software". Therefore, if you want to ripe off or transfer iPhone files to a computer, flash drive, memory card, external hard drive, digital camera, camcorder, or another storage device, then use iMyFone TunesMate.
Key Features:
Offers you convenient file sharing features between iPhone and other media storage devices.
Serves as a perfect alternative for iTunes.
Smartly manage the transfer of iOS files such as music, photos, videos, TV shows, playlists, podcasts, audiobooks, documents, iTunes U, apps, etc.
Transfer iPhone purchased and non-purchased files between iPhone and computer.
Has the support of over 5 million users, tech authorities, and media websites.
Steps to get files of iPhone using iMyFone TunesMate:
Step 1. Download and install the official iMyFone TunesMate. Launch the program on your PC, and connect your iPhone using a USB cable.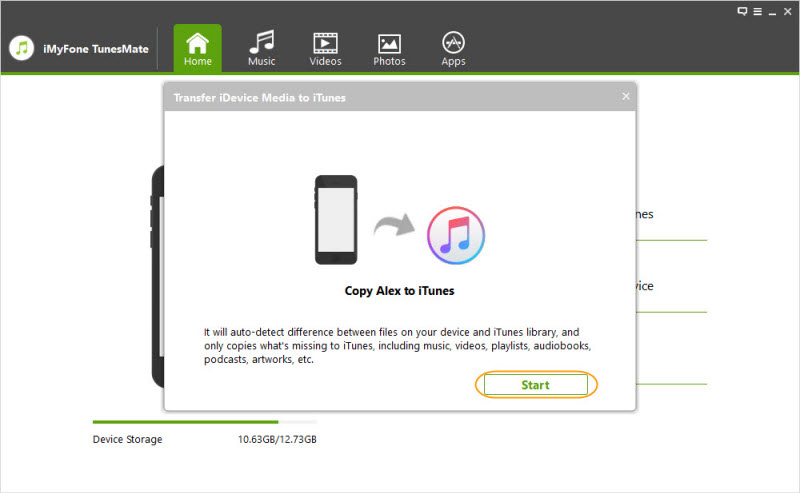 Step 2. Select "Transfer iDevice Media to iTunes" mode and click the "Start" button from the pop-up window.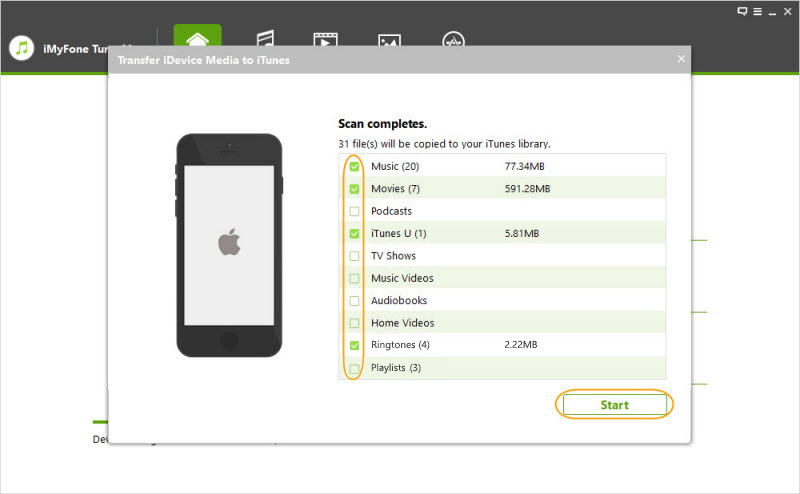 Step 3. After the scan, the media files will be checked (selected) by default. Uncheck the ones you don't want to get off the iPhone and click the "Start" button to begin the transfer process. Click "Complete" to end the process.
#2. How to Get Files off iPhone to Computer Using Windows AutoPlay
If you want to transfer photos from iPhone to Windows 10 PC, you can do that using Windows AutoPlay. This feature enables you to transfer Camera Roll photo and videos to the computer but won't let you move photos from Photo Library or Photo Stream.
You will need to enable this feature in your PC before using it to get iPhone files to your PC. Once you set it up and connect your iPhone to your PC, your files will be backed up to the default location.
Step 1. Search and open the Setting app on your Windows 10 computer.
Step 2. Click on "Devices" and select "AutoPlay" from the left side of the Windows.
Step 3. Move the "AutoPlay for all media devices" button to switch it on.
Step 4. Click "Choose AutoPlay Defaults" to tell your computer where to put your photos files and music.
#3. How to Get Files off iPhone to Computer Using iTunes
iTunes is a good software for organizing and transferring files and data from iPhone to the computer. If you prefer to sync your iPhone media files to iTunes, you can follow these steps:
Step 1. Download and install the latest version of iTunes on your PC.
Step 2. Connect your iPhone to your PC using a USB cable.
Step 3. Your iPhone icon will appear on iTunes top bar, click on it.
Step 4. Click "Settings" and select the files you want to sync.
Step 5. Click "Sync > Apply" to get your iPhone files to PC.
The Benefit of Getting Files off iPhone
Why is getting off iPhone files to computer important and beneficial? The following five reasons will give us a head up on the benefits of getting files off iPhone.
It gives you quick access to iPhone files.
It gives you access to your iPhone files even when you don't have power on your iPhone.
It protects your iPhone files from virus and theft.
It safeguards your files against failed hard drive or crashed iPhone.
It makes file recovery easy.

---

In all, iMyFone TunesMate is the best tool for getting files off iPhone. So, get a copy of TunesMate on your Windows computer now to avoid losing your important files if iPhone fails.