A lot of people assume that because iPods were designed to work with iTunes that they have to use iTunes music. You can put any music you want on your iPod. Especially an iPod Touch where you can download music from the internet browser. But how do you transfer music from an iPod touch to a computer free without iTunes software? Let's take a look.
Transfer Music from iPod Touch to Computer without Software for Free
Step 1. Plug Your iPod Touch into a USB Port
Start the process off by plugging your iPod touch into a USB port on your computer. Make sure to click yes on the trust message that will pop up on your iPod touch.
For the purpose of this guide we will be assuming you are using a Windows 10 computer. It can also be done on a Mac computer.
Step 2. Use File Browser To Navigate Your iPod Touch
In a Windows file browser window you need to navigate to your iPod Touch. Then click on "View" tab and check option of "Hidden items" . You will see iPod_Control and the Music folder. Both of these might be hidden before following the other steps.

Step 3. Drag And Drop Media Folders
Select the Music folder and drag it to a location on your computer. Then, all the songs will be transferred from your iPod touch to computer without software.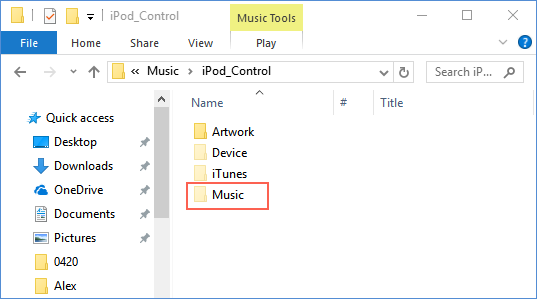 How to Transfer Music from iPod Touch to Computer without iTunes Software
When it comes to maintaining an iPod, iPad, or iPhone running iOS 14, there is no better option than to use iMyFone TunesMate. A versatile program, which allows for you to transfer all of the media files on your iDevice and comes with a load of other features. Most importantly for this article, all media types are supported. Besides, TunesMate supports two-way sync, which means you can also transfer music from computer to iPod or other iOS devices.
The transfer of music can be done both ways. From your iPod touch to computer and your computer to your iPod touch. Furthermore, you can transfer to and from iTunes if you want to. You won't erase previous data and the software is capable of working at high speeds.
Transfer Music from iPod Touch to Computer without iTunes (iOS 14/13/12 Supported)
Step 1. Make sure that the TunesMate program is open. To start the music transfer process, connect your iPod touch to your computer and tap trust this device if it pops up on your iPod touch.
Step 2. Now go to the music tab on the top. You will have a list of your whole library or you can choose individual playlists. Select the content that you want to transfer and hit the export option in the menu at the top.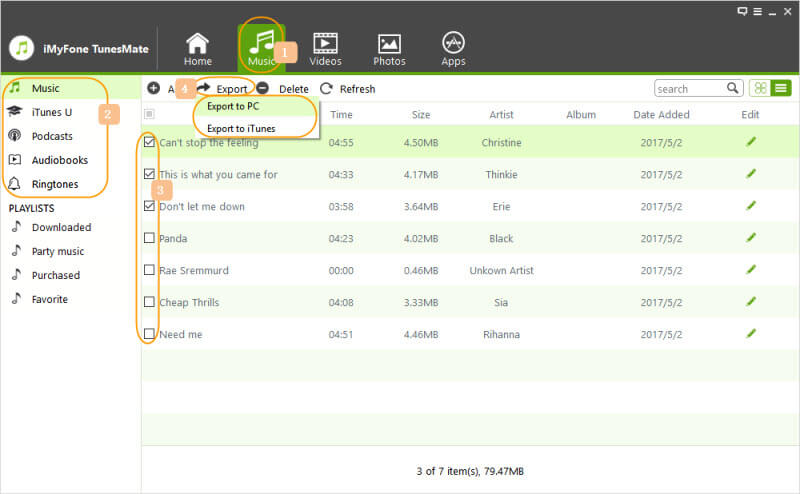 Step 3. In the export menu you will want to select Export To PC/Mac. From there it is like saving any other file. Find the location that you want to save it to and click save.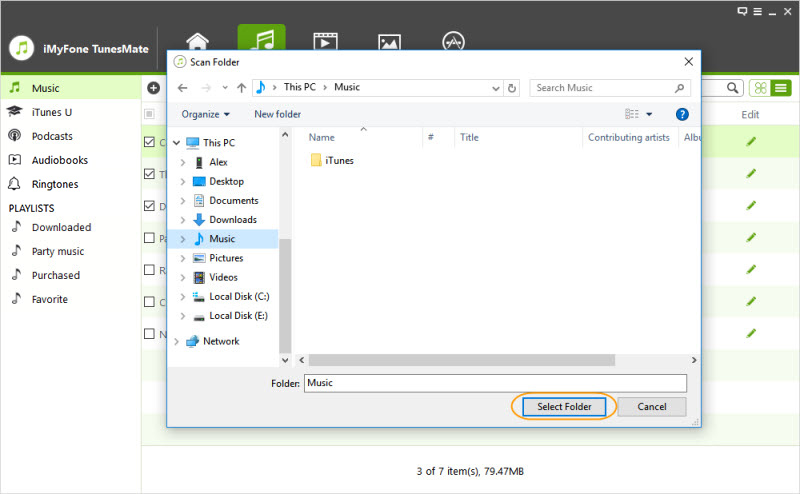 The transfer process for music to your PC is fairly simple. So simple in fact, that it lacks the ability to select which songs you want. That is why iMyFone TunesMate is the best option for transferring music and other data. The program is just as simple and easy to use, but with the features that you need and want.