Have you just got yourself an iPhone? Have you purchased ringtones from iTunes? Or did you just convert your ringtone to another format? Is it difficult to locate these ringtones? Well, you are not alone. iPhone users soon find out that ringtones that should normally be located easily on their device are nowhere to be found.
Whether you have a customized ringtone or one you purchased, a ringtone should not only be a preferred music sound, but it should be one you can easily locate and change as you desire. Where are your ringtones stored on your iPhone? Since it is a pretty difficult task to search for where iTunes stores ringtones or where your ringtones are generally stored, it is ideal to first sync these ringtones to iTunes so you can easily find them. Now the question should be "how do you sync your iPhone ringtones to iTunes?"
Part 1: Where Are Ringtones Stored on iPhone (in Most Cases)?
In most cases, you can easily locate and find your iPhone ringtones on your device, especially for those ringtones that come with your iPhone. In other words, we can call them iPhone default ringtones. For those iPhone ringtones, you can find them at great ease on your iPhone. Ringtones are stored in .m4r format in your iPhone, thus many people would call them m4r ringtones. Where are m4r ringtones, and how to find them in normal situation?
Go to Settings on your iPhone.
Choose Sounds & Haptics, and you can find Ringtone and Text Tone under SOUNDS AND VIBRATION PATTERNS.
Click Ringtone to enter a new page where you can find a ringtone list containing all detectable iPhone ringtones.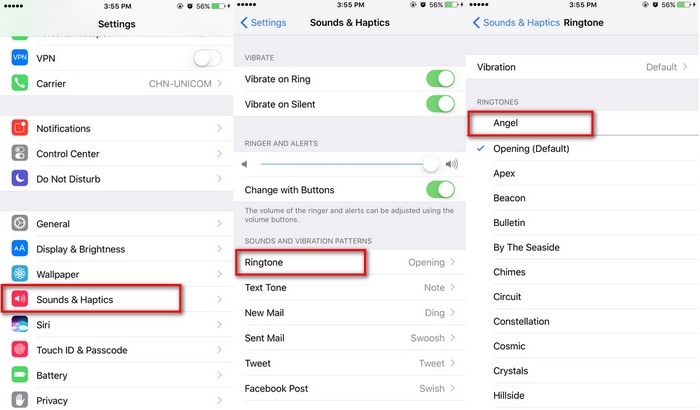 This method to find iPhone ringtones is simple. But in most occasion, it is used to change ringtones on your iPhone, not to get to know the details of ringtones. To actually locate and get information of iPhone ringtones, you might need to find another way.
Part 2: How to Transfer iPhone Ringtones to iTunes for Easily Locating (in Certain Cases)?
If you have already synced or transferred iPhone ringtones to iTunes, it is easy to locate and find iPhone ringtones. Here we show you how to transfer iPhone ringtones to iTunes for easily locating with a third-party program - iMyFone TunesMate. iMyFone TunesMate is a media program that offers one-click sync of iPhone ringtones to iTunes. As professionally designed iPhone data transfer software, it is efficient, reliable, and applies to any iPhone running iOS 13/14. The key features of the software include:
Key Features:
It offers two-way transfer for ringtones/music/video from iPhone to iTunes/computer, or from iTunes/computer to iPhone.
It automatically converts incompatible music formats to a version that is supported by iPhone.
It transfers ringtone/music to iTunes directly from iPhone without any data loss.
It supports the transfer of both free and purchased iPhone music to iTunes library or computer, hard drive, etc.
In order for you to successfully sync your iPhone ringtone to iTunes with iMyFone TunesMate, the following steps will prove helpful:
Step 1 Launch iMyFone TunesMate on your computer and use a USB cable to connect your iPhone in iOS 14.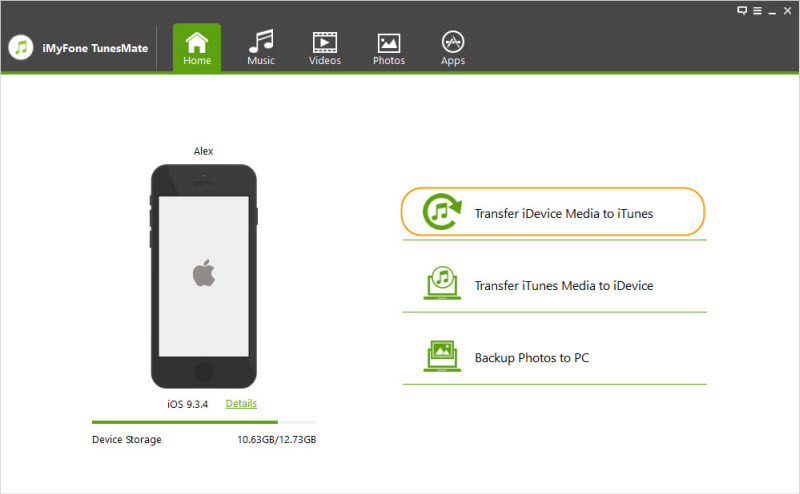 Step 2 Click "Transfer iDevice Media to iTunes" on the main interface, and click "Start" button on the popup window to scan media files on your iPhone device.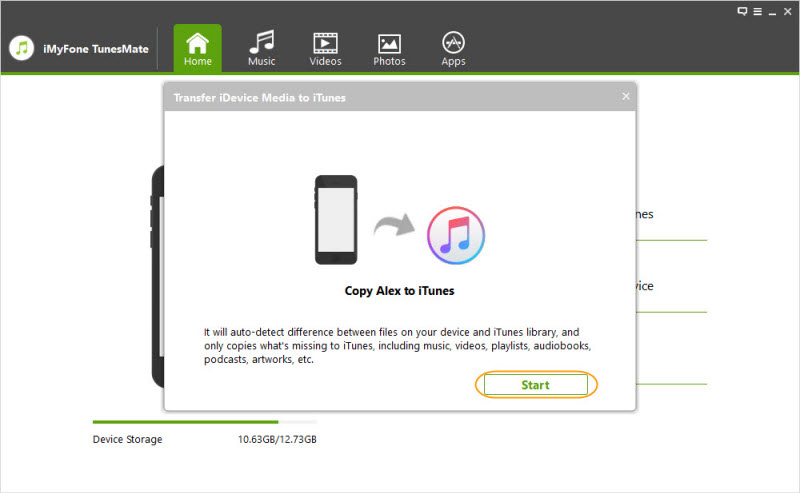 Step 3 All media files that are missing on iTunes library will showed in a list. Select and check Ringtones, and then click "Start" to transfer iPhone ringtones to iTunes. After the process finishes, click "Complete".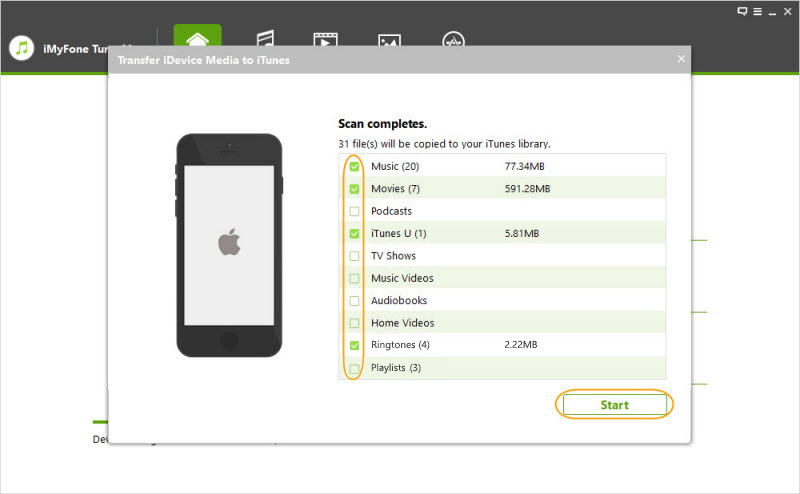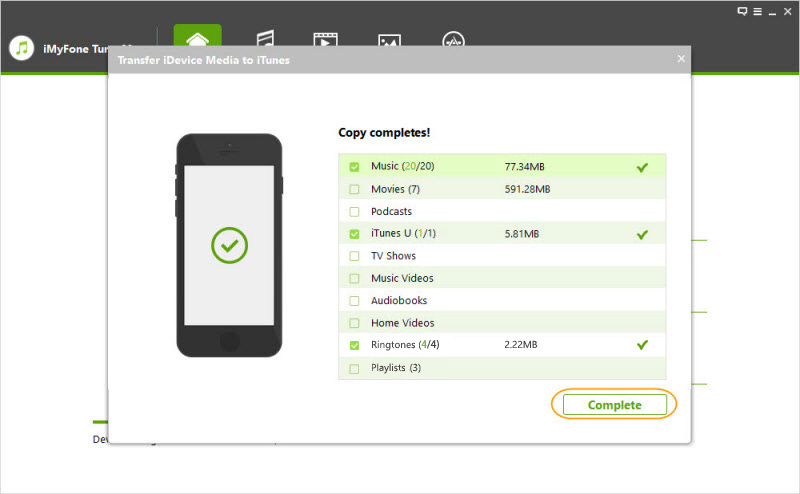 Far more than an iPhone data transfer, iMyFone TunesMate can act as an iPhone ringtone maker for you to customize iPhone ringtones as well. Learn more here: How to Customize and Change iPhone Default Ringtone >> ?
Part 3: How to Find iPhone Ringtones After Transferring Them to iTunes?
After you transfer and sync iPhone ringtones to iTunes, you can start to locate those ringtones on your iTunes. iTunes restores ringtones in a fixed location in the file system. Therefore it is easy for you to find iPhone ringtones after ringtones syncing.
Where are iPhone ringtones stored on computer?
In Mac OS X, ringtones are located in ~/Music/iTunes/iTunes Media/Tones/
In Windows, ringtones are located in My MusiciTunes MediaTones (Place might vary depending on which version of Windows you are using.)

How to locate those iPhone ringtones?
Finder: Hit Command+Shift+G and enter "~/Music/iTunes/iTunes Media/Tones/" as the path (This method works on Mac OS X ).
iTunes: Open iTunes, go to Tones tab, and right click on any ringtone and choose "Show in Finder" (This method works both on Mac and Windows ).

With methods mentioned above, you now know where your iPhone ringtones are and how to find them. The next movement for you is to enjoy your ringtone to the fullest.