Believe it or not, there are those who actually corrupt Word files. It can be either because it's a prank or maybe it's a classified file, nobody knows. Nevertheless, corrupting a Word file is a more common practice than we expected. The process itself sounds menacing, but knowing how to corrupt a Word file isn't as hard as scary as it sounds. If you don't believe it, check out the article below!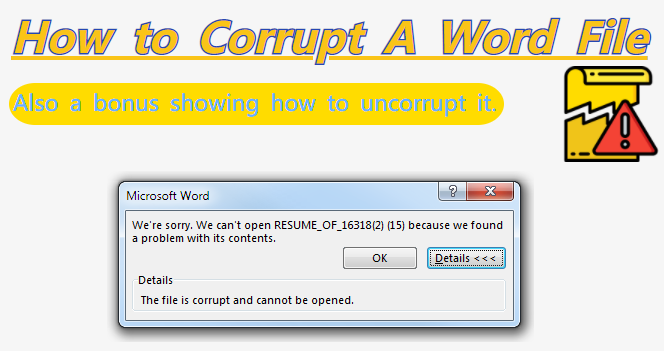 Part 1: Rename File Extension to Corrupt a Word File
The first thing you can do to know how to corrupt a Word file is by tweaking the file itself. You will need to dive in a little bit on its settings. However, once you've gone through it once, doing it for the second and doing so forth will be a breeze for you.
Please note that this trick can be done only for a non-Word file, as we will turn it into a Word file.
Ensure that the file extension is visible. If file extension is not visible, search for "file options" in Windows Search Bar. Find File Explorer Options > View once the result is out. In the Advanced Settings, get rid of the checkmark next to "Hide extensions for known file types." Once you're done, click OK.
Once the file extension is visible, go find the non-document file you want to corrupt.
Right-click the file and go to Rename.

When you rename the file, change the file extension to .doc or other document-related extension. Finally press enter and Yes the prompt.

Once the steps are done, you will not be able to open the file anymore. Please note that this method can be reverted by changing the file extension back to the right one. Hence, this method is not the most suitable way to corrupt the file.
Part 2: Use Notepad for Windows to Corrupt Word Files
Another option for corrupting Word files is by using a Notepad. For those who don't know, notepad is a built-in software where users can type anything there. Programmers and other jobs that has complicated task of writing with complex language love Notepad because of its infinity typing and the lack of any format on Notepad.
Well, in our case, we won't be using Notepad to write. Instead, we will be using it to break the Word files.
Run Notepad and Open the Word document there.
Make some edits as necessary.
Once you're done, go to the toolbar and find Save As.

Change the type of the document and change it from .txt to all files. Save!

When you try to open the file on Word, you'll get a prompt saying it's unreadable.
Part 3: Break the Compression Process to Corrupt a Word File
This trick is pretty tricky and unusual, as it involves compressing the Word file and interrupting the compression process. It is pretty effective though, as you don't need to open them in another software and change its file save nor change the extension. All you need to do is compress and that's it!
To do this, you will need to interrupt the process quickly. Word files are small in size, and small files tend to compress in a flash. So, you will need to pay attention and make sure that you interrupt it when you have the chance to. If you can't do it, it's best to do this trick using a slow laptop so you can see the compression process.
Right click the Word file you want to corrupt.
Go to the Send to > Compressed (zip) folder.

When the compression happens, cancel the process.
After canceling the process, try to open the Word file. If the interruption is successful, you won't be able to open the file using Word.
Bonus: Uncorrupt a Word File with File Repair Tool
What if you accidentally corrupted the file, or you want to revert the process again? There are some steps that can revert the processes mentioned above, but the steps do not guarantee 100% success. If you use the compression method, there is no way to revert the process. Hence, it is best to revert or repair a corrupted file with a file repair tool that guarantees success.
One of the file repair tools you ought to try is iMyFone UltraRepair. The software is great for repairing all kinds of files, such as Word and PDF files or blurry pictures and pixelated videos. All you need to do is follow the repairing steps through the software's easy interface, wait until the restoration is done, and that's it! You get a file that's completely readable.
iMyFone UltraRepair - Repair File
UltraRepair gives you the best solution to repair your broken files including Word, Excel, PDF, and all the other formats.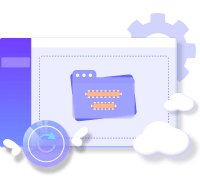 Note
The program can help repair damaged photos and videos now. The function of repairing files will be coming soon. Please look forward to it!
FAQs: More about Corrupted Files
1. What does a corrupted file look like?
It's possible that a corrupted file would either not open at all or will open scrambled and illegible. However, when a Microsoft Word file refuses to open but all other files of the same type open normally, this does not always signify that the core application is faulty.
Another method for determining whether a file is corrupted is to look at its size. When you right-click on the file, select Properties from the drop-down menu. The file size may be found in the Properties section. Compare it against another version of the file or a similar one if you have one. It's possible that the file is corrupt if you have a backup of it and it's smaller.
2. What causes files to get corrupted?
File corruption is typical when there is a problem with the save process. If your computer fails, a power surge occurs, or you lose power, the file you're saving will very certainly be ruined.
The Bottom Line
People have different perceptions on file corruption, but one thing is clear: it is a trend to break them on purpose. Thankfully, you can always restore them using third-party software such as iMyFone UltraRepair. Thanks to such software, restoring broken files is more than just possible now.