Summary: If you are looking for a solution to restore your important encrypted files from your Android Phone/Tablet, then you have landed to the right webpage.
When it comes to the compression of different files, encrypted files allow us to combine many files and then compress it. Some other compression file formats are RAR, Gencrypted, TAR, 7z, etc. When we accidentally delete the encrypted files, we regret it because it contains many important files encryptedped together. We are here to guide you on how you can recover the encrypted files from Android. Read it carefully till the end, follow the instructions and get back encrypted file from Android device. Without any further delay, let's get started!
Part 1: Do the encrypted Files Get Deleted Permanently?
Most of the people ask the question if encrypted files will be deleted permanently or not. The answer is, "yes! Of course." Like any other files on the device, encrypted files can also be deleted permanently. However, If you are of the idea that lost encrypted files cannot be retrieved, then you are falling into a misconception. The thing that you should keep in mind is that the files after deletion from the Android device stay on your phone from where you can undelete the encrypted file from Android. But if you want to delete them permanently, you can delete it from there.
Let us take one real example from Android user.

"These days I felt my Android Phone run slower than it was. To speed it up, I decided to format it. But after that, I lost important encrypted files, help please! Is there any way to get back encrypted files from Android? "
Well, You are not the only one who encountered the issue. Fortunately, you are lucky that you can still restore your encrypted file on Android by following the below mentioned solutions. But before that, let us tell the reason behind the loss of encrypted file.
Part 2: What Causes the Loss of encrypted Files?
The majority of us use Android phones for storing, browsing, and managing files on the Android device. Some factors result in the loss of encrypted files, and these factors must be discussed with you so that you may be aware of them.
Operational Errors:
The major cause of encrypted files loss is routine operations. In our daily routine, we delete so many unwanted or trash files from our Android device. During this deletion operation, we happen to delete some of the encrypted files accidentally. It is not mandatory that it is only you who can delete these encrypted files, but the child whom you allow to play games on your Android device may also delete the encrypted files.
OS System Update:
Another suspect that can lead you to recover deleted encrypted files from Android is a recent OS update. The files downloaded into the Android in the process of the update may overwrite the existing data in the Android or may also delete your encrypted files.
Forget you have a Backup:
Another thing that you must remember is that sometimes, you move your encrypted files from your device storage to your memory card storage. At that time, you may see that your phone storage is missing the encrypted files, and you start to panic because you forget that you have moved the encrypted files. Before planning to restore encrypted files from Android, make sure that your memory card storage is not having it. If your memory card doesn't have the encrypted file that you are looking for, then it means the files have been deleted from your phone. Read on to find how you can recover your deleted encrypted files.
Part 3: Don't Panic! Here's How to Recover Your Missing encrypted Files via Third-Party Program
There are many thirds party apps available in the online market that can help you recover the encrypted files from Android, and there is nothing wrong with using them for your encrypted file recovery.
We are here to discuss one of those software resources that make it easy for you to undelete the encrypted file from the Android device. D-Back is the software that provides you the facility to get back the encrypted files from the Android device. The best thing about this software is that it can help you access your smartphone even if it has a broken screen. Isn't it amazing! You can also access your data from the locked Android device and recover the encrypted file from the Android device.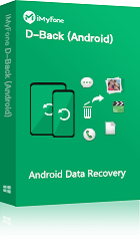 1,000,000 Downloads
Features of D-Back Android
Easily retrieve encrypted files from Android phone/tablet even if it has a broken or smashed screen.

It is now easy to restore all file types, including photos, contacts, documents, text messages, WhatsApp messages & attachments, audios, videos, and call logs.

The software allows you to preview the data before restoring so that you may not recover the unwanted data.

D-Back can recover encrypted files lost due to a virus attack, system crash, water damage, blank screen, etc.

Compatible with Android OS 2.0 to 9.0.

100% safe and clean and easy to use
After getting a brief introduction to the software, now, it's time to know how it works. Read it carefully, follow the instruction written below, and get back encrypted files from the Android device!
Step 1: First of all, you have to download the software iMyFone D-Back (Android), install it on your laptop or PC, and launch it to use. After installation, you have to choose the recovery mode from Android data recovery.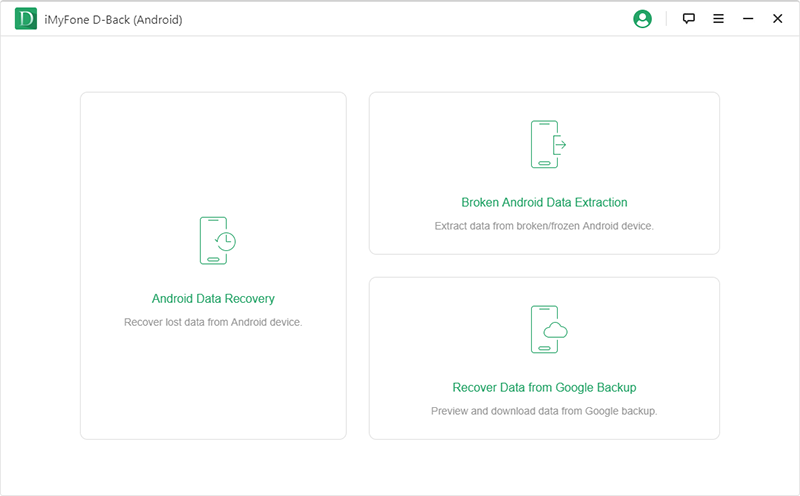 Step 2: The next step is to enter your phone details into the form. Enter the name of your Android device, the model of your phone, and then hit the "Next" button. You can select your device information from the drop-down menu.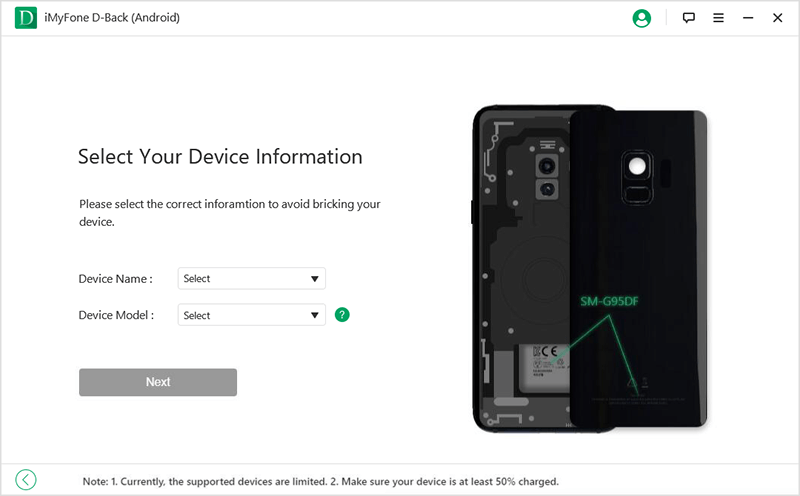 Step 3: The data package, according to your device model, will start downloading on your device. Make sure that your computer is connected with the internet, preferably, and the Wi-Fi is stable during this process.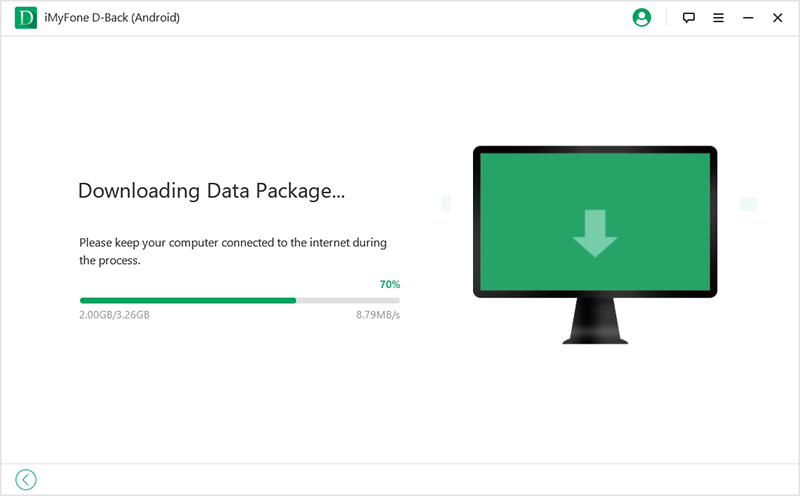 Step 4: After that, connect your smartphone with PC via USB cable. The software will help you thoroughly to enter the downloading mode in just 3 steps.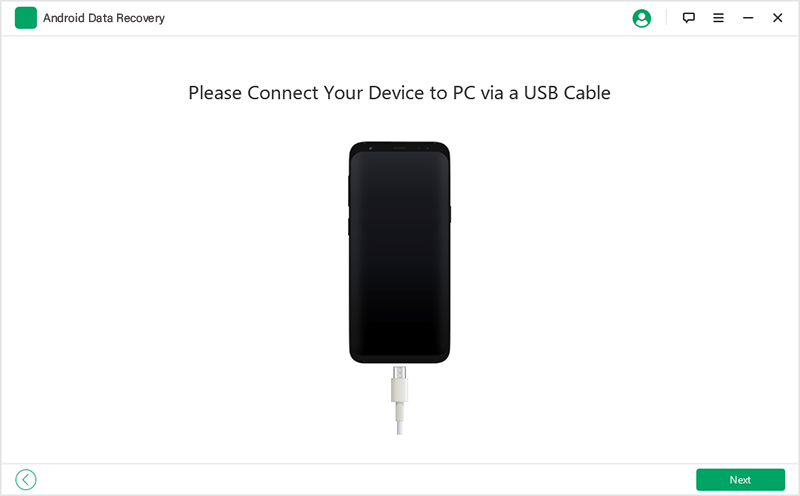 Step 5: Select the file types that you want to recover, and you can also select all files for ease of recovery process. Hit the "Next" button to start analyzing the files.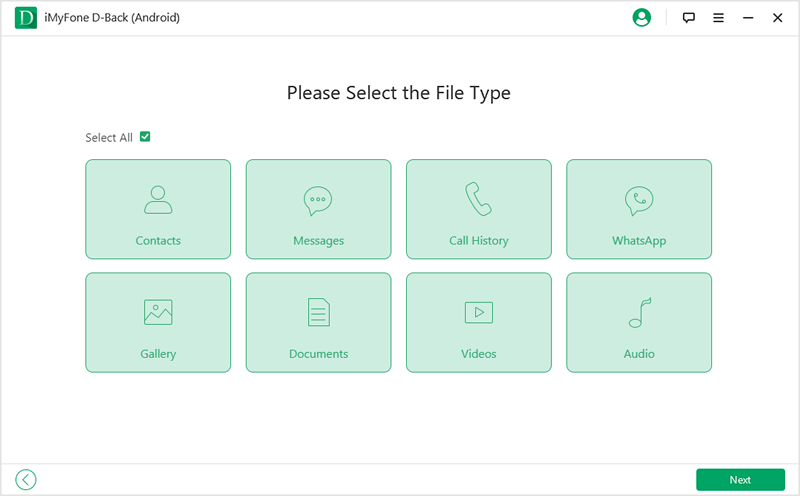 Step 6: Choose the files that you want to preview before recovering. After previewing, choose the files that you want to recover, hit "Recover," and the encrypted files will be restored to your computer system.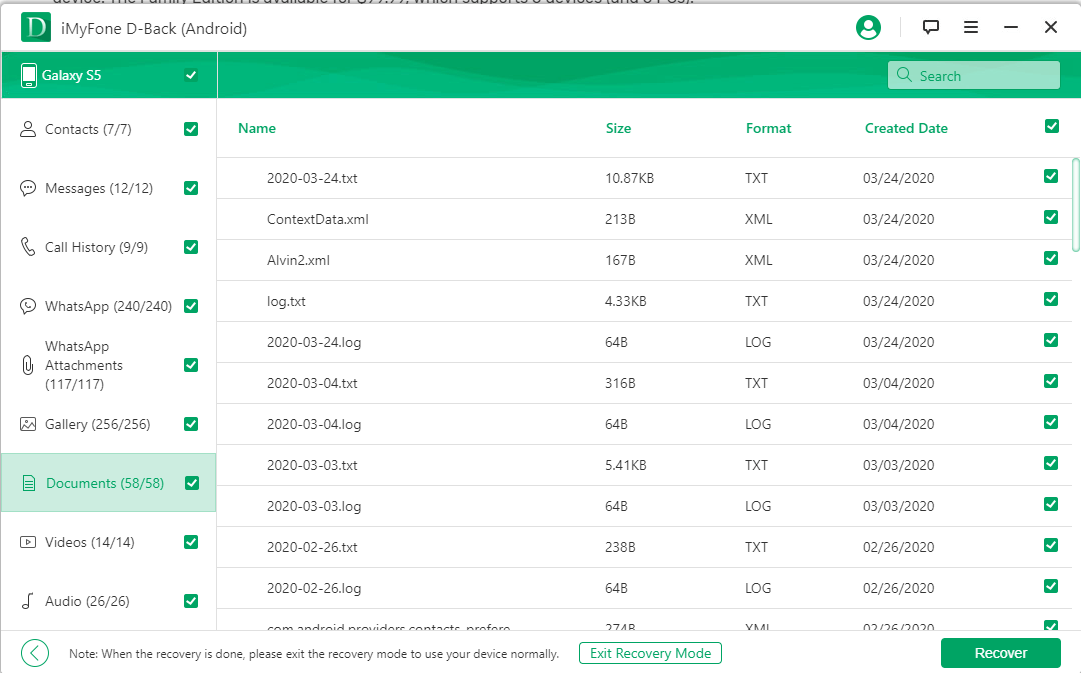 Part 4: Other Methods to Get Back encrypted Files from Android
Some other methods can make help you achieve the goal of recovery. Let's have a view of them too so that you can select the method that you find more effortless to follow.
Method 1: Restoring Your encrypted Files from Your Memory Card
We mentioned above that you might forget that you have moved your encrypted files from internal storage to the memory card storage. In such a situation, you don't need to recover the encrypted files from the Android device; instead, you can restore them from the memory card.
To use this method, you have to go to the "My files" option, go to the section displaying storage portions you have on your phone. From there, you have to select "SD card storage." Now, you have to look for the files that you want to restore. Choose them to recover.
If you don't find the missing files there in the SD card storage, then it is the time to use the software utility to undelete encrypted files from the Android device.
Method 2: Recovering the Lost encrypted Files from Backup
Option 1: Recover Deleted encrypted Files from Google Drive
Google Drive is the best place to keep your back up of different files. You can store every type of data there to keep a backup so that if you accidentally delete the files from your device, you can restore it from there. What you have to do is to log in to your Google account, sync your Android device with the Google account, and Google Drive will automatically start saving the backup of your data. You have to follow the following steps to get back your encrypted files from Android.
Steps To Restore a encrypted File from Android:
Go to the "Trash" in the Google drive.

Choose the files that you want to restore.

Hit the "restore" button, and here you go! The files are restored to your phone.
Limitation
The major drawback of this method is that you should have pre-existing data backup stored in Google Drive. If you didn't perform regular data backup, then you won't be able to restore encrypted files from Android.
Option 2: Restore Lost Android encrypted Files from Dropbox
Most of us prefer to keep their files saved at the Dropbox account. It is another option for storing all types of files online. If you don't forget to keep a backup of all of your device data in the Dropbox account, you can also use that method for restoring lost encrypted files from Android. Follow the steps mention below to recover encrypted files from Android.
Recover from Dropbox Trash:
Before planning to undelete encrypted files from Android using the Dropbox account, you must keep in mind that Dropbox keeps your deleted data in the trash for 30 days. This method would be suitable if you want to recover encrypted files from Android within 30 days. Otherwise, you would have to use the software tool for recovering lost encrypted files from Android.
Log in to the Dropbox account and go in the "Trash" section.

All the deleted files and folders will be visible to you in the grey color. Choose all the files that you want to recover from the list. And then press the "Recover" button. Here you go! The files will be stored on your device.
Conclusion
Losing the important encrypted files may be frustrating, you can use any of the methods mentioned above to restore encrypted files from Android if you deleted them or if they are lost somehow or the other. We prefer using the iMyFone D-Back (Android) for restoring lost encrypted files from Android, but you can use that suits you the best.