Being one of the most popular browsers, Chrome is the first choice for most Macbook users. But during use, due to various reasons of the program, we want to uninstall Mac from Mac.
Some people will say that it will be pretty easy by just dropping it in the trash bin and others choose to use a third-party application to uninstall but it needs paying. It's really the working? How can we uninstall Chrome effectively? Follow this article, I will share two methods to help you uninstall Chrome completely and without paying! Let's get started!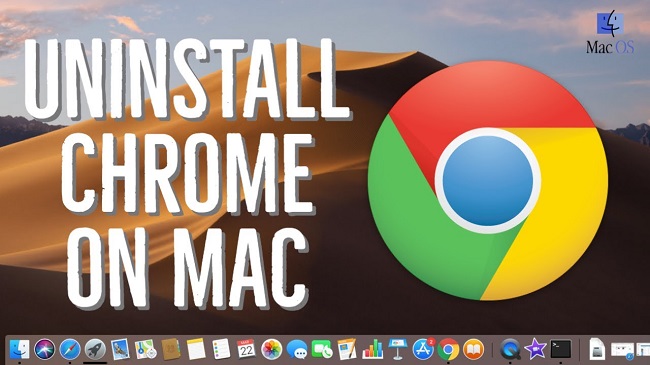 Way 1: Uninstall Chrome on Mac Manually
Yes, there are manual ways to uninstall Chrome from Mac, the process is not too complicated. But there are a few specific procedures you have to follow, in order to completely remove every trace of the application from the device.
You should note that you must quit the app first if it's running. Simply, make a right-click on the Chrome icon?on the Dock and click "Quit". You can also choose to deactivate the application, entirely. Just launch the "Activity Monitor", then go to the related processes and click on "Quit Process".
Now, you can proceed to uninstall Google Chrome from your Mac, using any among the 2 discussed methods below.
1. Drag Chrome to the Trash
As the title suggests, the first procedure includes dragging Google Chrome to the trash bin. It is a simple procedure. Here's how to delete Google Chrome on Mac:
Open your Mac and go to "Finder".
You will find the "Applications" option in the Sidebar.

When you will see a list. Scroll through it and locate the Chrome folder. After that, drag the Chrome icon to the Trash. You can also make a right-click on the said app and select "Move to Trash".

Lastly, you need to right-click on the Trash and select "Empty Trash". Google Chrome will be uninstalled.
Tips
This drag and drop option works on all the versions of macOS and applies to most of the apps. Using this method will remove Google Chrome from the Mac instantly. But it also have the possibility that some components have not be deleted thoroughly.
2. Delete Chrome in Launchpad
There is another way you can get rid of Google Chrome on your Mac. Here's how to uninstall Google Chrome on Mac?in Launchpad:
Simply, open "Launchpad" on the Mac and type "Chrome" in the search box at the top.
Then, click and hold on to the Chrome icon. You will see that the icon is starting to wiggle.

Lastly, click on the "X" icon, which is visible on the left side of the chrome icon.
Tips
If you are using OS X Lion or any later version, then you will be able to get rid of Google Chrome from the App Store directly. Otherwise, you can simply click on the "X" icon and the app will be uninstalled automatically, no need to remove the residual files manually.
Way 2: The One-Click Solution to Uninstall Chrome on Mac Thoroughly
As you can see you can manually delete all the associated files but it will be laborious and there is a possibility of accidentally deleting other files. So, using a professional program to conveniently remove the app and the associated files with ease is the best option.
There are multiple programs available for this but we decided to go with iMyFone Umate Mac Cleaner.
This is a great program and here are the highlights:
The program is capable of uninstalling Google Chrome and the associated files as well.
It's pretty convenient to use and everything will be done in a single click.
No need to manually delete residual files.
You can know the last used time of Chrome.
It has other wonderful features in cleaning junk files on Mac.
Just three simple step and you can finish all procession. The first thing you need to do is install the App on your Mac and launch it.
Step 1.Go to "Manage the Applications Extensions" tab from the left toolbar.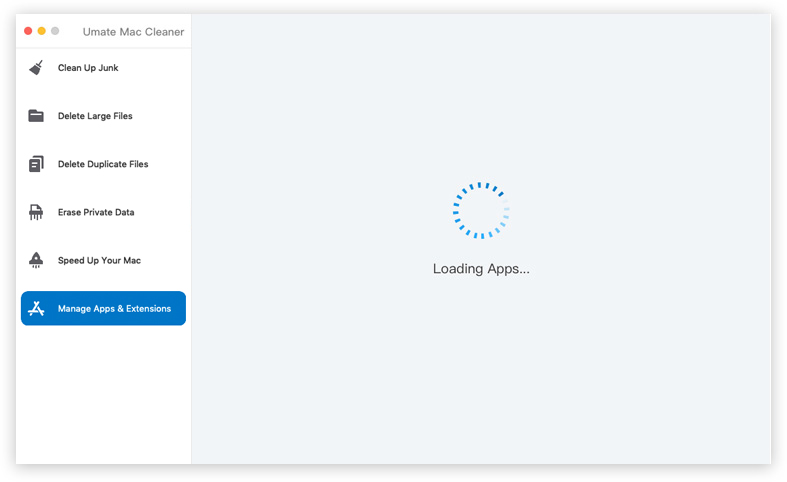 Step 2.Then, click on "View Items" under "Uninstall Applications". All the applications on your Mac will be visible on the screen. After that, the software will show the Installation Date, Size and Use Frequency of apps and you will have to decide which one to use. In this case, it is Google Chrome.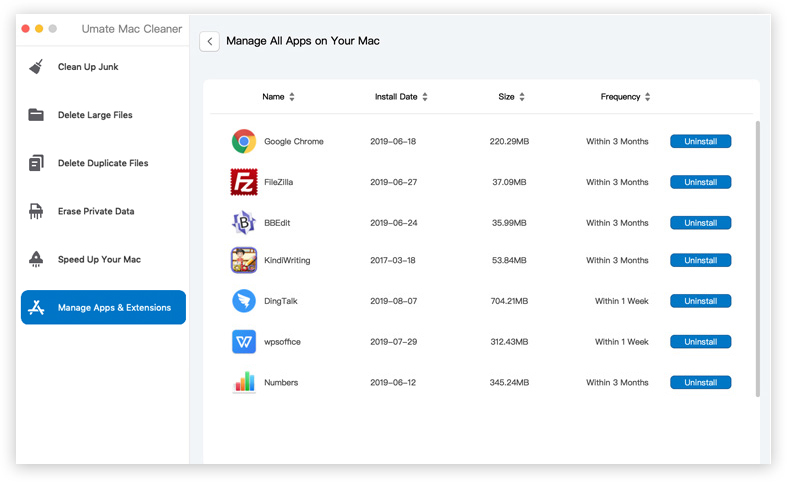 Step 3.click the "Uninstall" button, and it will uninstall from your Mac forever!
Tip: How to Delete Chrome Leftovers after Manual Uninstallation
On macOS, the uninstallation of an app does not mean the removal of all of its components. Most of the users think that, if the icon has disappeared from the Application folder, it has been removed from the entire system as well. But it is not so!
So, if you want to delete Chrome from Mac?the procedure will be different. Mac apps are designed as self-contained packages that can be removed very easily but there are multiple residual components. So, a manual approach is required to successfully remove Chrome from Mac.
Here's how to uninstall Chrome on Mac, manually;
Go to "Finder" and click on the "Menu Bar". Choose the entry called "Go to Folder".

Now, type the following and hit "Enter".

/Library

Now, you have to look for folders that can contain Chrome files. These are the locations you can look for:

/Library
/Library/Caches
/Library/Preferences
/Library/Application Support
/Library/LaunchAgents
/Library/LaunchDaemons
/Library/PreferencePanes
/Library/StartupItems

After that, right-click on the selected files and choose the "Move to Trash" option.

Now, you need to type the path for the User Library. Go inside the Home Folder and type the following and hit "Enter".

~/Library

Then, locate and delete the files of folders related to Google Chrome.
Lastly, empty the "Trash Folder" and all the files will be removed permanently.
So, you can type Chrome on the Finder and located the associated files, and deleted them manually. But locating those specific files is difficult and mistakenly you can delete other files as well. This can be a very costly mistake for you!
But, it will be easier to use dedicated software to do it using just a few clicks.
Here we have already know the ways to uninstall Chrome from Mac manually. But they also have a potential risk that some components will be broken and be uninstalled incorrectly. Next, we will introduce a Mac manager which can uninstall Chrome from Mac correctly without any risks.
FAQ
1

Why is Chrome so bad on Mac?
The main reason is that it takes up much CPU on your mac, and drains your battery life because it installs extensions. Not only will it lead to the disclosure of privacy, but sometimes some viruses will be introduced. Although Chrome is convenient to use in daily life, it can also cause the mac to be overloaded.
---
2

How to remove Google account from Chrome?
First, click the "3-line Menu" button on the top right corner, and select "Setting". Then, you will see "User list, 2 checkboxes, and 4 buttons" under the "People" heading, choose the user you want to delete from the list, and you can remove Google Account from Chrome entirely.
---
3

Does Safari better than Chrome?
The answer is yes. First, Chrome will drain your Mac battery because it will be shown up on your screen. Second, Chrome is a tool that Google can get your info when you're using, it's unsafe compare with Safari. Finally, Chrome Extension needs money, it's not friendly if we just want to get some info from the browser.
Summary
In brief, you can uninstall Chrome from your Mac manually or use a third-party application to achieve. But when you delete it manually, there may be situations where the files remain uncleared. So we strongly recommended to use iMyFone Umate Mac Cleaner to be your first choice! It can help to completes the job in a single click without any issues whatsoever. Convenient and quick! Try it now!