You might be working on your new computer and decide to listen to some music on iTunes. Much to your dismay, however, you notice that none of your files transferred to your new iTunes library like they should have. In theory, they should automatically be there if you set up home sharing. Why is home sharing not working?
Why Home Sharing is Not Working?
There are a few main reasons why home sharing may not be working. Because the home sharing function requires many different components to all work correctly at the same time, it's easy for just one aspect of the system to fail and then home sharing will stop working. The culprit could be:
Network problems are often the first place to look. The most important thing is that, all the computers and devices should be in the same Wi-Fi network. Check your router, check any Ethernet cables, and check any wireless connection on your devices.
Sometimes iTunes just doesn't work right. There's not much you can do about that except to try to relaunch iTunes and see if it decides to work. If home sharing still won't do what it's supposed to do, try updating iTunes and see if that helps.
This is kind of related to the network problems. If a firewall is too restrictive, then the devices in your local network may not be able to connect to each other. Check to make sure that's not the issue.
---
7 Tips to Fix the Problem If iTunes Home Sharing Not Working
Tip 1: Check to make sure that home sharing is enabled. You can do this by going to File > Home Sharing in iTunes.
Tip 2: Check to make sure that all your devices are using the same Apple ID, otherwise they can't share data. You can do this by going to the Apple ID account page on the Apple website and looking at which devices are listed under "Devices" for each account. (You will have to sign in for each one.)
Tip 3: Make sure that your computers you are sharing from aren't asleep. Wake it up by tapping on the keyboard, and then launch iTunes.
Tip 4: Check your network connection. As mentioned before, check to see that all of your computers and devices are connected to the same network.
Tip 5: Make sure that the "Bonjour Service" is working. This is the protocol that Mac and Windows operating systems use to discover services through the local area network. Since it automatically starts up when you turn on your computer, you might try turning your computer off and turning it back on again.
Tip 6: If all else fails, just restart / reboot. Sometimes when computers fall asleep they can turn off critical networking drivers and fail to turn them back on when they wake up, or else a driver can crash for no apparent reason. Rebooting will usually start your computer fresh so it will launch the drivers again.
Tip 7: Update all of your software. Computers are complex systems, so even one small piece of outdated software can mess everything up. Try updating your whole system if you can.
---
iTunes Home Sharing Not Working? Try This!
If your home sharing still isn't working or you are unable to turn on home sharing, there are a few things that you can do to transfer your files anyway. One method is to use the simple transfer tool iMyFone TunesMate. With it, you can share your iTunes library with different computers and iDevices.
Advantages compared to iTunes:
All the devices can be in different networks. It's not limited to network.
The computer you are sharing from does not need to be always turned on.
All the devices can be signed into different Apple IDs.
Key Features about Sharing
Share iTunes library to different computers without internet.
Share iTunes library to different iPhone/iPad/iPod without losing any data.
Share iPhone media with many different computers/iDevices/iTunes, with no limits.
Support iPhone/iTunes media of all kinds, including music, video, photos, etc.
Not only purchased items, but also unpurchased files can be shared.
Win thousands of loyal users every year and receive lots of positive reviews
How to share your iTunes library with other computers if iTunes home sharing not working?
Step 1: Download TunesMate and install it on your computer (A) which has the iTunes library you want to share. Plug your iPhone/iPad/iPod into your computer (A) and launch TunesMate.
Step 2: Go to "Transfer iTunes Media to iDevice" on the first screen that you see, and hit "Start."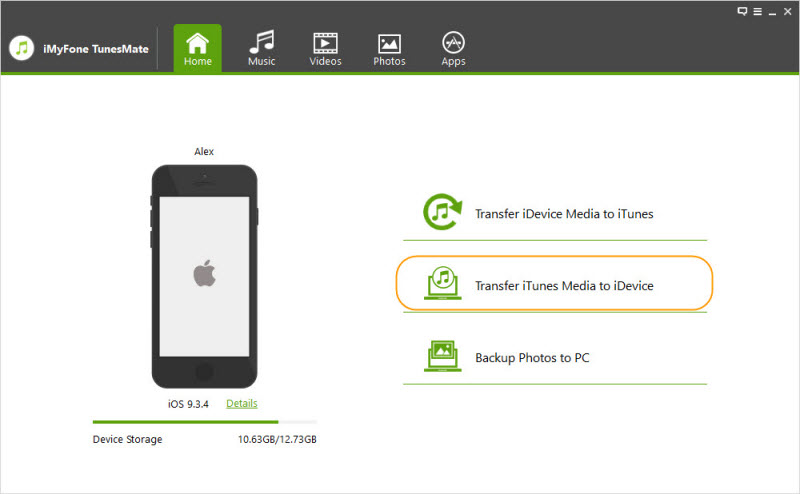 Step 3: All the media types will be checked there. You can uncheck some and hit "Transfer" to begin.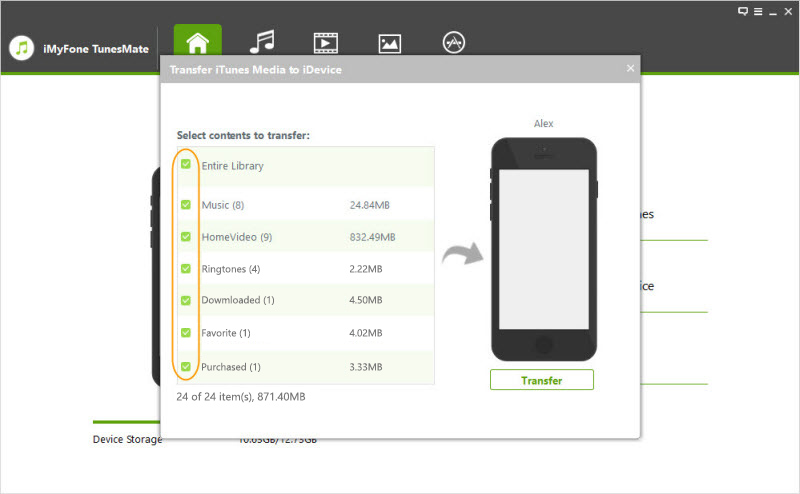 Step 4: Once the data is on your iOS device, then unplug it from the computer (A) and plug it into your computer (B).
Step 5: Launch TunesMate on computer (B).
Step 6: Click "Transfer iDevice Media to iTunes" and click "Start" to choose which files you want to transfer, then "Start" again to begin the transferring process.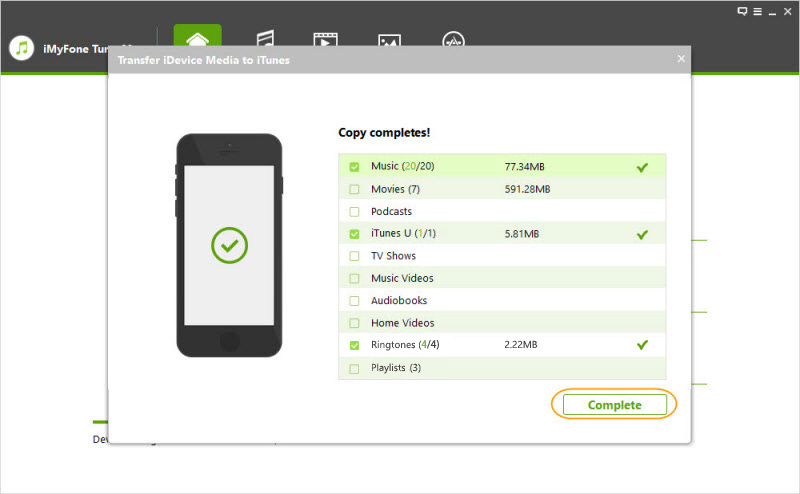 Then you can find that the iTunes on computer (B) has the media library from computer (A).
It does not require all the devices to be signed into the same Apple ID, so you can even share iTunes library with your friends. It's one of the simplest methods for data transfer.
Apart from iTunes library, you can also share your media library on iPhone or on computer to different iPhone/iPad/iPod or computers.
If you lose your iTunes library mistakenly, it does help to restore the iTunes library.