With an android phone and a Google Chromecast, it's quite easy to cast on TV. However, things get trickier when you go from Android to Apple TV. It's because Apple TV works only with AirPlay. Fortunately, certain third-party applications allow you to mirror your Android to Apple TV.
To help you out, we have listed the 3 best Android to Apple TV mirroring apps and penned down detailed instructions on how to use them to cast Android to Apple TV. So, stay tuned.
How to Mirror Android to Apple TV Using an HDMI/USB Cable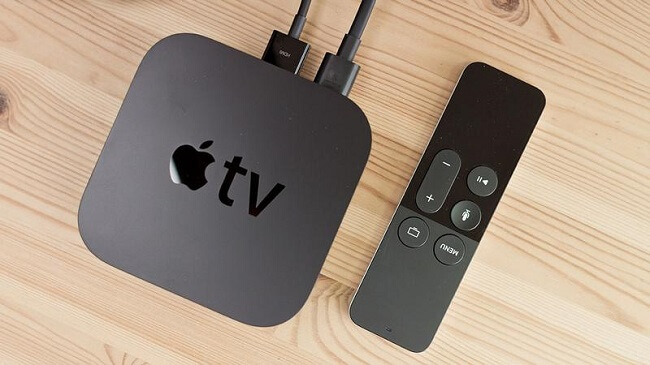 Certain mirroring applications work perfectly through an HDMI/USB cable connection. You can install the application on your android phone and connect it directly to Apple TV using an HDMI/USB cable connection.
This will also work if you have Ethernet or Wi-Fi connectivity.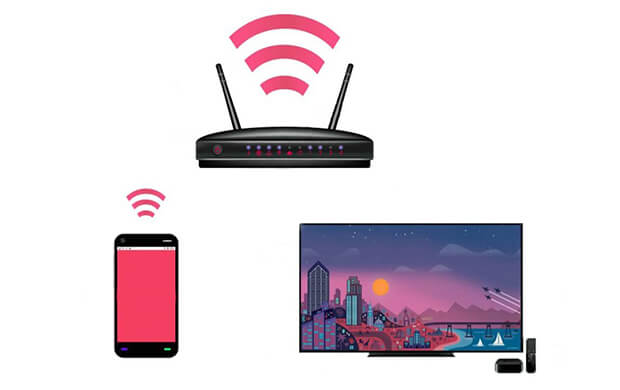 Here are the steps to mirror Android to Apple TV using HDMI/ USB cable:
Download and launch the app
Connect your PC and Apple TV with the same network
Get the HDMI/ USB cable and connect it to PC and Apple TV to establish a connection
Now mirror your Android screen on PC using the "Phone Screen Mirroring" option
Now computer screen will mirror your phone screen that will also appear on the Apple TV screen
That's all you need to mirror android to Apple TV.
How to Mirror Android to Apple TV Using Tools
Learn to use the 3 best apps for mirroring android to Apple TV.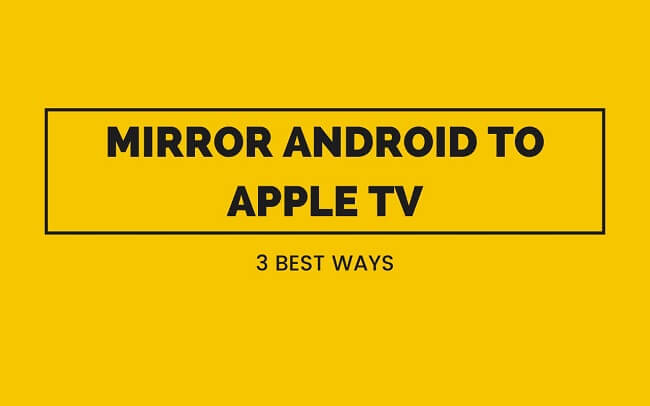 1

AllCast
AllCast is the first android app that we would recommend you to stream android to Apple TV. The app acts as a mediator between your android device and the Apple TV. It is considered as the all-in-one app to stream content from android to big screen TV.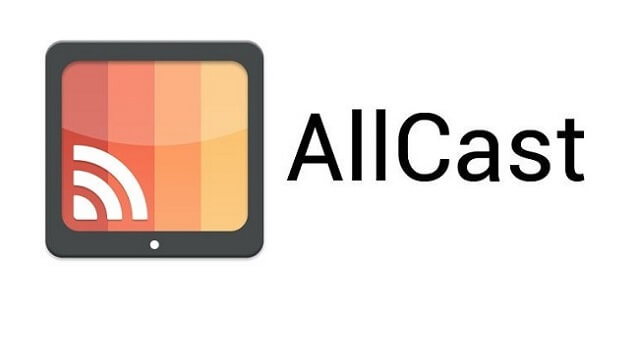 Not only with Apple TV, but AllCast is also a useful software to connect with other TVs such as Amazon Fire TV, Chromecast, Roku, Samsung, and other DLNA Renderers.
(The app is free to use for the very basic screen mirroring purposes, but if you want the best services without any unwanted pop-ups, you need to get the paid subscription to upgrade to its premium version)
If your phone supports Android 4.0 or higher, the free version of an app can effortlessly stream videos, photos, music, and other multimedia.
How to Mirror Android to Apple TV using AllCast
Here are the steps to use AllCast android to Apple TV.
Download and install the AllCast app from the App store of your android phone
Connect the android phone and Apple TV with the same network. Recheck to ensure the same connection
Launch the application from your android and then play any content from your android that you want to see on the Apple TV screen
The Cast Option will appear on your android screen

Now press the Cast Option to display the android content on the Apple TV screen
That's how AllCast will cast to Apple TV from android
---
2

Mirroring 360
If you are in search of a practical tool to connect android to Apple TV, try the Mirroring 360. It allows you to project and mirror one PC screen to another.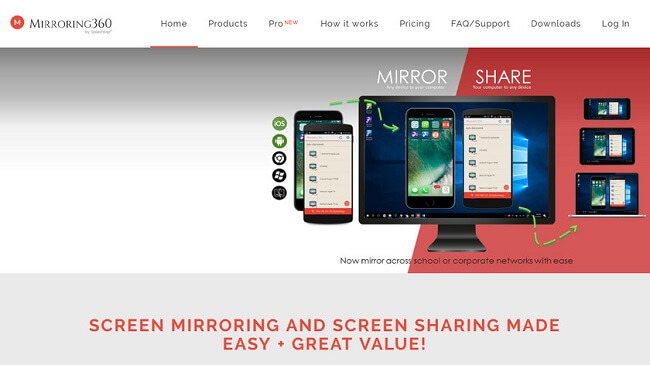 Mirroring 360 is built in such a way that it can reflect your iOS or Android phone to the computer screen or the Apple TV screen without any wires. You can easily share photos, videos, or other multimedia using this application.
Video gamers love the app since it's pretty easy to record or make video games using the app. To record the video games, you can take screen footage and create a walkthrough of the game.
(The app has two versions: a free version and the paid version. It's better to start with the free version, i-e, Mirroring360 Sender Basic. If you like the free version, you can jump to its paid version. The paid version costs $5)
How to Mirror Android to Apple TV using Mirroring 360
Follow the given steps for the Android streaming to Apple TV: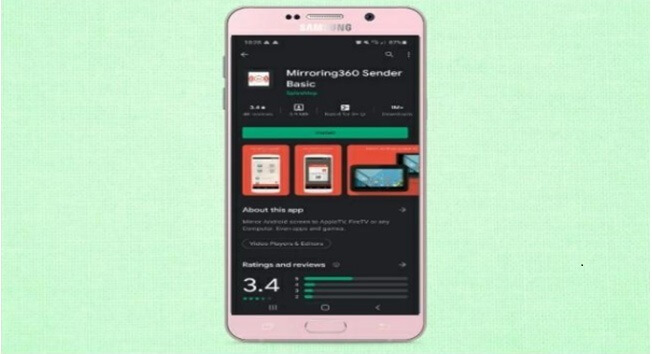 Download and install the Mirroring 360 on your android phone through the Google play store
Make sure that your android phone and Apple TV are connected with the same wireless network
Open the application
A listing of detected devices will appear on your phone
Select your Apple TV device from the detected devices
Tap Start Now to start mirroring the Android phone to the Apple TV screen.
---
3

Cast to the TV
Our last pick is the Cast to the TV, which is another handy all-in-one app. With this app, you can mirror multimedia content from your android to your Apple TV through a digital media player.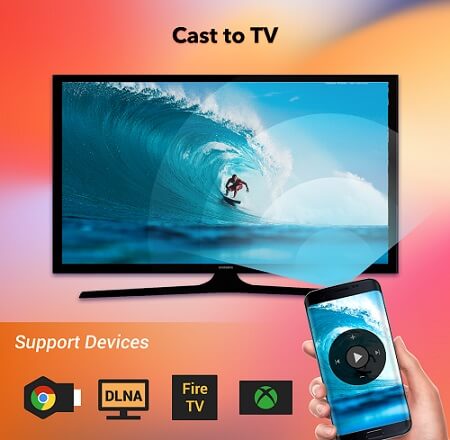 It also works well on Xbox and Roku, Amazon Fire Stick, Fire TV, DLNA devices, and the like. The app automatically recognizes the media content available on your device or SD card for instant access.
This app casts both local files and online videos to Apple TV. So, you can use it to play the files directly from your android device or play the videos on the internet to the Apple TV screen wirelessly.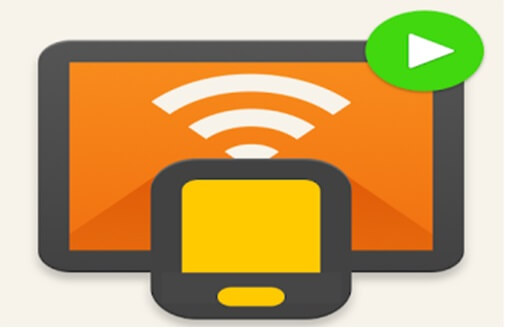 (Since the Cast to TV is available in the free version, you can easily use the app to control Apple TV with android). If you want to airplay android to Apple TV efficiently with this app, you need to have a reliable internet connection.
How to Mirror Android to Apple TV Using Cast to TV
Here are the steps to airplay android to the Apple TV screen.
Download and install Cast to TV from the Google play store
Connect your android phone and Apple TV with the same internet connection
Launch the app
Open the app to let it automatically search for the available devices
Select the Apple TV from the list to connect android with Apple TV
Once connected, choose the media that you want to play on the TV screen
Press the Cast Icon at the top right corner to start the screen mirroring
Is There Any Differences between Apple TV and Google Chromecast
Apple TV and Google Chromecast have made the computer unnecessary to binge-watch your favorite TV series or movies. Even though both are streaming devices, there are many differences between the two. If you are confused about what to opt from Apple TV and Chromecast, learn their differences to make an informed decision.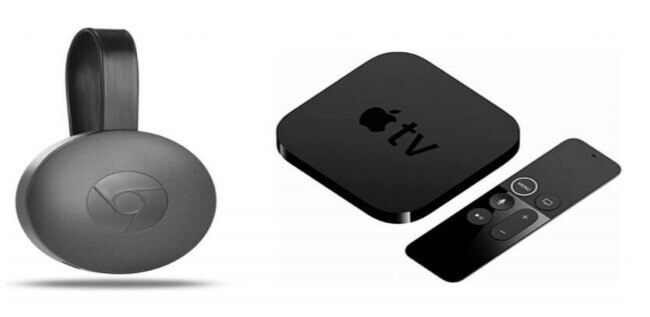 Apple TV is more like a media center equipped with apps like Netflix, YouTube, etc. and allows you to stream directly from the smart TV, whereas Chromecast is a handy plug-in media streaming unit with a dongle to plug in your TV HDMI port and doesn't have any applications
If we look at the system, Apple TV does not require any extra software to operate. Chromecast requires other items to operate, such as smartphones or PC to stream content on TV.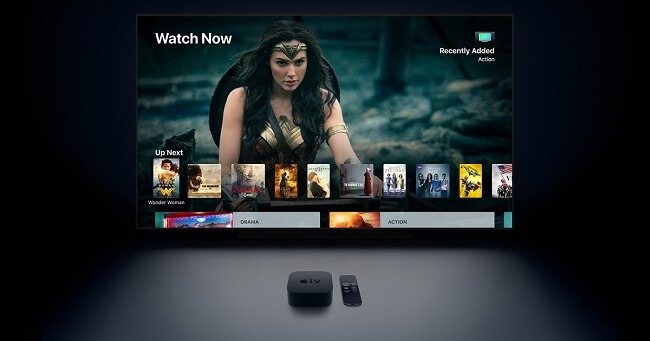 Apple TV has a variety of built-in apps that operate from the same platform that other Apple devices use. In contrast, Chromecast needs certain software installations to stream the content directly on smart TVs.
Apple TV also has a pocket-size Bluetooth remote that can be used to go into the settings menu, browse the channels, or put the device to sleep.
Apple TV has airplay as the wireless streaming service. Airplay is a mechanism that streams the content between the airplay-enabled devices. Apple TV users can also download applications from the Google play store to stream the content. For Chromecast users, it doesn't allow content playback on android devices. Instead, users watch Netflix and Youtube like streaming services on the HDTV or AV receiver.
FAQs about Mirroring Android to Apple TV
1

What is Apple TV?
Apple TV is a portable media streaming device that converts your television into a smart unit. It is connected to the TV through an HDMI cable. It includes a remote control to follow the on-screen instructions to connect to the internet and select the applications.
---
2

How Do I Mirror My Android Phone onto a TV Without Wi-Fi?

If your device or smart TV doesn't support Wi-Fi connectivity but does support screen mirroring, you can mirror your android phone on a TV without Wi-Fi.
Enable Bluetooth on your Android and TV
Open your TV settings. In most smart TV devices, there will be an option of Bluetooth devices or Screen Mirroring under the input menu. Choose either of the options and find your Android device name from the screen mirroring list.
When your android phone prompts you to connect it with smart TV, agree to the connection to mirror both devices.
When mirrored, all activities done on the phone will be mirrored on smart TV.
You can also mirror your Android to a TV using an HDMI cable without any Wi-Fi connection.
---
3

Can AirPlay be used with Android phones?
AirPlay lets the users wirelessly stream audios and videos between iPhone, iPad, Mac, Apple TV. There are various platforms where AirPlay doesn't work, and Android is also one of them. Many third-party applications, such as AllCast, Mirroring 360, etc., can be used for free to stream from the android phone.
Conclusion
The tools mentioned above are the best ways to android streaming on Apple TV without following any long protocols or major subscriptions. These tools are free to use, but you can also jump to paid versions if you want the premium services.
You are a few steps away from enjoying your favorite content on the bigger screen. Choose the preferred app now and start streaming!