Moving data from Android to iPhone was considered to be a nightmare by many people. A large number of Android users used to hesitate to jump to iOS, even when they wanted to, as the transfer of contents across Android and iOS platforms was considered difficult or even impossible. This problem was solved by the development of applications like Move to iOS.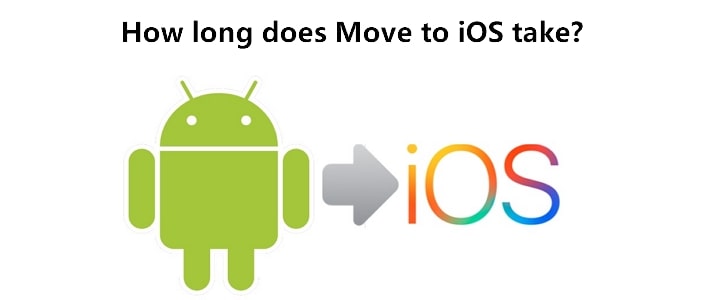 Move to iOS is an application by Apple that allows the transfer of contacts, free applications, calendars, message history, etc. from an Android device to an iPhone, known as the best official way to transfer data from Android to iPhone. However, many of its potential users wonder how long Move to iOS takes, being afaraid of Move to iOS taking long time. Here we provide the exact answer and guide you to use Move to iOS in a most time-saving way. The alternative methods are also provided in case you decide not to use Move to iOS.
How Long does Move to iOS Take?
It could be from several minutes to a few hours, depending on the number of data, the size of data being transferred, and the WiFi connection speed. So if everything is alright, it could take just 10 minutes; while if bulky data are being transferred, it might take more than an hour to complete the process.
However, at times Move to iOS may take forever to complete even when the size of data is not very large. This occurs when your network connection is unstable, when your device is not in a good condition, or when you are just not lucky enough coming across some unexpected situations. In such cases, we can try some simple methods to boost the speed of the transfer.
How to Solve 'Move to iOS Taking Forever'?
You can try the following 4 methods. Before resorting to Method 3 and 4, make sure that you are patient enough with the Move to iOS application, because moving of heavy files usually takes a few hours, no matter what application or method of transfer you are using. You can also go to the end of this article to check if you've used Move to iOS in a correct way.
Method 1: Check the Network Connection
You can first check the speed of the Wi-Fi connection. If the speed of the connection is too low, Move to iOS can take a long time to finish the data transfer. Either find a strong and stable Wi-Fi connection or switch to a high-speed cellular data connection.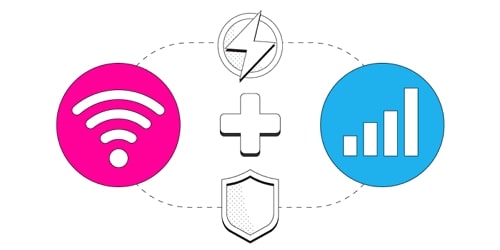 Method 2: Delete Unnecessary Data
Delete unnecessary data from your Android device before transferring, as unnecessary data which is generated due to daily usage of applications can cause a lag in the transferring process. To do this, you can go to Settings, find Storage and then free up the storage space by clearing the cached files. The steps could be different depending on the device model.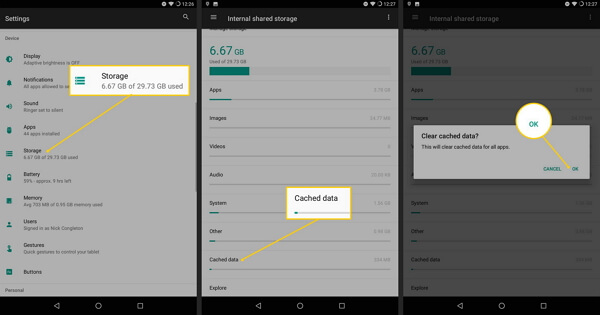 Method 3: Restart the Devices
If the problem still exists, try to restart the devices and transfer your data again. Restarting any device is found to boost the performance of that device. Usually you can just hold the power button for 10 seconds or so and then you can get the devices restarted.

Method 4: Try Powerful Alternatives
If you could no longer stand the Move to iOS taking forever and don't want to try it anymore, then go for a Move to iOS alternative we provide in the following contents. For these three alternatives, you don't need to reset your iPhone and get all your iPhone data lost or overwritten. You can choose the one you need according to the data types you want to transfer.
Alternative 1.

For 12 types of data transfer [WhatsApp included]

The first method we provide here is an excellent phone data transfer tool - iMyFone iTransor Pro. You can easily transfer up to 12 types of phone data, including your WhatsApp from Samsung/Huawei to iPhone, within a few clicks using it. We introduce the tool here because you are not able to transfer your WhatsApp via Move to iOS, as well as the next two methods mentioned. So you can learn about it here and get prepared for your phone transfer.

Steps of Transfer
Download, install and launch the program on your computer.
Click Transfer WhatsApp or Transfer Other Data on the main interface.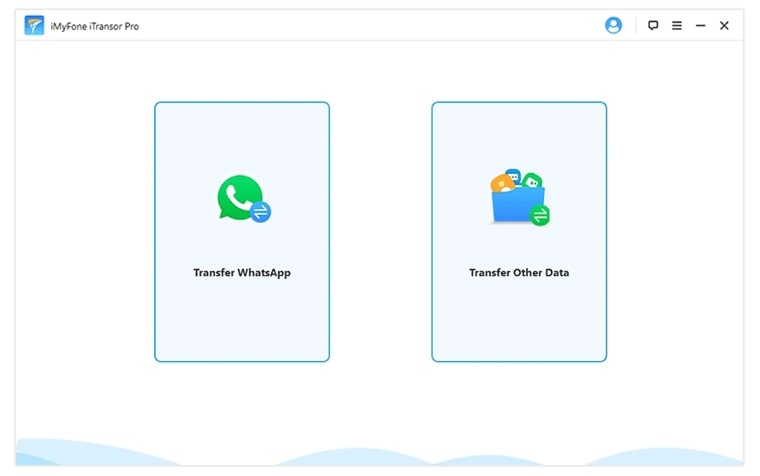 Use the USB cables of both your devices to connect them to your computer. Note that you should allow USB debugging on your Android phone and tap Trust on your iPhone.
Choose your Android phone as the source device and iPhone as the destination device. You can click the Switch button to adjust that.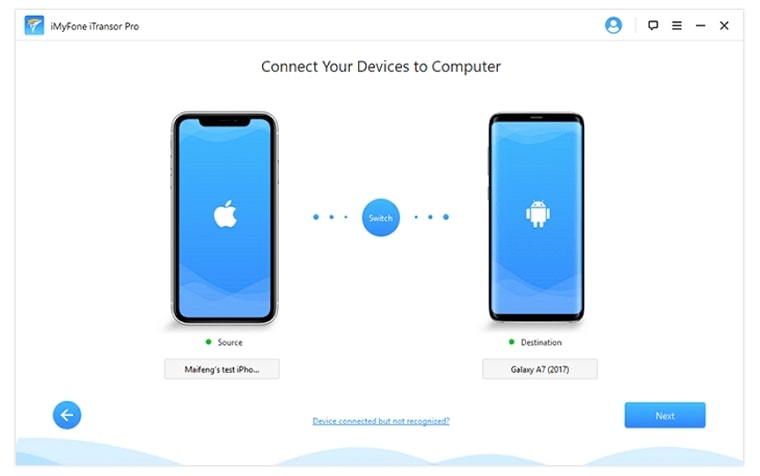 Click Next and follow the on-screen instructions. Then you'll see all the data on your Android device.
Select the data you want and click Transfer. Wait for the process to complete.
Alternative 2.

For media files and documents

Google Drive is one of the most used and reliable cloud storage applications that have been in use for some time. This application can be used for the transfer of files like photos, videos, documents, music and etc., provided you have a stable and strong internet connection.

Steps of Transfer
In your Android device install the Google Drive application from the Google Play Store. Note that in most cases, the Google Drive app is installed on your device by default.
Open the Google Drive application and connect it with your Google account. If you don't have your Google account added to your mobile previously, you'll have to enter the Google id and password manually.
Tap on the Plus icon – File Upload and select the files you wish to transfer to the drive. The drive will automatically sort among photos, videos, documents, etc.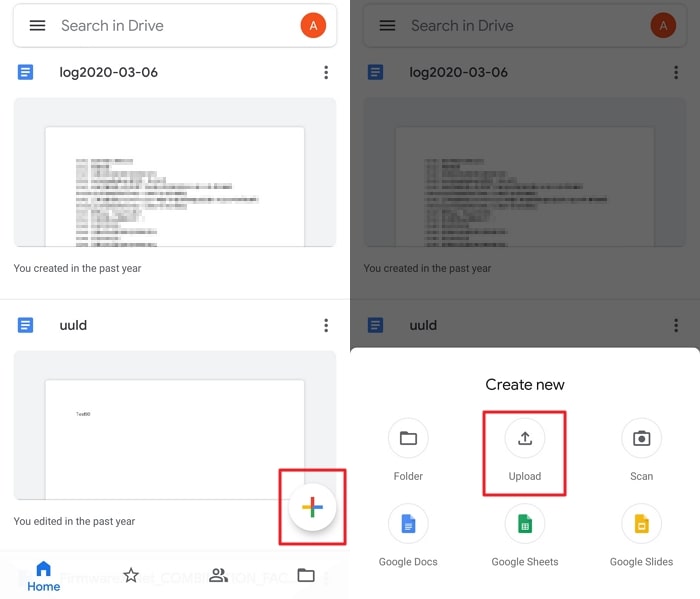 Once the uploading is complete, take your iPhone and download the Google Drive application from the Apple Store.
Open the application and log in with the same Google id you used in the Android device. You will now be able to access and download all the files you have copied to Google Drive from your Android device, on your iPhone.
Alternative 3.

For files and folders

Like the Google Drive mentioned above, Dropbox is also a cloud storage application that can be used to transfer data from Android to iPhone by exploiting its ability to be accessed from multiple devices.

Steps of Transfer
Install the Dropbox application from the Google Store in your Android device. Open the application and create an account in it. Now import the photos and documents you wish to share or transfer to your iPhone.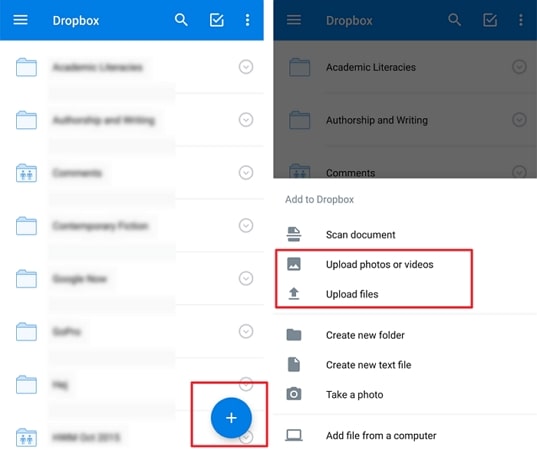 Now, install the Dropbox application from the Apple Store on your iPhone.
Open the application and enter the same details as you did in your Android device to log in to the same Dropbox account. Once the login is successful you will be able to access the documents and photos you previously saved to the Dropbox from your Android device.
Apart from these three tools to solve the 'Move to iOS taking forever' issue, you can try to transfer the specific data you want, which will greatly shorten the time you spend:
Transfer Music from Android to iPhone
A Most Time-Saving Guide to Use Move to iOS
In this part, we'll introduce you the exact steps to use Move to iOS in a most time-saving way to avoid any unexpected interruption. To make sure that you can follow up the instructions smoothly, check the following requirements to use Move to iOS.
Requirements of Move to iOS
The Android version should be 4.0 or higher
The Apple version should be 9.0 or higher
Both the mobiles must be charged at least to half of their full capacity
To save the time you spend on Move to iOS all you need is, both the mobile devices being connected to the same strong wifi network. Now follow the steps below.
Steps of Transfer
Turn your new iPhone on and walk through the mobile setup until you reach the screen titled Apps and Data. Click on the third option from the list below which is Move Data from Android.
Note
In case you are not using a new iPhone, you will need to factory reset your existing iPhone to be able to get to the Apps and Data screen.
In your Android device, open the Google Play Store and install the Move to iOS application. Launch the application once the installation process is complete.
Now keep both the devices side by side and hit on Continue on both of them.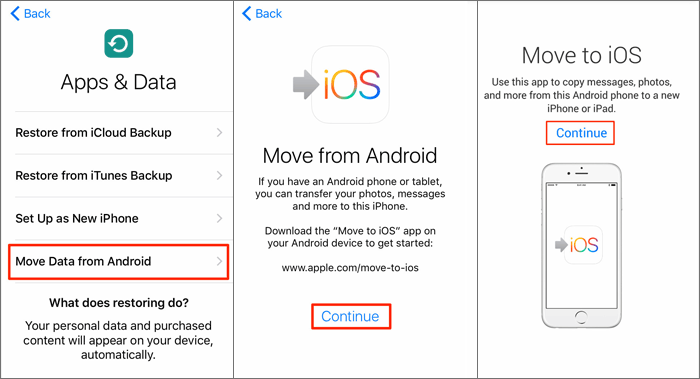 Read the instructions and look for a 10-digit code on your iPhone. Enter the same code without making any mistake in your Android device.
The numbers on both the devices will be cross-checked and a connection will be established when they are found to match. And then you can select the types of data you need to transfer and proceed with the migration process. Once the migration process is complete you will be able to continue setting up your iPhone.
---
Conclusion
The Move to iOS application is always a great pick to transfer data from Android to iPhone, as it offers to transfer more file types compared to any other methods. The slow transferring speed of Move to iOS is not something that can't be solved and any application is expected to take some time to transfer contents depending on their size. If you feel Move to iOS is still problematic then you can choose any of the other methods to transfer data from your Android device to your iPhone.