It's no secret that WhatsApp has become the most popular messaging app for every Android user these days. From chatting with friends to sharing photos/videos, WhatsApp is the go-to application for every user to stay in touch with their closed ones. In such a scenario, it is important to know the effective data recovery methods if you ever accidentally delete a WhatsApp video. So, in this guide, we're going to walk you through the most effective ways to recover deleted WhatsApp videos Android.
Practical Scenario
CCleaner deleted my WhatsApp videos/photos - how to recover deleted WhatsApp video on Android ? its really frustrating, all my photo/video from recent years, all gone... :( - from Android Central Forums
Whether you're dealing with a malware attack or have accidentally removed a WhatsApp video, the following methods will help you get back the  WhatsApp video files without any hassle.
Part 1: Recover Deleted Video From WhatsApp on Android without Backup Effectively (100% Success Rate)
Unless you've got a cloud backup, you'll need dedicated Android recovery software to restore every deleted file on an Android device. Unlike PC, smartphones don't have a recycle bin, which means the only way to recover a deleted video from WhatsApp on Android is to use a recovery tool.
To save from the hassle of finding a suitable recovery tool, we've already done our research and found that  iMyFone D-Back for Android is the best recovery software for Android users. The tool is specifically designed to restore deleted files on Android. You can use D-Back to recover different types of data files such as videos, images, contacts, and even WhatsApp videos. Unlike many recovery tools, D-Back doesn't require a rooted Android device. Since the tool works with both rooted as well as non-rooted Android smartphones, you'll be able to get back the deleted videos instantly.
In general, D-Backs boasts a wide variety of useful features. Some of these features include: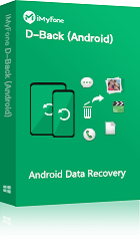 1,000,000 Downloads
Features of D-Back Android
Recover deleted WhatsApp videos even if you don't have a backup.

Restore Whatsapp video without overwriting newer data.

Restore WhatsApp data even if your smartphone has been broken/damaged.

The entire recovery process is extremely simple, which means anyone can recover deleted WhatsApp videos using D-Back without facing any issues.

D-Back works with rooted and non-rooted devices.

The software offers a 100% recovery rate, making it the most reliable data recovery tool for Android.
So, let's quickly discuss the detailed step-by-step process to recover deleted WhatsApp videos from Android using iMyFone D-Back recovery software.
Step 1 - First of all, install D-Back on your PC and launch the software. In the home screen, select the "Android Data Recovery" option.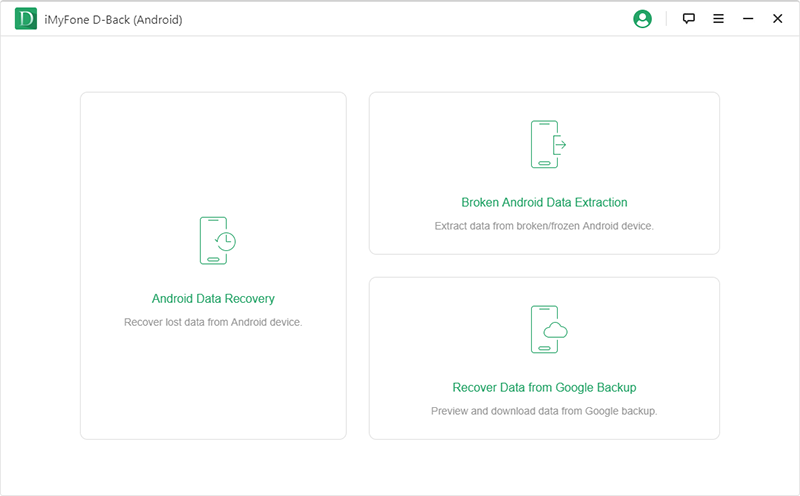 Step 2 - You'll be asked to choose the device information. Use the two drop-down menus to enter the device name and device model. Make sure to fill accurate details; otherwise, you won't be able to recover the data at all.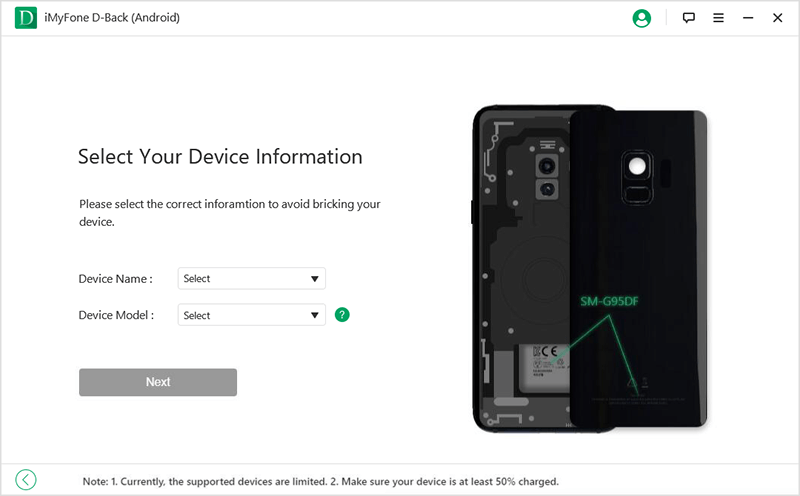 Step 3 - As per the entered device information, D-Back will start downloading the right data package for recovery.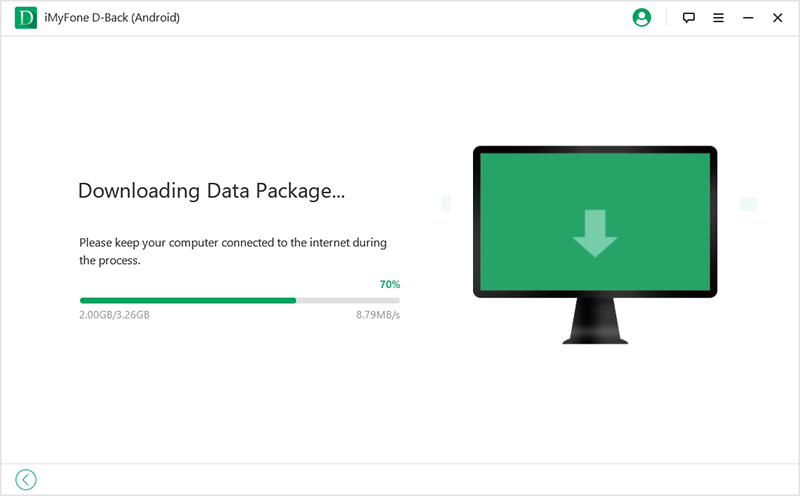 Step 4 - After the data package is successfully downloaded, connect your smartphone to the PC using a USB cable.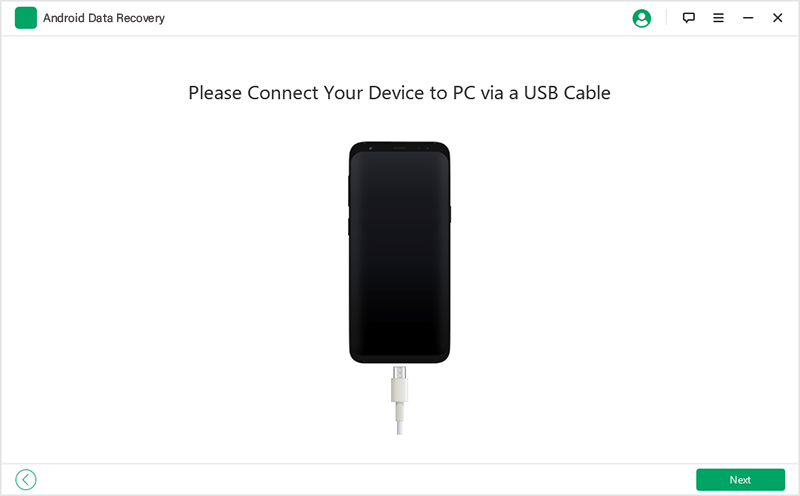 Step 5 - Once the device is successfully connected, you'll be prompted to the "File Type" screen. Since we want to recover deleted WhatsApp videos, select "WhatsApp" from the list and click "Next."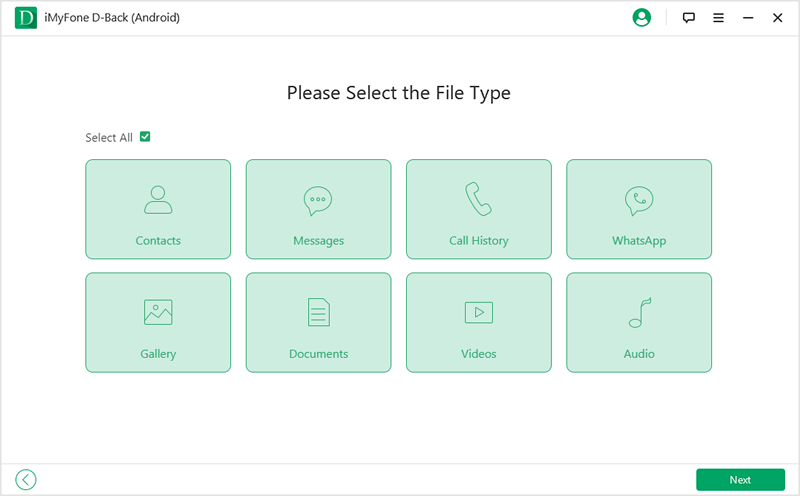 Step 6 - The tool will start scanning for all the deleted WhatsApp videos, images, and chats. Navigate through the options in the left-side panel and select the video files that you want to restore. Now, simply click "Recover" to save the selected files to a safe location on your PC.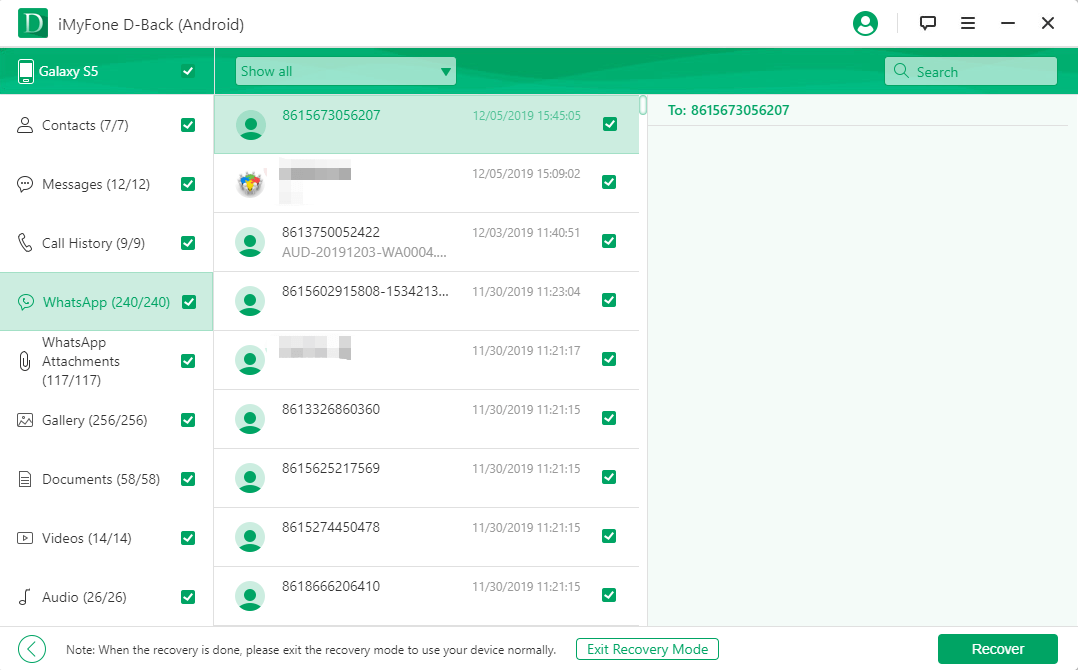 5 Star Recommendation
In the mean time, D-Back for Android is deeply trusted by our customers:
I don't know what happens to my phone that my Whatsapp info are all deleted! Thank God for this program it works miracles!!!!!!!!! It found all the data back which I was so searching for 3 months!
– Reviewed by Hayden
Part 2: How To Recover WhatsApp Data: Photo& Videos On Android(Backup Enabled)
The above method is a suitable option if you don't have enabled WhatsApp auto-backup. However, the majority of users enable this feature while setting up their WhatsApp account, and that's why you can also recover deleted WhatsApp videos Android using the backup file.
Method 1: Recover Deleted WhatsApp Video On Android Via Google Drive (Data Overwritten)
By default, WhatsApp automatically creates a chat/media backup every day at 04:00 hours and keeps the backup file for seven days. So, if you've lost the WhatsApp video in the last 7 days, there's a pretty good chance that you can recover it using the backup file.
Follow these steps to recover deleted WhatsApp video via Google Drive backup.
Step 1 - Go to "Settings" and click "Apps."
Step 2 - Scroll down and select "WhatsApp" and tap "Uninstall."
Step 3 - Once WhatsApp is uninstalled from your device, go to Google Play Store and reinstall it.
Step 4 - Launch the app and enter the WhatsApp number you were using earlier.
Step 5 - If there's a recent backup, you'll be asked to restore WhatsApp history from backup. Click "Restore" to restore, and the deleted videos will be restored on your device's storage.
Note
The method works if you've set the backup option on your WhatsApp before restoring it. Unlike local backup, it only takes backup if you've chosen the frequency of backup.
Even though this method can help you restore deleted WhatsApp videos, there are a couple of things that you should remember while restoring videos from Google Drive backup.
Cons        
         You cannot recover WhatsApp videos and images older than 7 days.
          The thing that should be noted is that by using this method, the current data on your device will get overwritten while you initiate the restoring process.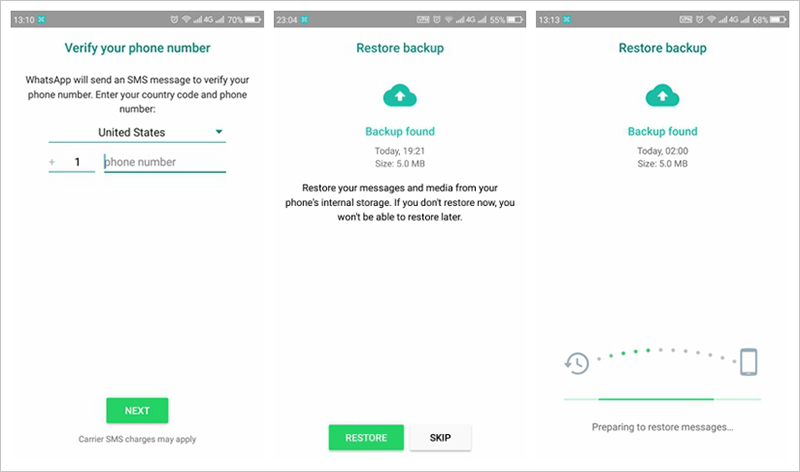 Method 2: Retrieve Deleted WhatsApp Video From Local Backup (Complicated)
Apart from a cloud backup, WhatsApp also stores a local backup inside the internal memory. You can also use this backup file to recover deleted WhatsApp video Android. However, this method is a bit complicated and might not work all the time.
In saying that, follow the below-mentioned steps to retrieve deleted WhatsApp video from the local backup.
Step 1 - Go to File Manager and open the "WhatsApp" folder. Click "Database" and look for "msgstore.db.crypt12" file.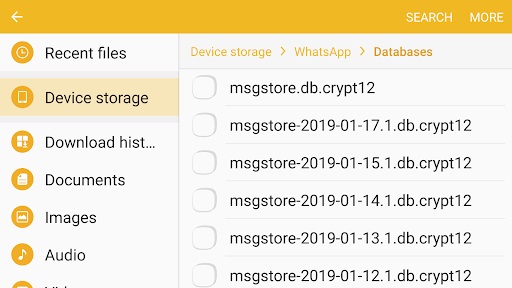 Step 2 - Rename the file to "msgstore_BACKUP.db.crypt12".
Step 3 - You'll see files named "msgstore-YYYY-MM-DD.1.db.crypt12". Choose the most recent date or the date when you've deleted the WhatsApp video. Now, rename the selected file to "msgstore.db.crypt12".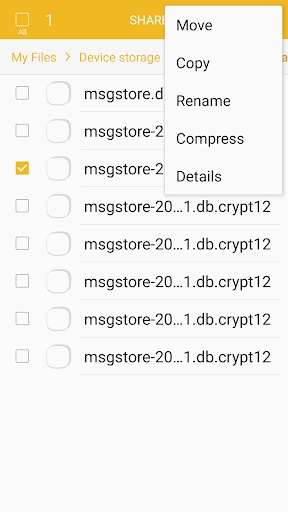 Step 4 - Open Google Drive and open "Backups." Here delete the WhatsApp backup.
Step 5 - Now, uninstall WhatsApp and reinstall it from Google Play Store. Setup your WhatsApp account by entering your registered phone number. When prompted, choose "Restore from Backup," and WhatsApp will retrieve all the files from the local backup.
Again, this method has a few drawbacks, which include:
Cons        
         As compared to other recovery methods, this method is a bit complicated and might not be suitable for every Android user.
         In this case, the backup file will again overwrite the latest conversations, making you lose all the latest WhatsApp data.
         You need to get your WhatsApp uninstalled prior to recovering the videos.
         Another thing to be kept in mind is the backup option. If you haven't turned it on, retrieving deleted chats will not be possible.

Part 4: Understanding WhatsApp Backup
Now that you know different methods to recover deleted WhatsApp video Android, it's time to restore the deleted video. However, if you don't want to get stuck in a similar situation again, it's better to enable WhatsApp auto-backup so that you can easily retrieve any deleted WhatsApp files in the future.
Follow these instructions to turn-on the auto-backup option on WhatsApp.
Step 1 - Open WhatsApp and go to "Settings."
Step 2 - Navigate to Chats > Chat backup > Back up to Google Drive and select a WhatsApp frequency.
Step 3 - Choose the Google account that you want to use to keep the backup file.
Step 4 - Now click "Back Up Over" to choose a network option you want to use to backup your WhatsApp chats.
That's it; WhatsApp will automatically backup all your chat history and media files to Google Drive as per the selected backup frequency.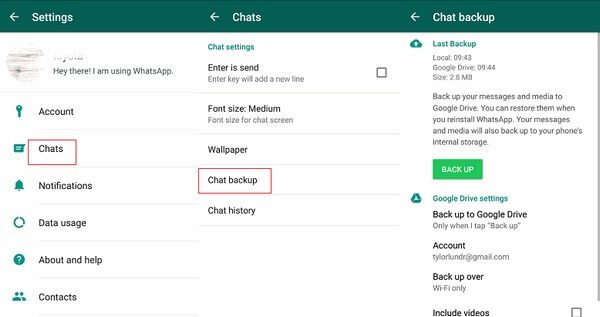 Final Thoughts
Accidentally deleting an important WhatsApp video might get quite frustrating, especially if you haven't watched the video yet. If you're stuck in a similar situation, make sure to choose the right recovery method and recover deleted WhatsApp videos Android. And, to avoid such unexpected situations in the future, make sure to turn-on auto backup feature on WhatsApp so that you can retrieve WhatsApp deleted WhatsApp conversations any time you want.