Pokemon go is one of the most trendy and fun games out there. But as a new trainer on this journey to victory, we often deal with an overwhelming amount of pokemon. And as a result, we do not quite find out the best option for us. And this is where information comes into play.
Today, we are going to talk about the famous Pokémon Swablu and see all about its stats, evolves, recent pokemon go changes and so much more. So, without any further ado, let us check out this normal-flyting type pokemon and answer all your quires.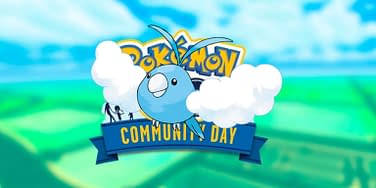 What Is Swablu in Pokémon GO?
Swablu is a cute normal/flying type pokemon. Also known as the Cotton Bird pokemon, it was first introduced back in the Gen 3 Pokedex. As a starting Pokémon on the evolution, Swablu offers some of the best defense and sp. Defense.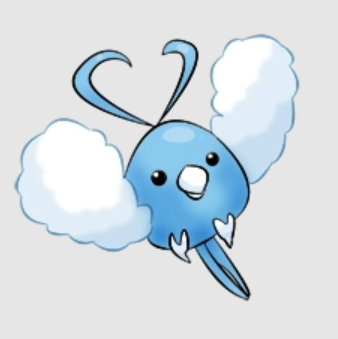 Swablu has,
A base HP of 45
A base attack of 40
A base Defense of 60
A base sp. attack of 40
A base sp. Defense of 75
A base speed of 50
This is a flying-type pokemon. So as result, Swablu in Pokemon go is weak against Electric-type attack and Ice-type attack.
And due to its normal type, it is also weak against Rock-type attack.
On the other hand, Swablu deals massive damage to Bug-type Pokemon and Grass-type pokemon.
The pokemon can learn many moves ranging from
Normal type
Flying-type
Fairy-type
Ice-type
Dragon-type
Grass-type.
And this makes Swablu one of the most versatile Pokemon in Pokemon go.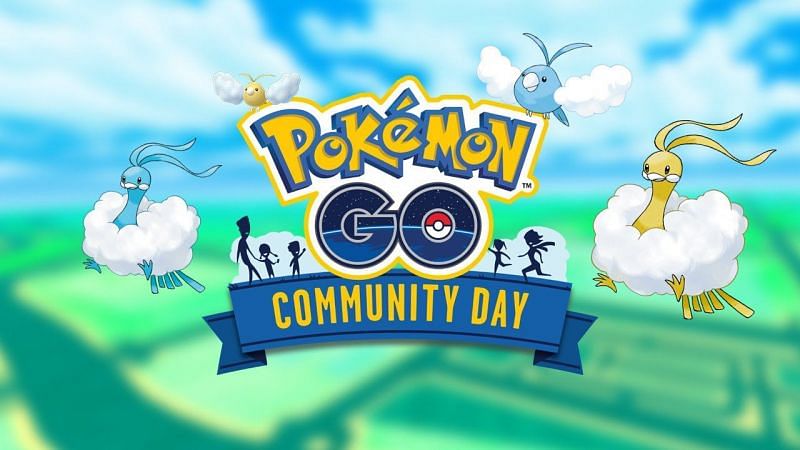 A key thing to note is that, on the Swablu community day, trainers get the opportunity to encounter the rare golden shiny Swablu. It has a 1 in 23 chance of appearing in the wild during this event.
But as cute and versatile as it may be, one of the most common questions when it comes to this pokemon is what does Swablu Evolve into? Or does it actually evolve at all? And the great news is, it evolves into one of the most dynamic flying type pokemon called Altria.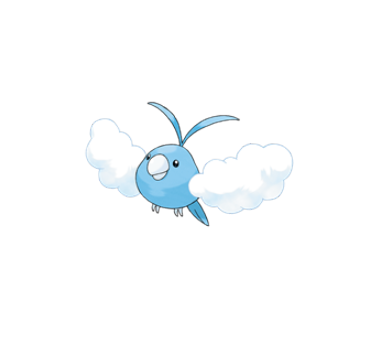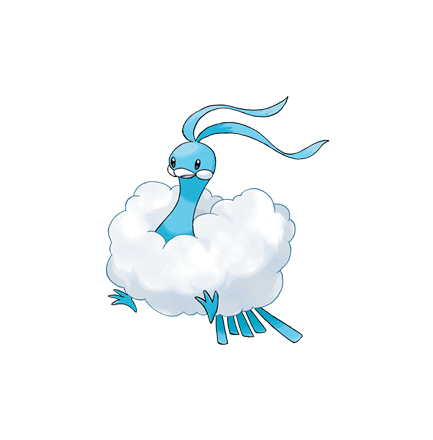 Swablu & Altaria
Altaria is a Dragon/ Flying-type pokemon that was also introduced back in gen 3 of Pokemon. Also knows as the famous Humming Pokemon, this pokemon is extremely strong and a great one to have at your arsenal in pokemon go.
When it comes to Altarias best moves, Sky Attack is on top of the list. This is a charged move. Moon blast is known to make Altaria a tad bit powerful in the great league.
Altaria is not that great of a raid attack on its own.  But the addition of Mega Altaria makes it one of the best situational pokemon in raids. With the Mega Altaria, every dragon or fairy type pokemon on the battlefield with getting increased damage on the dragon type and fairy type moves.
How does Swablu evolve?
Evolving Swablu can be pay off tremendously. But it is not as easy as it seems. It is because you need to have 400 Swablu candy in hand to evolve your Swablu into an Altaria. This is why many people do not evolve it in the first place.

And on the bright side, there are many amazing pokemon out there that are way stronger than Altaria. So, in case you are not able to evolve Swablu in Pokemon GO, there is no reason to beat yourself up.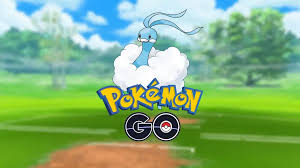 Where can someone find Swablu?
Pokemon go Swablu was one of the latest additions which came from the Gen 3 pokemon. The pokemon is really unique with its flying and dragon type. But not only that but also its rare golden variant makes it one of the most hunted pokemon in the game.
But when it comes to finding it, you do not need to go to some specific locations. The most common time of finding one is during the wind. But it can also spawn in the daytime regardless of the weather.
But if you are looking to farm them, here are some tips you can follow.
In the nighttime and during the even9ing, the rate of spawned Swablu drops significantly.
It only takes one candy drop per km, when it comes to choosing Swablu as a buddy pokemon.
Frequently Asked Questions About Swablu
1. Is Swablu water type?
The blue color makes it really to mistake Swablu for a water-type pokemon. But in reality, it is completely false. Swablu is basically a flying type and normal type pokemon, who can use fairy and dragon-type moves as well. After the evolve, it turns into a dragon/flying type pokemon named Altaria.
2. Is Swablu a legendary Pokemon?
Swablu is a basic pokemon. Even though the overwhelming popularity in the community might make it look like a legendry pokemon, it actually is not.
3. Is Swablu a good Pokemon?
Even though it is quite hard for it to evolve into Altaria, it is a very good pokemon to have. The evolve is well worth the effort, as Altaria is an extremely good choice in the great league.
4. What is Swablu weak to?
As a flying and basic type pokemon, Swablu is weak against electric and rock-type moves.
5. How do I get more Swablu candy?
In order to get Swablu candies, you need to hatch eggs. Every time you hatch eggs, you get a number of candies from them.
Bonus Tip: How to Catch Swablu Pokémon and Get More Distances without Moving?
If you are willing to catch Swablu in Pokemon GO but do not have to go through the hassle of moving around, then we have great news for you. iMyFone AnyTo is here to make sure you can change your GPS location without having to move an inch.
Key Features of iMyFone AnyTo:
Teleport mode allows you to select a destination and change your GPS location instantly from one place to another.
In circle route mode, you get to chose and the starting point and create a circle route. And with that, your GPS location will move in circles on this route, which is great for you to catch new pokemon without moving.
In the realistic mode, your movement speed will vary every five seconds. That means you will stay in some places more than others.
The loop is perfect for catching new pokemon. With the loop, your GPS location will go in a loop route and keep on changing till you make it stop. That means zero hassle and more pokemon encounters.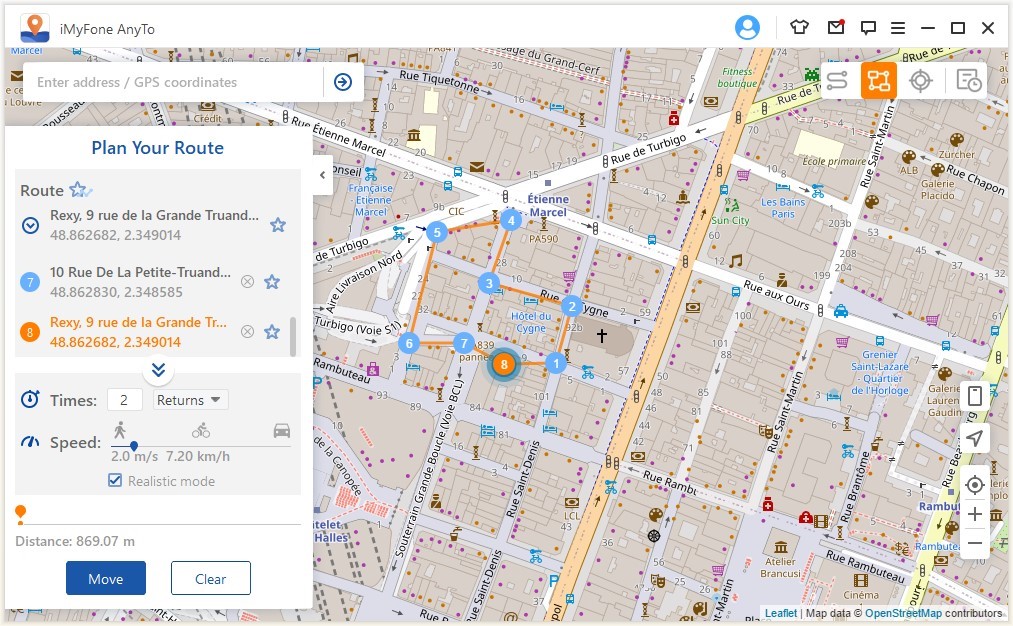 iMyFone AnyTo is available for both android and iOS platforms. That means, regardless of your device, you can easily access the amazing features of iMyFone AnyTo and catch pokemon and get more distance without moving.
How to Easily Catch Pokémon without Moving?

All you need to do is install and launch your iMyFone AnyTo and click on get started. Then connect your device, open USB debugging, and follow the guide program.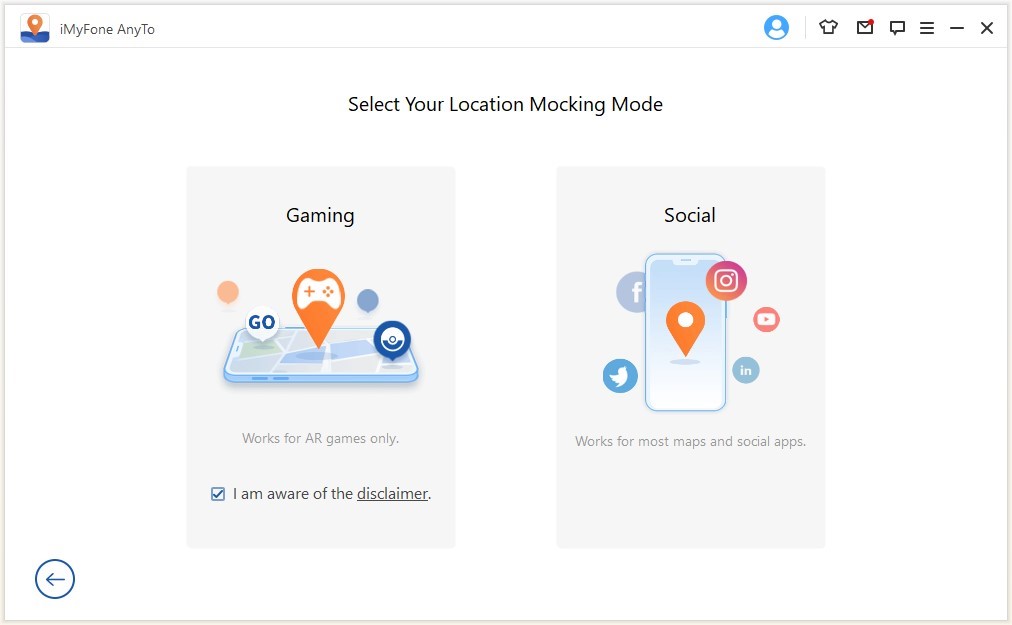 Just choose Gaming Mode and start your journey!