Question
Have you ever wanted to fake your location on your iPhone or iPad?
Perhaps you want to access a website or app that has been geo-restricted?
Maybe you want to browse Tinder or a similar dating app as if you were in another country?
There are quite a few reasons why someone would wish to their iOS device's GPS to think that they are elsewhere. For these situations, many people use Cydia's fake location apps and tools. With this solution, you can virtually teleport from New York to Shanghai, and everywhere in between!
Are you interested in learning more about how to fake your iPhone or iPad's location using Cydia? Great! Read on to see 3 apps (plus an alternative) that help you fake your location.
What Should You Know About Cydia?
You might have heard of the term "jailbreak" before. When you jailbreak your iOS device, you effectively bypass many of the restrictions that Apple has placed on it. Like rooting on Android, you can install custom apps, tweak settings, and even access your iOS device's file system.
Cydia is the official unofficial app store for jailbroken devices. On this "store", you can find "jailbreak apps, mods, and other exclusive content". Of course, this content is not available on the Apple App Store since you can only use it with a jailbroken device.
Since it's the app store for jailbroken devices, you can only get Cydia if you jailbreak your device. Most methods automatically install Cydia for you, but if the particular process that you are using did not download it, you can always visit Cydia website and download Cydia directly from there.
3 Popular Fake Location Cydia Tweaks (Jailbreak Required)
There are apps on Cydia to fake your location. Since jailbreaking bypasses many of Apple's restrictions, Cydia's fake location apps can trick your iOS device into thinking that it's somewhere in the world. Of course, apps running on a non-jailbroken device cannot do this.
To jailbreak your iOS device, you need to use the method that works for your device's particular iOS version. Most people who jailbreak their devices now use unc0ver. It works for iOS versions 11 through 13.5, so it will work for iPhones and iPads with the most recent updates at the time of this writing.
In addition to using Cydia's GPS spoof apps, there are also other fantastic reasons to jailbreak your iOS device. With a jailbroken iOS device, you have more control over it. You can customize and tweak your iOS theme and appearance. You can bring iPad power features to the iPhone. If you're a fan of Android's banner style incoming call notification, you can even find mods on Cydia and similar stores that will implement that notification style. The possibilities and customizations with a jailbroken device are endless.
However, this post is about location spoofers in Cydia. Here are the top 3 spoofers to try.
---
1

LocationHandle
LocationHandle is one of the effective Cydia GPS spoof apps out there. It was recently released, and it works with all major apps. If you want to change your Facebook location, this is the app to do that! You can find this app within the BigBoss repo on Cydia. But LocationHandle costs $4.99 to download.
LocationHandle has four modes for controlling location: normal, offset, automatic, and manual.
With Normal Mode, you can "teleport" yourself to where you set in LocationHandle.
Using Offset Mode, you can set your location to be relative to your current position (for example, you could be 300 feet north of wherever you are in real life).
Automatic Mode "walks" your device to the new location by slowly moving where your iPhone or iPad thinks you are to the place you set (this is perfect for movement-based games like Pokemon Go).
Finally, the Manual Mode will let you change your location in real-time using a joystick that you can control.
The app's description indicates that it is compatible with iOS 9 and 10, so if you're running one of those versions, LocationHandle is a good choice for you!
---
2

LocationFaker
LocationFaker is by the same person that created LocationHandle. It has a similar interface to LocationHandle, but it doesn't have all the bells and whistles. Since it doesn't have all the same features, it also costs less than LocationHandle at $2.99.
It works with all the major apps, like WeChat, Facebook, and Find My iPhone. You can fake your location in games with LocationFaker. However, you can only use Cydia fake location in one way: the "teleport" method. You cannot "walk" to your destination or use a joystick to control where you are. If all you need is a simple "teleport" option, then this is an app you might want to try. However, if you need more advanced features, then you should skip this app altogether.
LocationFaker's description indicates that it is compatible with iOS 8, 9, 10, and 11. It also specifically calls out that it is compatible with iPhone 6/6S and 6/6S Plus.
---
3

Protect My Privacy
Released in December of 2017, Protect My Privacy is another option for people looking to use Cydia's GPS spoofing capabilities. This app doesn't strictly allow for location faking. Instead, it is a "swiss-army knife" for protecting your privacy online - one of which is obfuscating your real location. You can fake your contacts, location, advertising IDs, and other personal information so that the apps don't get your actual data, and they don't even know that they aren't getting your real data!
With Protect My Privacy, you have a granularity level that the other iOS location faking apps don't have. Instead of spoofing your location everywhere in the iOS device, you can instead say that Facebook has your fake location, for example. However, you can let Instagram have access to your real GPS signal. That level of granularity can be quite beneficial when you want to permanently change your location for one app, but not have that location affect others.
Protect My Privacy's description says that it will work with a multitude of iOS versions, including iOS 5.1+, 6, 7, 8, 9, and 10. However, it does caution you that it may not work well on iOS 10 with other system-wide tweaks enabled.
Spoof Location Without Cydia or Jailbreaking Your Device
Jailbreaking your iPhone carries some inherent risks, including bricking your device and voiding your warranty. If you want to have all of Cydia's fake location goodness without taking on these risks, then there's good news! iMyFone AnyTo will let you spoof the location on your iOS device to be anywhere in the world. The best part is that faking location is in just one-click!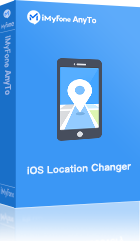 1,000,000+ Downloads
Fantastic Features of iMyFone AnyTo
Fake location to any place without requiring jailbreak your iDevice.
Spoof location on all location-based applications,like social platform and Pokemon Go games.
Work with all iPhone and iPads, which is unlike Cydia's GPS spoofing tools.
Support customized movements in your iOS device when playing AR games.
Fake GPS to prevent your device from being tracked by anyone else.
Changing your iOS device's location is trivial. To do so using iMyFone AnyTo, please follow these steps:
Step 1. Download, install, and launch iMyFone AnyTo on your computer. Click on the Get Started button.
Step 2.Connect your iOS device to your computer. Tap on the Trust button to enable your computer to connect. After AnyTo recognizes the iOS device, you'll see a map.
Step 3.Choose the mode that you want. For example, Teleport Mode is the one for faking location. Type in your desired location in the search box or zoom in/out the map to choose an address.
Step 4.Click Move. Your iPhone location will be changed to your preferred place.
Your location will instantly update on your iPhone or iPad. Open Google Map on your device to check the location whether to be changed. If it has changed, then the location on all location based apps will be changed.
iMyFone AnyTo is available for both Windows and Mac. It works with every Apple iPhone or iPad device and iOS version, including the most recent iOS release at the time of this writing, 13.5.1 and iPhone 11 series.
To Conclude
Cydia is a beautiful concept for jailbroken phones, and while Cydia's fake location tools work, ultimately, iMyFone AnyTo is the better deal overall. With its flexible iOS location spoofing methods and simple user interface, iMyFone AnyTo is the best option for faking your location. The best part is that this method doesn't even need a jailbreak, so you won't have to worry about taking your device into the Apple Store should anything happen to it. If you're looking to make your iPhone think it's somewhere else in the world, the perfect way to do that, by far, is iMyFone AnyTo.