When an apple user locks their phone, they often scour the web for an official tool that can reset the device without a password. If you've looked into how to restore your iPhone without a passcode, you've probably come across Tenorshare 4uKey.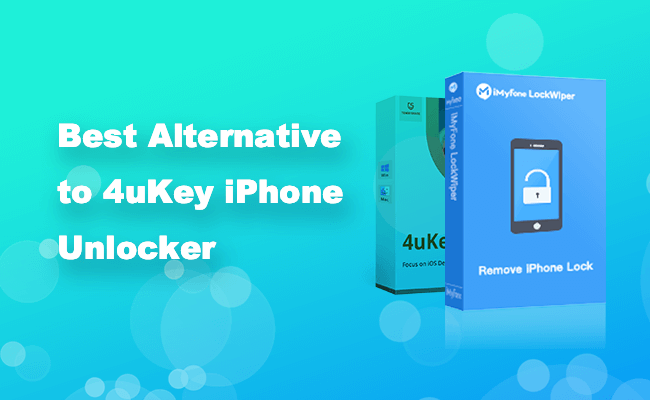 Is Tenorshare 4uKey the best iPhone unlocker? Is there best alternative to it? You've come to the right place if you want to know about. Let's dive in. 
Part 1. Know Everything about Tenorshare 4uKey
1.1 What is Tenorshare 4uKey Unlocker
4ukey for iPhone is a dependable and powerful tool for unlocking the iPhone's Apple ID and MDM. Tenorshare 4uKey is a password recovery tool for iPhone, iPad, and iPod Touch owners who have forgotten their screen passcodes or have Touch/Face ID issues. Tenorshare 4uKey has a solid reputation and is steadily climbing the ranks of the top five iPhone password-cracking solutions. 
Compared to several third-party apps that purport to be perfect for fixing numerous iPhone issues, 4ukey has shown time and time again to be among the most dependable and effective solutions for unlocking iOS devices. 
1.2 Features of Tenorshare 4uKey Unlocker
1. Apple ID Unlocking
Every user has to create an Apple ID when they activate a new phone by providing an email and password to the Apple ID. Similarly, you may establish an Apple ID through the App Store. When you forget your initial login information, you'll need to unlock your Apple ID. 4uKey is the best option for such situations and can get things back on track.
2. Unlock iPhone Screen 
Users who have forgotten their iPhone password may use 4uKey to unlock it. Furthermore, it isn't only for iPhones; it can also unlock iPad and iPod passcodes. It may also deactivate Touch ID and Face ID on your phone and the PIN codes.
3. Bypass MDM 
The acronym MDM stands for "Mobile Device Management." If you forgot your account details, you will be unable to use your device and will be locked on the Remote Management page. Tenorshare 4uKey can easily let you circumvent the MDM lock screen without the need for login information.
1.3 How to Use Tenorshare 4uKey Unlocker
Step 1.Download the 4uKey software from the official Tenorshare website on your pc, and then run it and hit Start to proceed.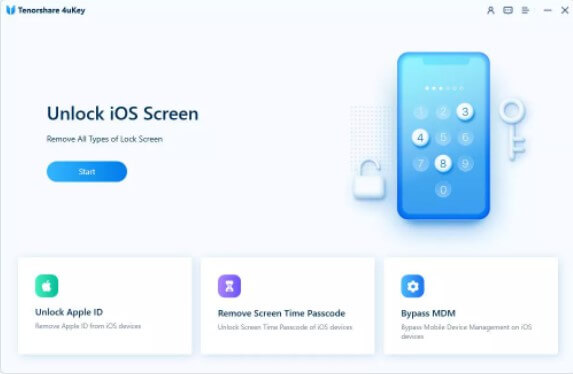 Step 2. Using the USB cable that came with your iOS device, link it to your computer. 4uKey will recognize your device instantly after that. If the program is unable to recognize your iPhone, you may quickly put it into recovery mode. Click Next.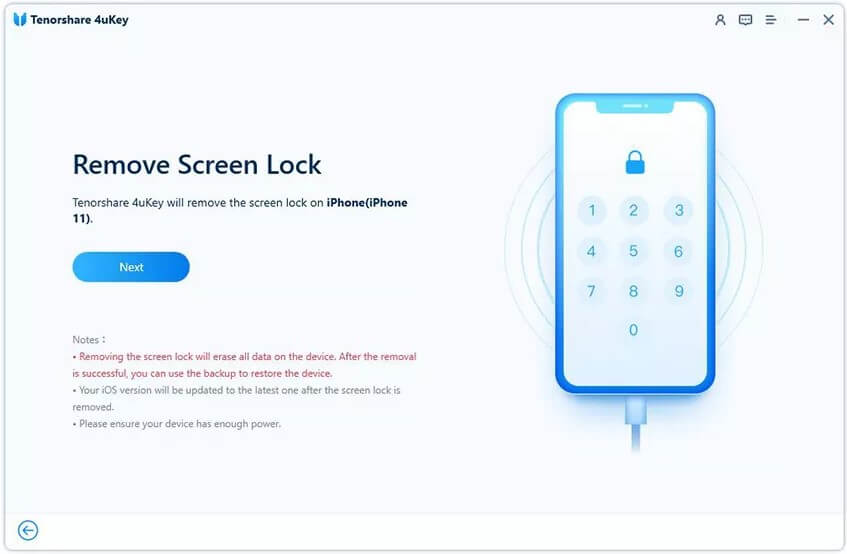 Step 3. Install the most recent Tenorshare 4uKey Firmware. The tool will then automatically recognize your iPhone specifications. All you have to do now is choose the location where the Firmware will be installed. Then, to finish the Firmware installation, click Download.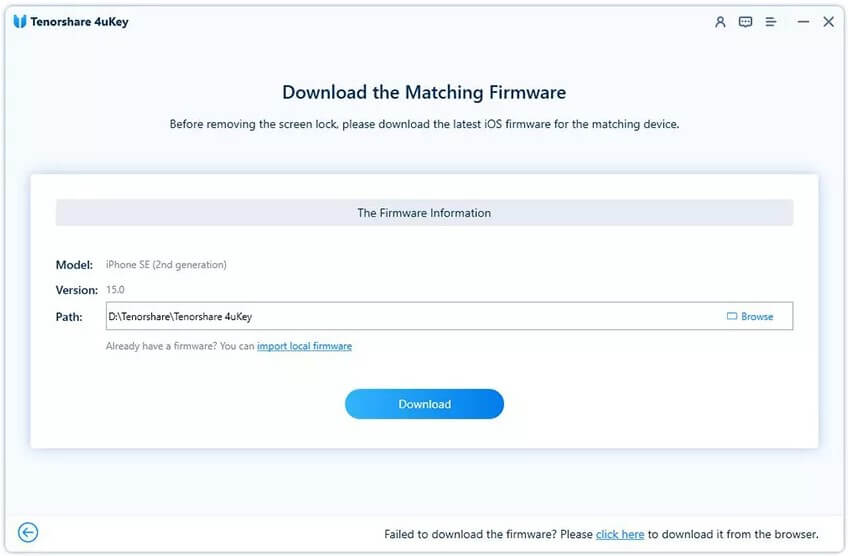 Step 4. Finally, press Start to Remove to start the iPhone password unlocking procedure, and once it's done, you'll be able to use your iPhone without a password.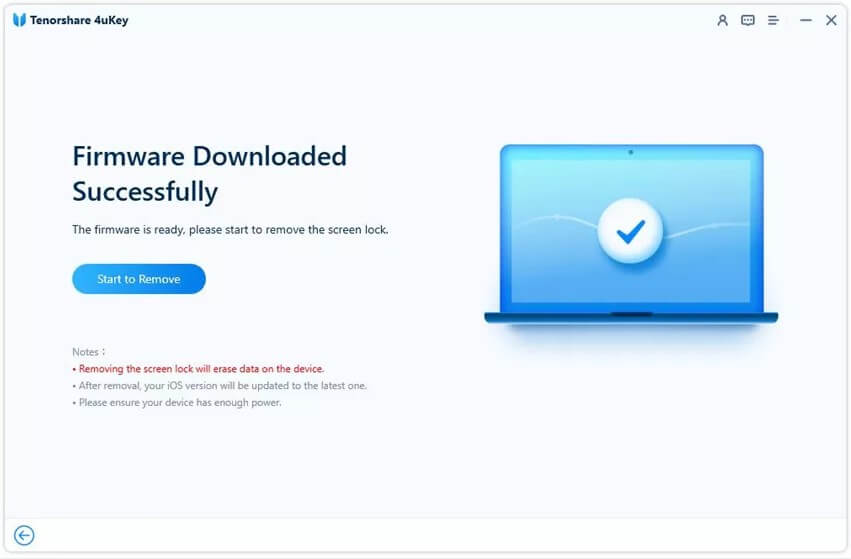 1.4 The Reviews about 4uKey iPhone Unlocker
Tenorshare 4uKey is a potential screen unlocking tool that, in certain situations, is up to the task of unlocking screens. As long as the software is utilized appropriately and for the relevant situations, 4ukey will perform as promised, which would be to unlock the phone from its passcode and deactivate the associated Apple ID account. However, it does have a fair number of drawbacks, which makes us concerned that it will not meet the unlocking requirements of everyone. 
The Unlock Apple ID function, for instance, can only be used to remove Apple ID from an iOS device that has previously been enabled, and the phone should be operating iOS 11.3 or older. 
Pros
It is capable of removing all types of screen passcodes.
It assists with the removal of the Apple ID without the need for passwords.
It can remove screen time passwords and MDM without causing data loss.
When the iPhone is disabled, it can be factory reset.
It works with all iPhones, iPads, and iPods and is compliant with the most recent iPhone 13 and iOS 15.1.
Cons
For 4uKey to recognize your iOS device, you must have iTunes installed. 
Using 4uKey will immediately upgrade your device to the most recent iOS version.
Some functions aren't available in iOS 11 and earlier.
1.5 FAQs about 4uKey iPhone Unlocker
1

Is 4ukey only for iPhones? 
4ukey iPhone Unlocker is only compatible with iOS devices. There's also a product Tenorshare 4uKey for Android can bypass Android devices. 
2

Is 4ukey for iPhone safe? 
Yes, it's perfectly safe. To begin with, it will not send user information elsewhere. Secondly, the program prevents your device from being infected by viruses by not displaying adverts. Lastly, Tenorshare is a reputable company that values its credibility as well as the quality of its services and goods.
3

Can a passcode-locked iPhone be unlocked? 
Yes. Although the options may be slim, an efficient unlocker like 4ukay or other tools can let you unlock your iPhone devices without a passcode. 
Part 2. Best Tenorshare 4uKey iPhone Unlocker Alternative
If you're unable to get into your phone because it's password-protected, LockWiper from iMyFone might be able to assist. LockWiper, which is compatible with both Android and iOS, is said to be able to circumvent any passwords, PINs, biometric IDs, or anything that keeps you from accessing your phone.
2.1 What is iMyFone LockWiper
iMyFone LockWiper is an iPhone unlocking tool that helps people who are locked out of their phones. This app is available for all devices and is recommended widely for IOS. You can download the app and use it to unlock your phones without going the extra mile.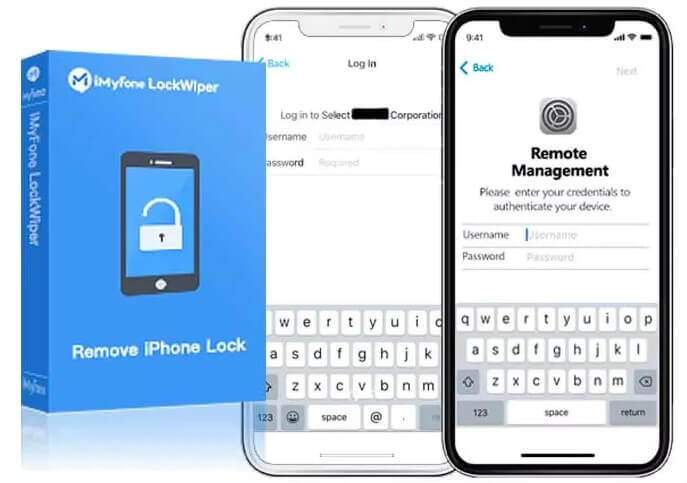 2.2 Why Choose iMyFone LockWiper
iMyFone LockWiper is a perfect alternative for 4ukey and is a complete solution for people who are somehow unable to use 4ukey.
This tool is professional, effective, and easy to use. It is a reliable source of removing 4/6 digit passcodes on iOS devices.
Touch and Face ID are also removable with LockWiper, and no matter what iOS device you want to unlock, it is an easy answer to all your needs.
Screen Time passcode, MDM profile, and all iPhone locks are removable within seconds, and all disabled iPhones, iPads, and iPod Touch are fixable without iTunes and iCloud. 
2.3 How to Use iMyFone LockWiper
Video Tutorial about How to Change Apple ID without Email/Phone Number/Security Questions
Step 1: After installing iMyFone LockWiper on your computer, launch it. Connect the device whose Apple ID you wish to remove to the computer and trust the connection.
Step 2: Select the Unlock Apple ID mode on LockWiper and then tap the Start to Unlock button.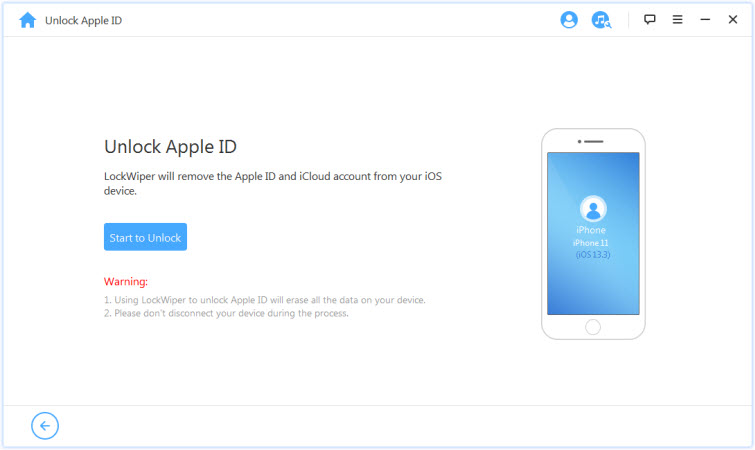 Step 3: LockWiper will start removing the Apple ID if "Find My iPhone" is disabled. If the Find My iPhone feature is enabled, follow the onscreen instructions to reset all settings on the device. When your iPhone reboots, it will starting the removal process.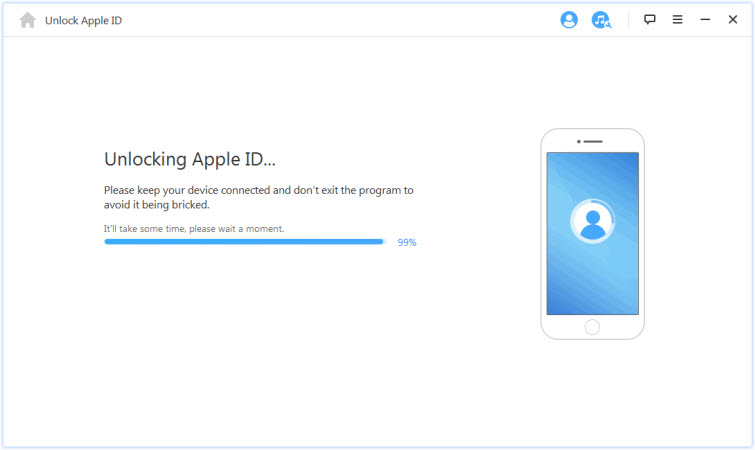 That's it, you just need to wait for a moment for it to complete.
2.4 FAQs about iMyFone LockWiper
1

Does LockWiper actually work? 
Yes, it works in a nutshell. There is a LockWiper official download website accessible. The software is safe and secure to use, delivering what it promises.
2

Is iMyFone LockWiper Safe? 
This is, obviously, a valid and widely used instrument. The programmer is a well-known and reputable developer. They've put out a number of items that have proven to be successful.
3

Can I get a free trial of LockWiper? 
Yes, you can get a free trial version of LockWiper when you download the app to see if it is what you need. 
4

Is Lockwiper only for iOS devices? 
There's also a product LockWiper (Android) for Android users.
Review
iMyFone LockWiper is a trusted and secure tool that experts recommend. Not only the experts but common users are also satisfied with the results. You can look for the reviews and mostly find positive ones. Although there might be a few shortcomings, but the advantages outweigh them. 
Conclusion
4ukey is one of the most widely used iPhone unlockers, but iMyFone LockWiper is a successful contender. Using the latter is swift and easy; you can get through the process fairly easy and without the hassle of finding someone to unlock the phone for you.